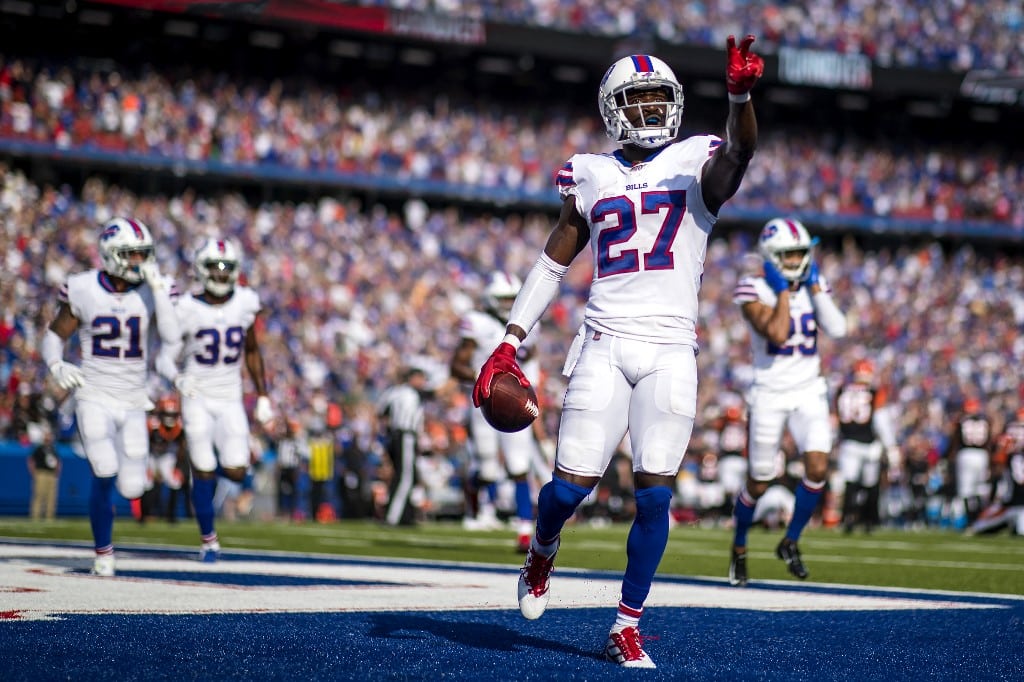 The NFL's Week 17 schedule is loaded with teams still fighting for the postseason, so we used the OddsTrader BetStation app to find the best computer-generated predictions for this week's games.
The app is available for free on your device's app store. It will show you statistical comparisons of each matchup, information on past meetings as well as spread movement, injury news, and even the weather forecast.
Things do not look nearly as cold as they were in Week 16.
---
5. Commanders Go Back to Carson Wentz at Crucial Time
The Washington Commanders lost big in San Francisco and will turn back to Carson Wentz, sending Taylor Heinicke back to the bench.
It is a bold move with a winnable game here against the Cleveland Browns, who are struggling mightily on offense ever since going to Deshaun Watson at quarterback from Jacoby Brissett.
The Browns are a 2-point road underdog with a total of 40.5 points.
---
Sunday, January 1, 2023 – 01:00 PM EST at FedExField
---
---
Frankly, these teams would probably be better off if they were starting the quarterbacks who brought them their most success this year (Heinicke and Brissett). The Commanders did not respond well to Wentz as the starter earlier this year. They averaged more points and won more games under Heinicke, who did a better job of getting Terry McLaurin involved. The Commanders just ran into some tougher opponents in recent weeks like the Giants and 49ers.
It is hard to see Wentz not making mistakes against a defense with a great pass rusher like Myles Garrett (13.5 sacks), who can take over a game with strip-sacks and good pressure on Wentz.
But for the Browns, Watson has led just three touchdown drives in four games. Brissett led three touchdown drives in his last start against Tampa Bay. The Browns played in brutal temperatures last week, but they were still outscored 17-10 by Andy Dalton and the Saints, a dome team.
Watson was unable to move the offense when he was needed the most, and Nick Chubb has failed to score a touchdown in the last four games with Watson as QB1.
We think the spread is a good pick for Cleveland as the OddsTrader BetStation will agree with, but the under feels like the safest pick of them all in this matchup. These offenses are being held back by the quarterback position right now.
OddsTrader NFL Final Score Prediction: Commanders 19 – Browns 18
OddsTrader NFL Total Pick: Under 40.5 (-109) at Unibet
---
4. Fly Eagles Fly vs. Saints?
After losing their second game of the season, the Philadelphia Eagles are suddenly in some trouble with the health of their best players. Jalen Hurts' status is up in the air for this game, but it is leaning towards Gardner Minshew getting a second straight start.
Right tackle Lane Johnson has an abdominal injury and is holding off on core muscle surgery so he can return to the playoffs, but that sounds like a difficult situation too.
Still, the Eagles are a 5.5-point home favorite with a total of 44 points in this game.
---
Sunday, January 1, 2023 – 01:00 PM EST at Lincoln Financial Field
---
---
These teams have met the past few years and the Eagles won both matchups with Hurts at quarterback. They scored 40 points on the Saints a year ago, and the Saints even put up 29 in that game as well. Don't expect a score that high again, but the potential of Minshew starting again shouldn't deter you from the Eagles having a good day.
Minshew passed for over 350 yards and led the Eagles to multiple leads in Dallas, a much stronger opponent than the 2022 Saints. Minshew may not have Johnson at right tackle this week, but he has some wiggle to him and can make things happen. He also has some great receivers in A.J. Brown and DeVonta Smith.
The Eagles can do a lot of damage to the over by themselves, and the Saints have shown an inconsistent ability to score this year with Andy Dalton mixing up some good and terrible games.
We think the over is well within play here, regardless of which quarterback starts for Philadelphia.
OddsTrader NFL Final Score Prediction: Eagles 28 – Saints 23
OddsTrader NFL Total Pick: Over 43.5 (-109) at SBK
---
3. Will Houston Upset the AFC South Again?
The Jacksonville Jaguars (7-8) are the new favorites in the AFC South after Tennessee's five-game losing streak, but both teams may be looking past Week 17 to their rematch in Week 18 for the division title. We already see the Titans resting several players on Thursday night against Dallas.
But for the Jaguars, their biggest issue may be an inability to beat Houston. The Texans are 20-4 against Jacksonville in the last two dozen meetings, and Houston has won nine in a row against the Jaguars.
Despite this, the Jaguars are a 4.5-point road favorite with a total of 43.5 points.
---
Sunday, January 1, 2023 – 01:00 PM EST at NRG Stadium
---
---
The Jaguars are definitely the new "it" team in the AFC South, but it's hard to say they have completely arrived when they still have a losing record, and they have needed two 17-point comebacks against the Raiders and Cowboys this season.
Meanwhile, Houston has a tie with Indianapolis in Week 1, a 13-6 win over these Jaguars, and now a 19-14 win over the Titans last week for just their second win of the season. The Texans also gave the Cowboys and Chiefs all they could handle in back-to-back weeks despite being underdogs of 14 and 17.5 points.
It is not that Houston is playing great football, but it is playing better defense and making things harder on the opponents. The Texans have been a hard team to blow out all season despite the poor record.
But the track record of success against Jacksonville is hard to ignore with the nine straight wins. Trevor Lawrence is 0-3 against Houston and has yet to complete 60% of his passes in any of those games. He also has not thrown a touchdown in either of the last two meetings.
This is not a must-win game for the Texans with the Titans looming in Week 18. Jacksonville may still very well win, but we like the Texans to cover again.
OddsTrader NFL Final Score Prediction: Jaguars 24 – Texans 20
OddsTrader NFL Spread Pick: Texans +4.5 (-109) at SugarHouse
---
2. If Baker Mayfield Can Put Up 51 Points on Denver, What Can Patrick Mahomes Do?
After losing 51-14 to the Rams on Christmas without Cooper Kupp or Aaron Donald playing, the Broncos finally fired first-year head coach Nathaniel Hackett on Monday. Now they must face the Kansas City Chiefs at Arrowhead, a team they have lost 14 straight games to.
The Chiefs are a 12.5-point favorite with a total of 45 points.
---
Sunday, January 1, 2023 – 01:00 PM EST at GEHA Field at Arrowhead Stadium
---
---
There are some reasons to think this game could be close, given what happened when the teams met in Week 14. Despite leading 27-0, the Chiefs nearly lost in Denver after Patrick Mahomes was intercepted three times and Russell Wilson played his best game of the year.
But after Wilson was concussed, backup Brett Rypien threw an interception at midfield with the Broncos down 34-28 late in the game. The Chiefs escaped with their 14th straight win over Denver.
But Mahomes is unlikely to throw three picks again, and if the Broncos go down 27-0 again, it is hard to see them putting up a fight. This team looks defeated and disinterested, because how else could you explain getting shredded by Baker Mayfield without Cooper Kupp?
The Chiefs also had a very quiet offensive game against Seattle, and they still won by 14 points because the defense stepped up. Look for Mahomes to solidify his MVP case with a bigger game and for the Broncos to suffer another blowout loss.
OddsTrader NFL Final Score Prediction: Chiefs 31 – Broncos 16
OddsTrader NFL Spread Pick: Chiefs -12.5 (-110) at Bet365
---
1. Bills vs. Bengals in AFC Game of the Year Part II
The AFC's sequel to the Game of the Year once again has Buffalo going on the road against a major contender. First it was the Bills beating the Chiefs 24-20 in Kansas City in Week 6.
Now if they want to be the No. 1 seed, they need to beat the Bengals in Cincinnati this Monday night in the first career meeting between Josh Allen and Joe Burrow.
The Bills are a 1-point road favorite with a total of 49.5 points.
---
Monday, January 2, 2023 – 08:30 PM EST at Paycor Stadium
---
---
The quarterback and receiver play in this game should be outstanding, but the Bills come in with a far more consistent running game and a better defense. Some may even say the better coaching staff as well.
For the Bengals, it really comes down to Burrow getting time to find his receivers. He catches a big break with Von Miller's season-ending injury for Buffalo, but he is also going to be without his right tackle after La'el Collins tore his ACL and MCL against the Patriots last week. It was a game where Burrow went from fantastic to throwing two picks (one returned for a touchdown) that nearly led to the Patriots making a 22-point comeback. Cincinnati has had one terrible half and one incredible half in each of the last two games.
The Bills have lost three games by eight points this year. Allen can pass for 300 yards, but he also can rush for 70 if need be, and the running game is really picking up with Devin Singletary and rookie James Cook.
Buffalo's defense will get a great test here with the Bengals' passing attack, but the defense is more battle-tested this year than the Bengals, who have rarely played a good quarterback outside of Patrick Mahomes and Lamar Jackson this year.
But the Bills have been the Super Bowl favorites since the preseason. Going against them now just feels like an overreaction when they have answered the bell in almost every big matchup this year, from opening night in Los Angeles to the Kansas City showdown to avenging losses to the Jets and Dolphins.
Let's go with both the total and spread in what should be a classic game.
OddsTrader NFL Final Score Prediction: Bills 27 – Bengals 24
OddsTrader NFL Spread Pick: Bills -1 (-105) at SBK
OddsTrader NFL Total Pick: Over 49.5 (-109) at BetRivers
For more free picks, visit your mobile device's app store to download the OddsTrader BetStation and get predictions on NFL and other leagues today.
---