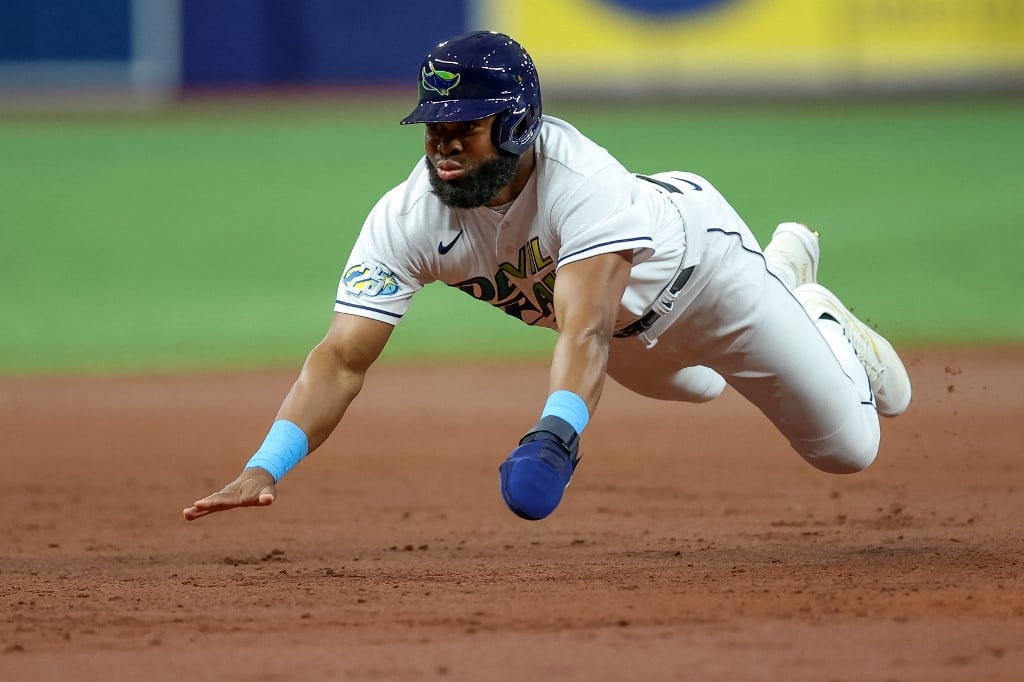 MLB Pick: Red Sox ML (+130) at WynnBet
---
The Tampa Bay Rays have started this MLB season at 9-0, the last unbeaten standing. Can they reach double digits on Monday against the Red Sox? We have a lean on that game and two others via MLB picks simulations from the OddsTrader computer.
---
Picks Summary:
Red Sox vs. Rays: Red Sox ML (+130)
Marlins vs. Phillies: Marlins ML (-110)
Brewers vs. Diamondbacks: Brewers ML (+130)
---
Monday, April 10, 2023 – 06:40 PM EDT at Tropicana Field
---
Have you purchased a ticket for the Rays to win the 2023 World Series yet? Let's not go that far, but they are the only unbeaten team in the majors at 9-0 and have been slaughtering their opponents, also going 9-0 on the run line. I wouldn't get too excited yet, though, as the teams the Rays have been are: Detroit, Washington, and Oakland. Those might be the three worst clubs in the majors, although the Tigers probably don't belong with the Nats and A's.
Boston was swept to open last week at home by Pittsburgh and there was much panic, but then the Sox went and swept three over this weekend in Detroit. Note, though, that early AL MVP candidate Adam Duvall injured his wrist late in Sunday's game while trying to make a catch in the outfield, so he's probably not playing at least Monday. The free-agent addition is hitting .455 with four homers and 14 RBIs.
Nick Pivetta (0-1, 1.80 ERA) will start on the mound for Boston. Pivetta took the loss last Tuesday vs. Pittsburgh. He allowed three runs (one earned) on three hits and three walks over five innings and struck out six. Pivetta allowed a career-high 27 homers last year and already two in the opener.
It's arguably the weak link of the Rays' rotation in lefty Josh Fleming (0-0, 15.00). Fleming didn't factor into the decision in last Tuesday's 10-6 win over the Nationals, coughing up five runs on 10 hits and a walk over three-plus innings. Over six career games (four starts) against Boston, Fleming is 1-3 with a 9.59 ERA. Rafael Devers hammers him, going 8-for-14 with a homer.
Computer Pick
The computer likes Boston with an upset: 6.3-4.3.
Red Sox are 4-0 in their last 4 games vs. a left-handed starter.
Rays are 0-5 in their last 5 vs. American League East.
MLB Pick: Red Sox ML (+130) at WynnBet
---
Monday, April 10, 2023 – 06:40 PM EDT at Citizens Bank Park
---
The Marlins can't hit a lick so they aren't going to be favored on the road much… unless reigning NL Cy Young Award winner Sandy Alcantara is on the mound, which he is here.
Alcantara (1-0, 1.84 ERA) tossed his fourth career shutout and 10th career complete game last time out vs. Minnesota in his second start of 2023. It marked only the fourth time in club history that a Marlins pitcher threw on a complete game shutout in the first six team games of the season and the first since Dontrelle Willis and Josh Beckett in 2005 in games four and six, respectively.
Alcantara's six complete games last year led all of MLB and were the most in a single season since Chris Sale's six in 2016 with the White Sox. Alcantara had a 3.33 ERA in four starts last year against the Mets.
Two Miami players likely won't be available at least Monday in outfielder Avisail Garcia and reliever JT Chargois. Garcia left Sunday's game win over the Mets with left hamstring soreness. Garcia exited in the bottom of the fourth inning and was replaced by Jesus Sanchez. Chargois was removed after throwing just three pitches due to back trouble.
It's converted lefty Matt Strahm (0-0, 0.00) for the Phillies. Strahm didn't factor into the decision in last Tuesday's 4-1 win over the Yankees, giving up one hit and one walk over four scoreless innings while striking out three. The 31-year-old is temporarily filling a rotation spot while Ranger Suarez returns from a forearm injury. The Phillies' bullpen is a bit thin Monday after that group blew a lead in Sunday's loss to Cincinnati. All four key guys pitched one inning so they may not be available for this one.
Computer Pick
The computer favors Miami to win 4.6-3.8.
Phillies are 2-5 in their last 7 games vs. a right-handed starter.
Marlins are 4-0 in their last 4 games vs. a left-handed starter.
MLB Pick: Marlins ML (-110) at Bet365
---
Monday, April 10, 2023 – 09:40 PM EDT at Chase Field
---
Milwaukee hasn't lost a series yet, winning two of three at the Cubs, sweeping three vs. the Mets, and then taking two of three against the Cardinals before heading out on this 10-game West Coast trip. The Brewers have been involved in five shutouts already, going 3-2 in those games. This time of year, there are going to be a lot of Brewers fans in Arizona and likely at this game.
Lefty Wade Miley (1-0, 0.00) gets the call for Milwaukee. The journeyman earned the win last Tuesday against the Mets after he allowed five hits (all singles) over six scoreless innings. He had three strikeouts and zero walks. Miley needed just 79 pitches (51 strikes) to navigate his six innings. Miley may not go very deep but he's got a great bullpen behind him as Brewers relievers have tossed 23.1 consecutive scoreless innings.
Arizona counters with a guy who took a lot of action at the various books to win the 2023 NL Cy Young Award in right-hander Zac Gallen. He hasn't looked Cy-worthy yet at 0-1 with a 7.59 ERA. Both games were on the road, though, and against excellent teams the Dodgers and Padres. Gallen was 1-1 with a 2.25 ERA last year vs. Milwaukee.
Computer Pick
The computer's final score has Milwaukee winning 4.8-3.2.
Brewers are 5-1 in their last 6 Monday games.
Diamondbacks are 1-10 in their last 11 during game 1 of a series.
MLB Pick: Brewers ML (+130) at WynnBet