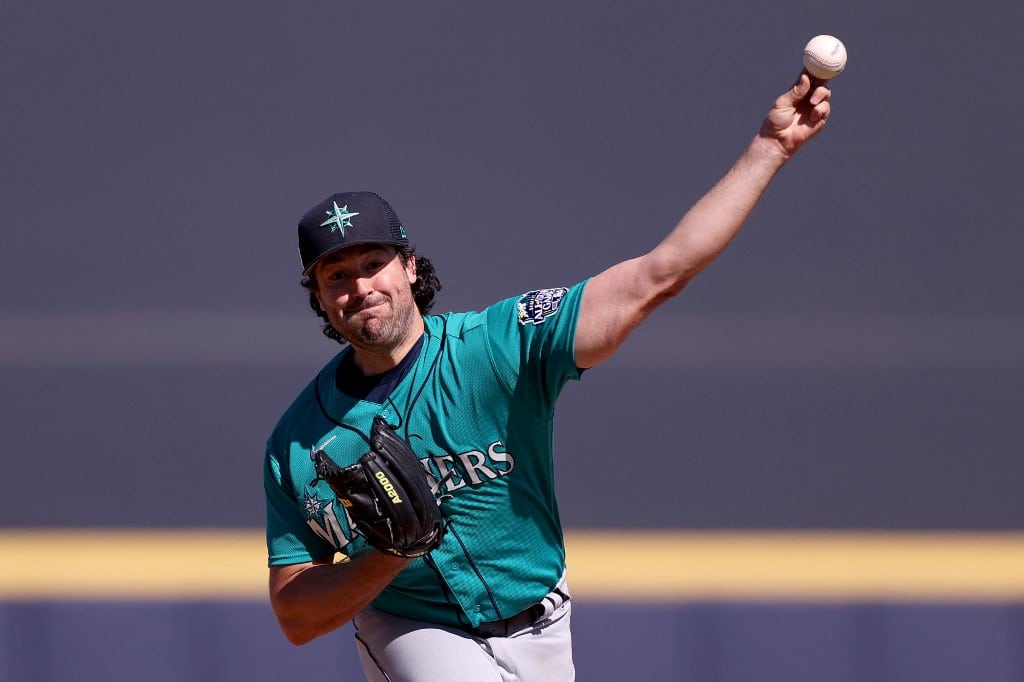 ---
Pick Summary 
Mets vs. Marlins: Mets ML (-110) at FanDuel 
Diamondbacks vs. Dodgers: Dodgers ML (-185) at SBK
Guardians vs. Mariners: Mariners ML (-162) at BetRivers 
---
After every team in Major League Baseball played on Opening Day, there are only five games Friday. We have solid moneyline leans on three of them with help from OddsTrader's computer picks. 
---
Friday, March 31, 2023 – 06:40 PM EDT at loanDepot park
---
---
It's frankly striking the difference in atmosphere at loanDepot Park in Miami between Marlins games – fans down there just don't care about them – and the recent World Baseball Classic, which sold out every game and had raucous crowds for each game there. There probably will be more Mets fans in attendance all weekend as well because the Miami area is basically New York South and especially so this time of year. 
Teams Analysis
Miami Marlins
The Marlins have some really good starting pitching, but they were atrocious offensively last year and things may not be much better in 2023 despite acquiring last year's AL batting champion Luis Arraez from the Twins for pitcher Pablo Lopez.
Arraez was a bright spot in Thursday's 5-3 loss to the Mets with two hits, an RBI, and a run scored, but the Marlins had just five hits. I highly recommend betting under totals on this team often this year. It was super profitable in 2022.  
Marlins lefty Jesus Luzardo was 4-7 with a 3.32 ERA last year and faced the Mets twice, allowing seven runs and 10 hits over 9.1 innings. Jeff McNeil is 4-for-8 career off him. Pete Alonso has a homer in 11 at-bats.
New York Mets
The top Mets hitter on Thursday was outfielder Brandon Nimmo, who had three RBIs including the go-ahead double in the seventh. Remember, New York lost All-Star closer Edwin Diaz to a season-ending injury in the WBC and David Robertson delivered a 1-2-3 ninth inning to finish off a save Thursday. He should be the primary guy. 
In theory, Friday should have been new addition Justin Verlander's turn in the rotation for the Mets, but the three-time Cy Young Award winner was placed in the IL Thursday with a low-grade teres major strain, whatever that is. Verlander wasn't going to make his Mets debut until Saturday, though.
It will be lefty David Peterson here. He was 7-5 with a 3.83 ERA last year. Peterson made four appearances during the spring and didn't allow a run over 12 innings.  
The Pick
The computer has New York winning 4.9-3, so this is a great price.  
Mets are 5-2 in their last 7 games vs. a left-handed starter. 
Marlins are 7-20 in their last 27 during game 2 of a series. 
Marlins are 12-28 in their last 40 home games. 
MLB Pick: Mets ML (-110) at FanDuel 
---
Friday, March 31, 2023 – 10:10 PM EDT at Dodger Stadium
---
---
Arizona isn't that far from being a playoff contender again with a terrific pitching staff and some promising young position players led by outfielder Corbin Carroll, who is the +400 favorite to win NL Rookie of the Year. That dude is an absolute burner and might steal 40 bases with the new rules expected to increase stolen base attempts and successes.  
The Snakes are so high on Carroll that they already have signed him to an eight-year $111 million extension. It was the largest contract ever signed by a player with less than 100 days of Major League service time (and no foreign playing experience), eclipsing the $70 million extension signed by Michael Harris of the Braves. 
Teams Analysis
Los Angeles Dodgers
I expect the Dodgers to take a bit of a step back after being rather quiet in free agency and losing the likes of Trea Turner and Justin Turner, but I still have to back LA at home in this matchup.
It's young right-hander Dustin May on the mound. The 25-year-old May, once considered one of the top pitching prospects in the sport, missed most of last season following Tommy John surgery and finished 2-3 with a 4.50 ERA in six starts.  
Arizona Diamondbacks
It's Merrill Kelly for Arizona and his timing might be a bit off because he was with Team USA for the World Baseball Classic and took the loss in the title game vs. Japan, allowing two runs in 1.1 innings.
Being away from the Snakes also means Kelly didn't get as used to the pitch clock as his teammates did so that might pop up as an issue. The Cubs' Marcus Stroman pitched for Puerto Rico in the WBC and he was tagged with a pitch-clock violation on Thursday and admitted he was a bit behind the learning curve having played in the WBC, which didn't include the new MLB rules. 
Kelly was 13-8 with a 3.37 ERA last year for Arizona but worse on the road (3.75 ERA) and at night (3.77 ERA) and a brutal 0-5 with an 8.25 ERA vs. Los Angeles. Mookie Betts hammered him, going 7-for-23 with three homers and a double. Max Muncy is 11-for-26 off him with three doubles and a homer.  
The Pick
The Dodgers have gone 38-10 against Arizona since 2020, including 19-3 at Dodger Stadium. The computer has LA winning 5.3-3.9. 
Dodgers are 59-17 in their last 76 during game 2 of a series. 
Dodgers are 58-20 in their last 78 home games vs. a right-handed starter. 
Diamondbacks are 32-69 in their last 101 road games vs. a right-handed starter. 
MLB Pick: Dodgers ML (-185) at SBK
---
Friday, March 31, 2023 – 10:10 PM EDT at T-Mobile Park
---
---
This appears to be the pitching mismatch of Friday as Cleveland is giving Hunter Gaddis just his third big-league start, and he's opposed by one of the nastiest lefties in MLB in Seattle's Robbie Ray, the 2021 AL Cy Young Award winner with Toronto. 
Teams Analysis
Cleveland Guardians
The Guardians won the AL Central last year on the back of their rotation, and Triston McKenzie was a big part of that, going 11-11 with a 2.96 ERA, 190 strikeouts, and 0.95 WHIP. However, he hurt his shoulder last Sunday and probably won't be back for eight weeks. This was to be his turn in the rotation, but it will go to Gaddis, with Xzavion Curry tentatively taking Gaddis' spot in the bullpen. 
Cleveland is high on the 24-year-old Gaddis, who is a giant on the mound at 6-foot-6, 260 pounds, but in his first two MLB starts last year, he was bombed for 15 runs and 15 hits, including seven homers, in just 7.1 innings – losing both.
He is one of seven players to have made the Guardians' Opening Day roster for the first time this year. At 27 years and 15 days, the Guardians sport the youngest average age of any roster in MLB. 
Seattle Mariners
We picked Seattle to win the AL West this season with Houston perhaps dealing with a World Series hangover and no Jose Altuve for up to three months. After getting a big free-agent contract, Ray was 12-12 with a 3.71 ERA in his first season with Seattle last year with 212 strikeouts in 189 innings. 
Ray didn't allow a run in 13.0 innings against the Guardians in 2022. This spring, Ray ranked second in the Cactus League with 26 strikeouts.
The Pick
The computer likes Seattle to win 5.2-3.0. 
Guardians are 1-6 in the last 7 meetings in Seattle. 
Mariners are 26-9 in their last 35 during game 2 of a series. 
Mariners are 7-3 in their last 10 home games. 
MLB Pick: Mariners ML (-162) at BetRivers
---