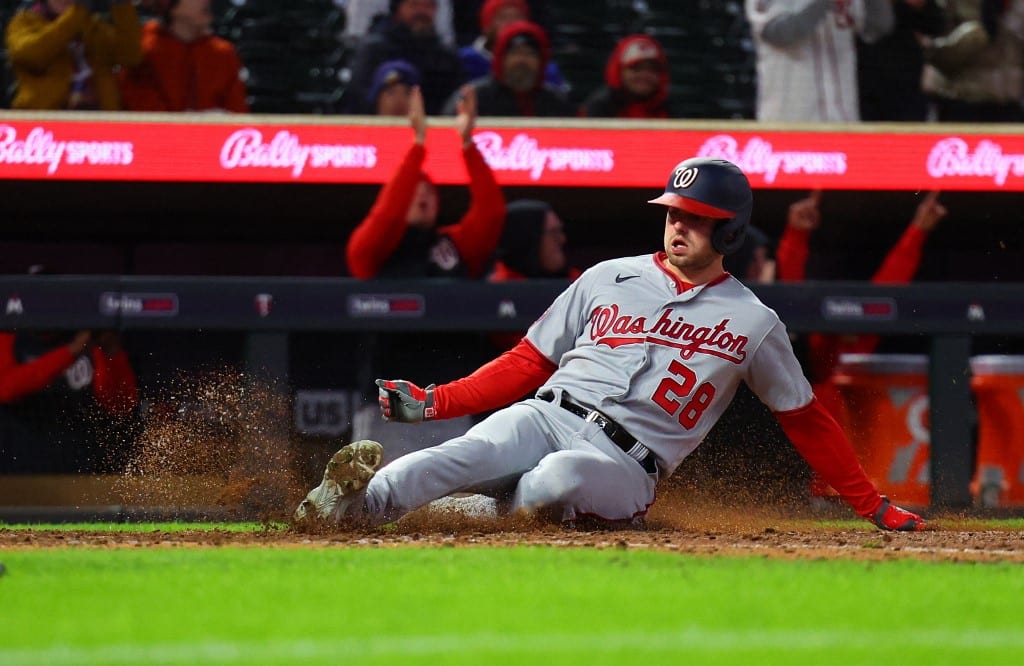 ---
Picks Summary
Nationals vs. Twins: Nationals +1.5 (+105) at Caesars Sportsbook
Mets vs. Giants: Mets ML (+105) at WynnBET
Reds vs. Pirates: Pirates ML (-130) at WynnBET
---
---
Thank goodness the weekend is here. This is the best time to make your MLB picks, thanks to all those recreational bettors logging off work and putting their money in blindly on their favorite teams.
There are multiple games worth betting on Saturday's slate; with the help of the computer projections at OddsTrader, we've selected these three for your consideration.
---
Saturday, April 22, 2023 – 02:10 PM EDT at Target Field
---
---
If you're looking for a "buy low" commodity, you couldn't do much better than Washington (5-13, minus-3.80 betting units at press time). The 2019 World Series is well and truly in the rear-view mirror; the Nats have been living in the National League East basement suite ever since.
Maybe they're about to turn the corner. Washington's minus-25 run differential is the Pythagorean equivalent of a 6-12 expected win record, and they've faced the toughest schedule in the NL East (plus-0.1 SOS at Baseball Reference) thus far.
The OddsTrader computers still have Minnesota (11-8, plus-1.42 betting units) winning this game by 4.3 runs to 3, but that makes it a relatively easy choice to take Nats +1.5 (+105) on the run line at Caesars Sportsbook.
Go Easy
Don't bet more than one unit of your bankroll on it, though. The Twins are your classic small-market value team playing in Flyover Country, and much like Washington, their plus-17 run differential translates to an expected win record of 12-7, one win better than in real life.
Minnesota also has the advantage on the mound with Pablo Lopez (2.86 xFIP in 26 innings) projected to start opposite Chad Kuhl (6.73 xFIP); once they're done, the Twins bullpen only ranks No. 14 on the WAR charts at FanGraphs, but Washington's is worse at No. 22.
It doesn't sound like a good spot for betting on the Nats – until you consider the weather. It's unseasonably cold right now, even for Minneapolis; Saturday's afternoon forecast calls for cloudy skies and temperatures around 40 degrees. That should help keep the scoring low, and make Washington covering at +1.5 that much more likely.
MLB Pick: Nationals +1.5 (+105) at Caesars Sportsbook
---
Saturday, April 22, 2023 – 04:05 PM EDT at Oracle Park
---
---
Switching to the moneylines on the MLB odds board, we've got the Mets (13-7, plus-2.96) priced at +105 over at WynnBET, in a game the OT computers have New York winning 4.3 runs to 4. As with our Washington pick, you don't need to be a baseball wizard to see the betting value here.
Fading San Francisco (6-12, minus-5.41 units) has been the right thing to do all season long. The reason they're in a virtual coin-flip this Saturday: starting pitcher Logan Webb (2.60 xFIP in 23.2 innings), one of the best in the business.
New York responds with David Peterson (3.58 xFIP in 20.2 innings), a decent prospect in his own right, but not at the level of Webb, whose game really took off after he stopped throwing his four-seam fastball and emphasized his offspeed stuff instead.
It's All About the Bullpens
To compensate, the Mets will bring the No. 17-ranked bullpen on the FanGraphs WAR charts to Oracle Park, whereas San Francisco (No. 26) can't seem to put out fires. The Giants are also without DH Joc Pederson (wrist) and his .895 OPS, while the Mets and their No. 3-ranked batting order are pretty much intact.
MLB Pick: Mets ML (+105) at WynnBET
---
Saturday, April 22, 2023 – 06:35 PM EDT at PNC Park
---
---
One more chance to put the Pirates (13-7, plus-9.32 units) in our baseball picks before the market catches up or the wheels come off. They're well on their way to being one of the pleasant surprises of the 2023 campaign, and the OT computers say they'll beat Cincinnati (7-12, minus-4.32 units) this Saturday by 4.4 runs to 4, plenty enough room for a small bet on the Pirates as -130 home faves at WynnBET.
Good Times for Pirates
This isn't your proverbial smoke-and-mirrors, although Pittsburgh's plus-20 run differential does lead to an expected win record of 12-6; that's still heady territory for a franchise that's been virtually run into the ground, aside from a brief revival in the mid-10s.
That revival was led by 2013 National League MVP Andrew McCutchen (.943 OPS), who rejoined the Pirates in free agency this offseason and is looking very much like his former self again. It might not last at age 36, but facing spot starter Luis Cessa (7.04 xFIP in 12 innings) should help McCutchen continue his renaissance and lead Pittsburgh to the pay window. Bet accordingly.
MLB Pick: Pirates ML (-130) at WynnBET
---