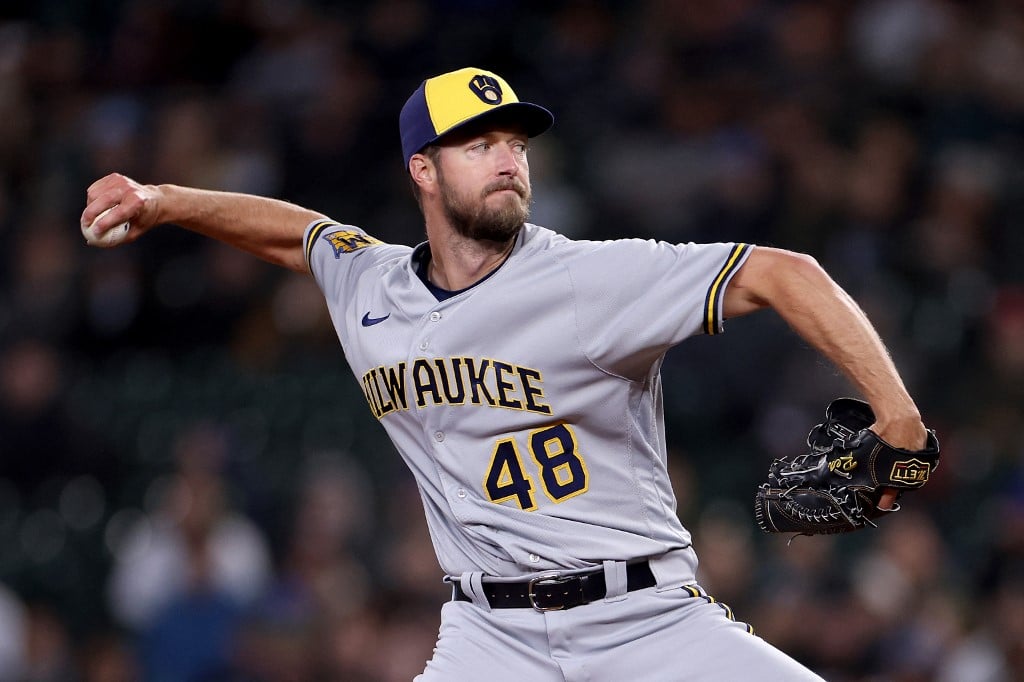 Saturday's Top MLB Picks
---
In theory, you should get just as much betting value with your MLB picks on the run line as you do with the moneyline; that is, you'll get paid the same in the long run no matter which line you take on your chosen team.
That's not quite how things work in practice, though. Some teams are so good, they (somewhat) consistently cover the -1.5 spread on the run line; some bad teams are good enough to cash in frequently at +1.5, even if they rarely seem to win straight-up.
You can make smarter baseball picks by combining this knowledge with the computer projections at OddsTrader. Our latest 3-pack for Saturday's slate begins on the Left Coast, where the computers have sussed out some betting value with a classic small-market franchise.
---
Saturday, May 06, 2023 – 07:15 PM EDT at Oracle Park
---
---
The OT computers are actually torn on this matchup; they have San Francisco winning 4.8 runs to 4.3, enough to cash in as a moneyline pick, but not nearly enough to stop Milwaukee from covering that +1.5 on the run line.
The computers don't weigh the relative betting value of each line, but that's where we come in – and the 18-13 Brewers look like the sharp team in Saturday's matchup, even if they've been more successful on the ML (plus-4.79 betting units) than the RL (15-16 ATS, minus-0.24 units).
Milwaukee's Performance
We'd be more inclined to give Milwaukee those 1.5 runs, just in case. Their plus-18 run differential on the season translates to an expected win record of 18-13, matching their actual record, but the Brewers are also 6-2 in games decided by one run, and 2-0 in extra innings. There has to be some good luck baked in there somewhere.
Skill might have something to do with it, of course. But according to the WAR charts at FanGraphs, Milwaukee's bullpen ranks No. 23 in the majors; they're even worse at No. 26 overall with their 4.58 combined xFIP.
Colin Rea (4.48 xFIP) is due to start for the Brewers, as they find themselves at the back of their rotation, so again, we could use the extra 1.5 runs here. But the 13-17 Giants (14-16 ATS, minus-5.76 units) make the risk worth the reward, even with ace Alex Cobb (2.99 xFIP) taking the mound. That's partly because their bullpen is even worse than Milwaukee's at No. 28 in both WAR and xFIP (5.01).
MLB Pick: Brewers +1.5 (-139) at BetMGM
---
Saturday, May 06, 2023 – 06:40 PM EDT at Great American Ball Park
---
---
The 13-18 Reds fit into that category of losing teams who can plausibly keep a game close. They're 5-8 in 1-run games this year and 1-1 in extra innings. As a result, Cincinnati supporters are down 3.91 betting units on the moneyline, and up 5.21 units on the run line.
The OT computers have the Reds beating the White Sox 4.9 runs to 3.8, so it might not matter which line you take, but we'll once again recommend Cincinnati +1.5 for Saturday's pick.
They're sending Nick Lodolo (3.39 xFIP) to the hill, and while the sophomore is a very promising pitcher, he's also given up 2.35 home runs per nine innings this year.
The 10-22 White Sox (13-19 ATS, minus-5.99 units) have Mike Clevinger and his ghastly 5.63 xFIP penciled in for Saturday; he's been incredibly inconsistent thus far as he continues his attempted return from Tommy John surgery, so again, that +1.5 hedge looks like the right play.
MLB Pick: Reds +1.5 (-240) at BetRivers
---
Saturday, May 06, 2023 – 08:40 PM EDT at Petco Park
---
---
Let's head back out West for this golden opportunity to take the Under at Petco Park, one of the toughest venues for hitters in all of the majors. The park factors at Baseball Savant have San Diego ranked No. 29 for runs at a mere 88, and sixth overall in strikeouts at 105.
Speaking of strikeouts, Blake Snell (4.61 xFIP) is due up for San Diego. Snell has whiffed 10.24 batters per nine innings, although the Over went 4-2 in his first six starts. His L.A. counterpart, Dustin May (5.11 xFIP), has split the totals at 3-3.
These two pitchers have struggled somewhat, but it won't be all that hot in San Diego, with temperatures in the mid-60s and 15-mph winds blowing down the third-base line. The computers say Los Angeles will win four runs to 3.7 in these conditions. Bet accordingly.
MLB Pick: Under 8.5 (-110) at Caesars Sportsbook
---