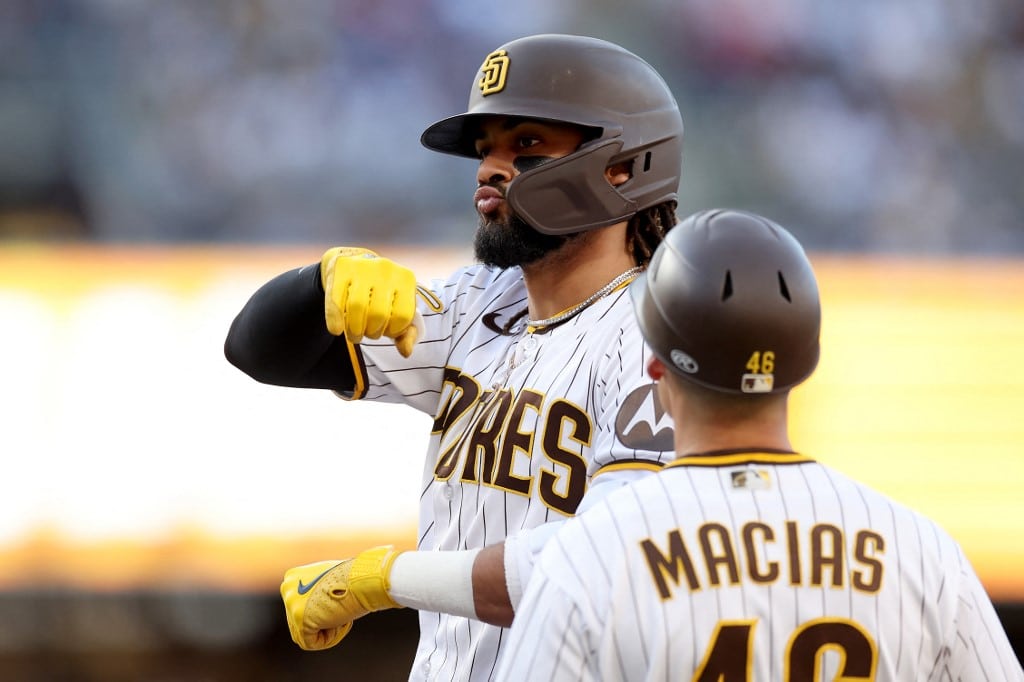 MLB Pick: Padres +1.5 (-178) at Caesars Sportsbook
---
Picks Summary:
Dodgers vs. Padres – Padres +1.5 (-178)
Rangers vs. Angels – Under 9.5 (-105)
Marlins vs. Cubs – Under 7.5 (-110)
Have the San Diego Padres turned the corner? They're the right MLB pick this Sunday when the L.A. Dodgers come to town.
What have we learned about the 2023 MLB season after the first month? Scoring is definitely up, although the betting market is starting to figure it out; at press time, the Over is still slightly ahead at 237-232 when it comes to totals.
Road dogs have also done better than home dogs on the run line, cashing in at 178-123 ATS (59.1%) versus 93-94 ATS. We can't really compare the two without knowing what the vigorish was, but it's an interesting trend nonetheless, and one with a reasonably large sample size.
We're hoping to fade that trend with our latest batch of computer-approved MLB picks – at least when it comes to our top pick, which takes us back to Petco Park for an important series between title contenders from the National League West.
---
Sunday, May 07, 2023 – 07:00 PM EDT at Petco Park
---
We went with the Under for Saturday's matchup between the Dodgers and Padres; the finale of this three-game set will be shown on ESPN's Sunday Night Baseball, and the computers at OddsTrader have San Diego as the right pick on the run line, with Los Angeles winning 4.4 runs to 3.5.
The OT computers would be equally happy with L.A. on the moneyline, but the betting value is actually with the Padres – if we're reading the situation correctly. San Diego has won five of its last six games, and nine of 13 since Fernando Tatis Jr. (.802 OPS) returned from his extended absence.
Tatis isn't quite persona non grata in San Diego, but he did lose a lot of fans after getting hurt during the 2021 offseason, apparently from one of multiple motorcycle crashes in his native Dominican Republic. Then Tatis was suspended 80 games for PED use that he claimed was for treating ringworm.
He may have cost himself and the Padres millions of dollars, and maybe a title or two, but Tatis is back for now, and he's one of the best hitters on a team that's been otherwise mediocre at the plate. The Padres rank No. 12 overall in hitting on the WAR charts at FanGraphs, improving to seventh since Tatis made his season debut on April 20.
Will Tatis Tattoo Julio?
Tatis and his teammates will face southpaw Julio Urias (3.38 xFIP) this Sunday, as the Dodgers return to the front of their starting rotation; this should be a good matchup for the right-handed Tatis, although he's only 2-for-13 lifetime off Urias with a paltry .445 OPS.
The Padres respond with Joe Musgrove (3.64 xFIP), who was given an extra couple of days off to recover from a blister on his foot. Musgrove has only made two starts this year, but he was excellent in both his previous seasons in San Diego.
We're definitely going run line here for protection. Current L.A. hitters have a combined .861 OPS off Musgrove, but as with yesterday's Under pick, the park factors and the weather conditions suggest we're in for a low-scoring affair, one that San Diego "should" cover at +1.5.
MLB Pick: Padres +1.5 (-178) at Caesars Sportsbook
---
Sunday, May 07, 2023 – 04:07 PM EDT at Angel Stadium
---
Speaking of the Under, that's the right call for our remaining baseball picks, including Sunday's matinee between the Rangers (Over 19-11-1) and the Angels (Under 17-15-1). The OT computers like Texas to win 5.1 runs to 3.9.
Make it a small bet, though. Angel Stadium isn't like the others on the Left Coast, with its park factor of 106 for runs (fifth overall in the majors) at Baseball Savant, and Sunday's forecast calls for 10-mph winds blowing out towards left field.
The pitching matchup between Martin Perez (4.37 xFIP) for the Rangers and Jose Suarez (6.16 xFIP) for L.A. doesn't breed much confidence, either.
MLB Pick: Under 9.5 (-105) at WynnBET
---
Sunday, May 07, 2023 – 02:20 PM EDT at Wrigley Field
---
This Under is a bit more to our liking. It's Wrigley Field in the springtime, with 10-mph winds coming in from right field, and while the Cubs (Under 19-13) rank sixth in hitting value according to FanGraphs WAR, the Marlins are just No. 23 overall.
We also like the matchup between Miami's Sandy Alcantara (4.37 xFIP) and Chicago's Hayden Wesneski (4.75 xFIP), although both have struggled a bit this young season. And most importantly, the Cubs are projected to win 3.6 runs to 3.4. Bet accordingly – the computers have spoken.
MLB Pick: Under 7.5 (-110) at BetMGM