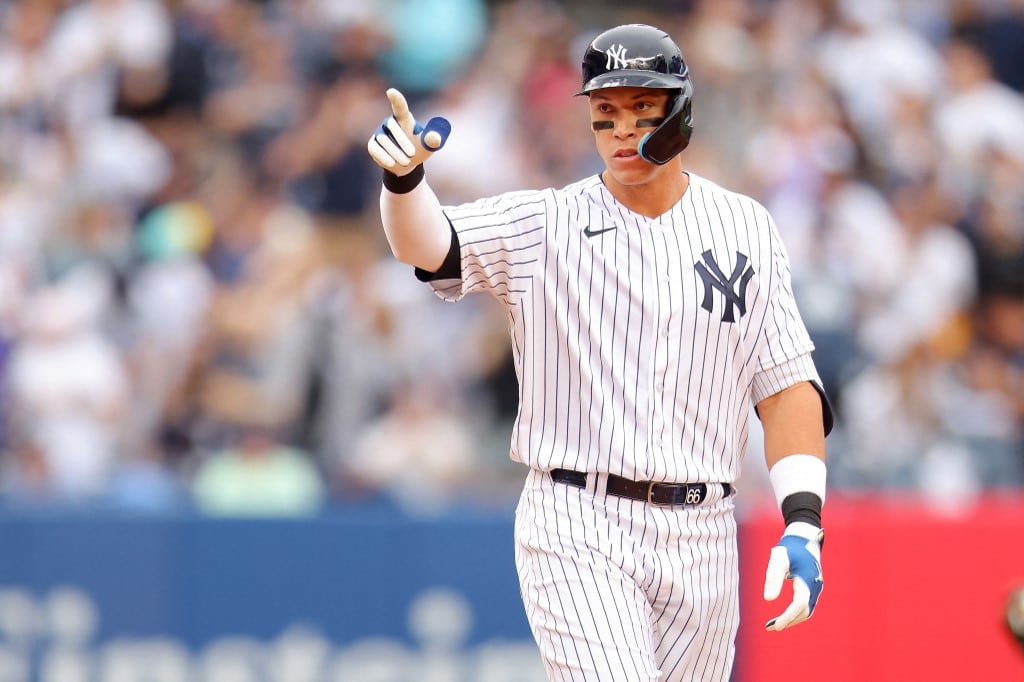 ---
MLB Pick: Regular Season Home Run Leader: Aaron Judge (+400) at Caesars Sportsbook
---
Picks Summary:
MLB Pick: Regular Season Home Run Leader: Aaron Judge (+400)
MLB Pick: Regular Season Strikeout Leader: Dylan Cease (+1000)
MLB Pick: Regular Season Stolen Base Leader: Esteury Ruiz (+800)
---
Will Aaron Judge lead the majors in home runs again? This question and more will be answered in our latest batch of MLB picks.
The MLB futures market is a beautiful thing. This used to be the only place you could bet on things other than the outcome of a single game – like who will win the next World Series. Now, there are tons of "exotic" bets out there waiting for you, from MLB player props to parlays and teasers.
The futures still have that extra something, though. When you're betting on team futures, you're dealing mainly with championships – division, league, and World Series. And when you're betting on MLB player futures, you're dealing with a piece of what will become baseball history, like Aaron Judge leading the majors in home runs.
Speaking of which, Judge is available right now at +400 on the MLB odds board at Caesars Sportsbook to retain his crown as baseball's Home Run King. He was a fashionable pick at +500 heading into the 2023 campaign, and he remains our top choice on the player futures market at press time.
How Many Home Runs Will Aaron Judge Hit?
The answer is 42 – at least according to the updated ZiPS (Rest of Season) projections at FanGraphs. Judge has already racked up five home runs in his first 16 games, putting him on pace for 50-51 dingers in the regular season, but the projections say he'll have trouble keeping up this year.
Maybe 51 homers already seem like a disappointment after Judge cranked out 62 last season. However, Judge's 2022 campaign was an outlier; it was only the second time in his seven-year career that Judge finished with more than 40 home runs, 52 being his previous high as a sophomore in 2017.
Judge was also way ahead of the pack last year. Kyle Schwarber was second in home runs with 46, followed by Pete Alonso and Mike Trout with 40 apiece. And all these gentlemen are projected to regress in 2023, with Alonso second in the ZiPS (RoS) projections at 37.
This is why we still have Judge in our MLB picks at +400. There might be some value in betting Alonso (currently with eight HR) at +1100, but we'll stick with Judge given these projections, thank you kindly.
MLB Pick: Regular Season Home Run Leader Aaron Judge (+400) at Caesars Sportsbook
---
Who Is Dylan Cease?
If you're wondering who our second baseball pick is, you're among the many who don't pay attention to the Chicago White Sox – or the American League Central as a whole. And that's okay. There's only so much bad baseball people can take.
Don't blame Cease. He's one of the most promising arms in the sport today, coming off All-MLB Second Team honors in 2022 when the young righty posted a 3.50 xFIP and struck out 227 batters to finish fifth behind Gerrit Cole (257 SO).
As it happens, Cole is projected to lead the majors again this year with 208 strikeouts, having already amassed 32 for the Yankees in four starts. But we're not so keen on taking Cole at +550 when Cease, who's projected to finish second with 200 Ks, is fourth on the MLB odds list at +1000.
Projection-wise, the difference between the first and second for this prop isn't nearly as meaningful as it was for the home runs, since we're dealing with around 200 for the winner instead of 40. So we'll take Cease at these odds; he's already got 29 Ks in his first four starts, and he'll get to face those other lousy AL Central teams all year long.
MLB Pick: Regular Season Strikeout Leader Dylan Cease (+1000) at BetMGM
---
Who Is Esteury Ruiz?
He isn't Rickey Henderson, but it seems that way after all these years of tiny stolen base numbers. Thanks to the larger bases, the restrictions to defensive shifts, and the pitcher throwing to first, stolen bases are up this year – and Ruiz (four SB in 16 games) is one of the reasons why.
Mind you, the rookie outfielder for the Oakland A's isn't among the leaders just yet. Jorge Mateo (+2500), Cedric Mullins (+1000), and Nico Hoerner (+5000) have eight stolen bases each, but none of them is close to matching Ruiz's 33 projected swipes at FanGraphs, which is why we're taking Ruiz at +800.
The closest projected contenders to Ruiz are Mullins and Ronald Acuna Jr., the latter being the favorite at +600 on the MLB lines at press time. Acuna has stolen seven bags thus far; he plays for Atlanta, still, a highly visible team after winning the 2021 World Series, while Ruiz plays in the overlooked baseball wastelands of Oakland. Bet accordingly.
MLB Pick: Regular Season Stolen Base Leader Esteury Ruiz (+800) at Caesars Sportsbook
---