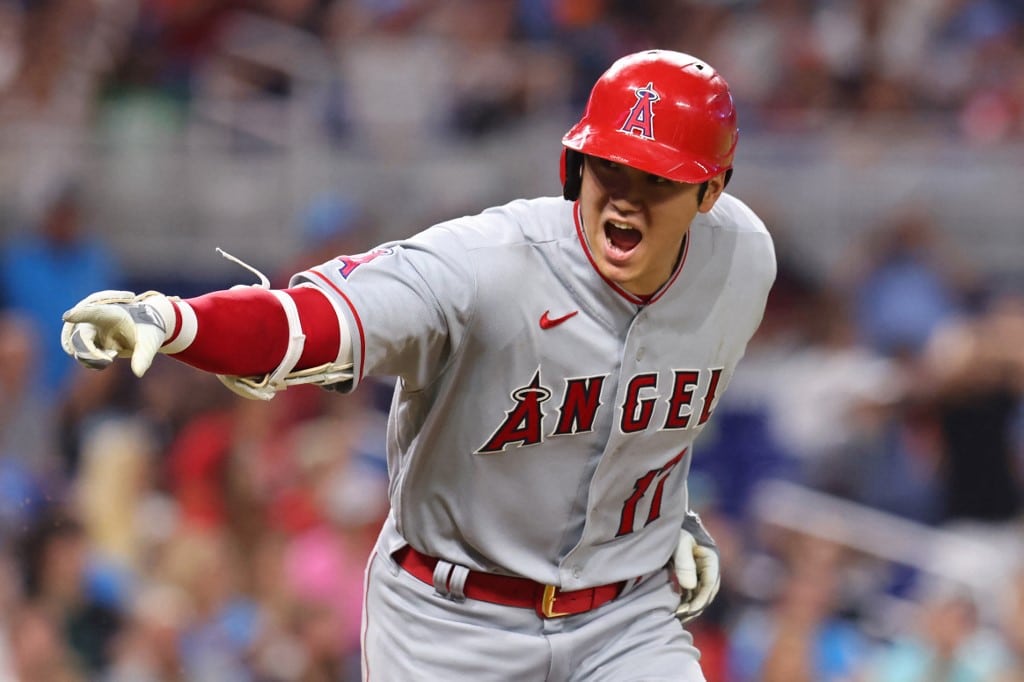 Our Favorite Player Future Picks
American League MVP: Shohei Ohtani (-105) at Caesars Sportsbook
National League MVP: Ronald Acuna Jr. (+230) at BetMGM
AL Rookie of the Year: Masataka Yoshida (+230) at SugarHouse
---
We've looked at all the different statistical categories on the MLB player futures list: home runs, hits, wins, saves, you name it. Now it's time to turn our attention to the biggest individual awards up for grabs, starting with the Most Valuable Player awards for both the American and National Leagues.
It's already a near-lock for the junior circuit. Shohei Ohtani is once again dominating the majors as both a pitcher and a hitter, making it very likely he'll repeat his breakthrough AL MVP performance from 2021. Ronald Acuna Jr. is miles ahead on the senior circuit as well, although his prowess is mostly limited to hitting, swiping bags and erasing runners.
The Rookie of the Year races are much, much closer. But for our third baseball pick this week, we're going with another Japanese talent in Masataka Yoshida, who basically has an unfair advantage over the field after playing in the NPB for seven years.
---
Will Shohei Ohtani Win MVP Again?
It will probably take some kind of injury to derail Ohtani – and it doesn't have to be a catastrophic injury, either. Look at what a brief layoff has done to Aaron Judge in his quest to repeat as Home Run King, for example.
Otherwise, it's going to be virtually impossible for anyone to catch up, simply because Ohtani is so good at everything he does. At press time, he leads the American League in both hitting WAR (as per Baseball Reference) and pitching WAR, racking up 2.2 Wins Above Replacement in each category after just one month of baseball.
If only he didn't play for the Los Angeles Angels (19-16, minus-1.31 betting units). The Baseball Writers' Association of America usually prefers to vote for someone who leads their team to greatness – but not always, as we saw two years ago when the Angels went 77-85.
Ohtani's chances of cashing in at -105 on the MLB odds board will improve if the Halos manage to win 85-90 games this year.
MLB Pick: Shohei Ohtani American League MVP (-105) at Caesars Sportsbook
---
Is Ronald Acuna Jr. the Best Player in Baseball?
Not until he learns to pitch. Which he probably could; Acuna's cousins include former MLB hurlers Kelvim Escobar and Edwin Escobar, and his grandfather Romualdo Blanco pitched in the minors for six years. You can see that pedigree when Acuna fires laser beams from wherever he happens to be playing in the outfield on any given day.
Acuna is definitely the best position player in the National League, though. Atlanta's multi-tool superstar leads all hitters with 2.0 WAR, 30 runs scored, and 15 stolen bases. Being an outfielder also protects Acuna from the anti-shift rules that have made life difficult for would-be MVPs in the infield, even second favorite Pete Alonso (+800 at BetMGM) playing first base for the New York Mets.
Although we're stoked about Acuna's MVP chances at +230, we're recommending a smaller bet size in his case than for Ohtani. Acuna's .370 BABIP would be a career-high if he somehow managed to maintain it through an entire season, and he required treatment last week after fouling a ball off his left knee.
MLB Pick: Ronald Acuna Jr. National League MVP (+230) at BetMGM
---
Is Masataka Yoshida Really a Rookie?
Only as defined by Major League Baseball. In reality, the 29-year-old Yoshida is in much the same position as Ichiro Suzuki when he made his MLB debut in 2001; both had excellent careers with the Orix team (formerly the Blue Wave, now the Buffaloes after the merger with the Osaka Kintetsu team) before crossing the Pacific.
They're two different kinds of players, though. While Ichiro concentrated on getting to first base, at least in the majors, Yoshida (.939 OPS with the Boston Red Sox) is a power hitter par excellence, winning the NPB Home Run Derby in 2021. He's already achieved the rare feat of hitting two home runs in the same inning back on April 23 against the Milwaukee Brewers – including a grand slam.
Ichiro went on to win both American League ROY and MVP honors in 2001. We're not quite ready to crown Yoshida MVP just yet; Ichiro helped the Seattle Mariners win 116 games that year, while Yoshida's Red Sox are 21-15 (plus-8.47 units) at press time.
However, we'll definitely recommend Yoshida for AL ROY as the +230 favorite at SugarHouse. The eligibility rules might not be fair, but they are what they are, so bet accordingly.
MLB Pick: Masataka Yoshida AL Rookie of the Year (+230) at SugarHouse
---