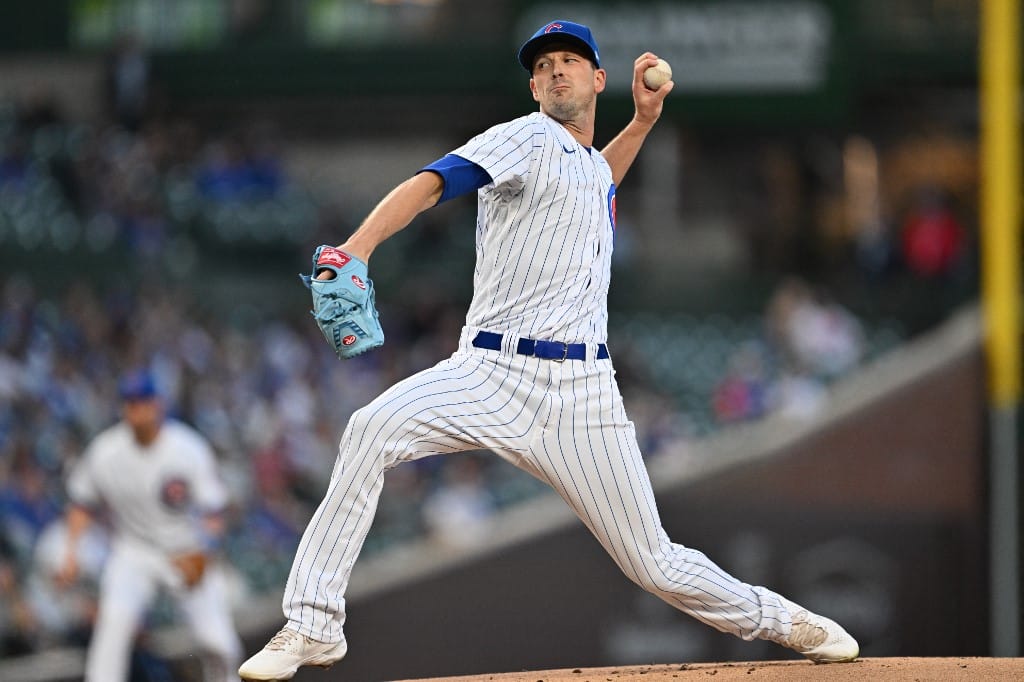 ---
Top MLB Pick:
MLB Prop Pick: Drew Smyly Under 2.5 Earned Runs (-110) at Bet365
---
Picks Summary:
Dylan Cease Over 17.5 Outs (-140)
Bryan Reynolds Over 1.5 Total Bases (+125)
Drew Smyly Under 2.5 Earned Runs (-110)
---
The best sportsbooks have released their MLB odds for today's baseball action.
For reasons that I will explain, you should invest in player props for all three games.
---
Sunday, April 16, 2023 – 02:10 PM EDT at Guaranteed Rate Field
---
Dylan Cease's Form
Dylan Cease makes his fourth start of the season today for the White Sox. He has been pitching unequivocally well, allowing a single earned run in each of his starts so far. Cease is doing a better job than he ever has before of striking out batters and preventing them from hitting home runs.
His stuff makes him hard for batters to even touch. Most prominently, he features a slider with an absurdly high spin rate – it averages 2873 RPM. After his slider, his fastball is his next-favorite pitch. It ranks in the 98th percentile in spin and the in the 87th in velocity.
With these two pitches alone making up over 75 percent of his arsenal, plus a curveball that makes up 20 percent of his arsenal and yields a .154 slugging rate, Cease's opposing batters rarely see something that they like.
Baltimore's Lineup
Based on its run-per-game average, Baltimore's lineup might seem tough. But the O's have repeatedly been helpless against tougher competition, allowing Rangers' starter Jacob deGrom and Yankees' starter Nestor Cortes Jr. both to have strong individual performances – deGrom's FIP (like ERA but factors out fielding) was 0.70 while Cortes' was 2.62.
Dylan Cease has already proven himself to be tough competition for Baltimore. His career ERA against Baltimore is 3.09 in four starts. Given his strong form, expect him to resume his strong track record when facing the Orioles.
We should therefore invest in him to last more than 5.2 innings by getting more than 17.5 outs.
MLB Prop Pick: Dylan Cease Over 17.5 Outs (-140) at Bet365
---
Sunday, April 16, 2023 – 02:15 PM EDT at Busch Stadium
---
St. Louis' Struggling Starter
Miles Mikolas, today's starting pitcher for St. Louis, has been catastrophically bad. In his last start, he allowed six earned runs in five innings in Colorado. While Colorado's venue is a notoriously tough place for him, he doesn't have an excuse for giving up five earned runs at home both to Toronto and to Atlanta.
This year, Mikolas' opponents are more frequently taking him deep. Perhaps most worrisome is the extent to which they are crushing his pitches in general. His hard contact allowed rate is an atrocious 41.1%.
My Favorite Pirates' Batter
We should find a Pirates' batter who can take advantage of Mikolas' poor form.
My favorite one is left-fielder Bryan Reynolds. He has been tough for Mikolas to handle even in the latter's better days. In his career, Reynolds is 9-for-28 with four doubles against Mikolas. Reynolds is one of Pittsburgh's switch-hitters who are tough for right-handed pitching – Mikolas is right-handed. Against right-handed pitchers, Reynolds is hitting .370 and slugging .783.
For the above reasons, we should attack the "total bases" prop. For this prop bet to hit, we'll need Reynolds to record at least two bases via hits. So, two singles will suffice, as will a double, or a triple, and so on.
Also, note that MLB Oddsmakers are giving us plus money.
MLB Prop Pick: Bryan Reynolds Over 1.5 Total Bases (+125) at Bet365
---
Sunday, April 16, 2023 – 04:10 PM EDT at Dodger Stadium
---
Drew Smyly's Outlook
Chicago starts Southpaw Drew Smyly today.
Smyly bounced back from a poor season opener to limit Seattle to one run over five innings. This last performance offers assurance that his form is good right now and that he is ready to go – conversely, it would have been hard to back him without seeing him pitch well in at least one game.
Given that he is a lefty, Smyly's curveball-sinker combo will be especially effective today. The Dodgers slug an awful .304 against these two pitches from lefties. Thus, expect them to have trouble scoring against him, because he pretty much only throws these two pitches, and the Dodgers have had trouble against lefty pitchers in general.
MLB Prop Pick: Drew Smyly Under 2.5 Earned Runs (-110) at Bet365