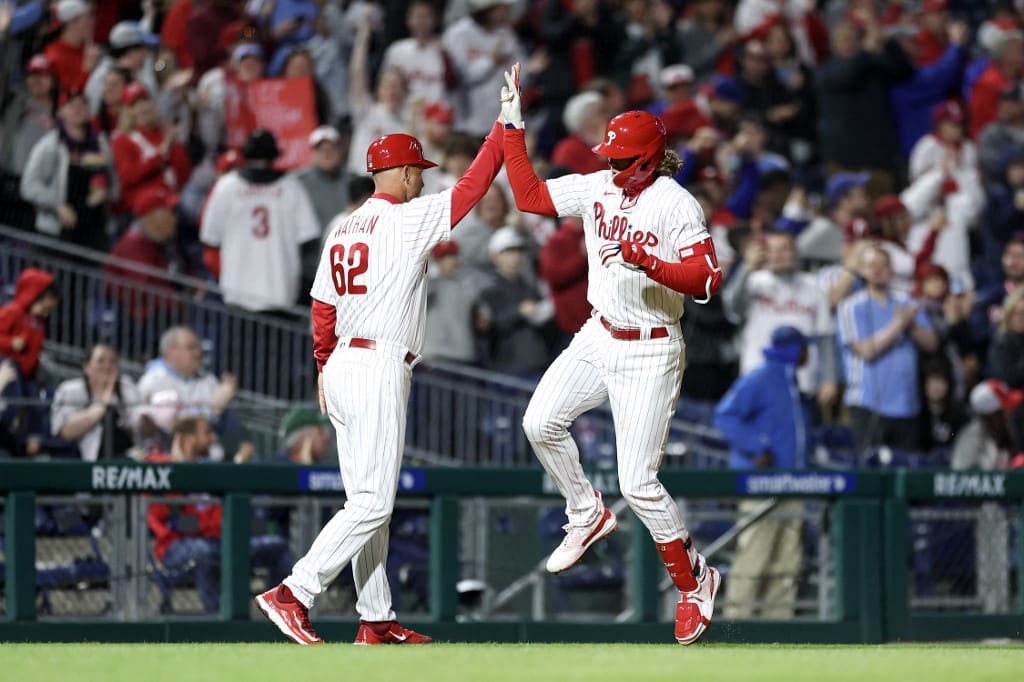 With fresh meat on the mound, the Philadelphia Phillies can take advantage and cash in our three MLB picks on Friday's player props market.
Picks Summary
Jake Cave to Get a Hit (-165)
Alec Bohm to Get a Hit (-250)
Nick Castellanos to Get a Hit (-230)
---
Friday, April 21, 2023 – 07:05 PM EDT at Citizens Bank Park
---
---
This was bound to happen. The Philadelphia Phillies were unlikely National League champions last year, after finishing third in the NL East at 87-75; with their expectations raised, the Phillies started the 2023 campaign swimming in red ink at 8-11 (minus-5.26 betting units).
The pain doesn't stop there: Philly proceeded to lose Thursday's series opener versus the Colorado Rockies 5-0 as -214 home faves. It's already the second time they've lost this month at –200 or shorter on the MLB odds board.
Good thing we're not betting on Philadelphia to win Friday's rematch. Instead, we've got three members of the Phillies in our MLB picks, and all three are available at a bargain price to get a hit:
Jake Cave (-165)
Alec Bohm (-250)
Nick Castellanos (-230)
Cave projects to have the most betting value of the three, but they're all in very good shape here – good enough to recommend investing 2-3 units of your bankroll for each.
Who's Pitching for the Rockies?
We often end up with three teammates in our MLB player props, and it's usually because the other team's starting pitcher is vulnerable. Friday's projected starter for 6-14 Colorado: lefty Noah Davis, who will be making just his third MLB appearance.
Davis was an 11th-round pick by the Cincinnati Reds in 2018, and got traded to Colorado in 2021; he's a fringe prospect at best, with an array of mostly mediocre cutters and offspeed pitches, and he's starting Friday because both German Marquez (forearm) and Antonio Senzatela (knee) are injured.
This will be the second start for Davis this season; he pitched one inning of relief for the Rockies in last year's MLB debut, giving up two earned runs on three hits. Davis actually held the Seattle Mariners scoreless on three hits over fine innings last Sunday, but Colorado still lost 1-0.
It's tough for anyone to get a hit in Seattle. Citizens Bank Park, on the other hand, is one of the more generous venues in the majors, with park factors of 103 overall and 101 for hits according to Baseball Savant. And Davis will be pitching under partly cloudy skies with temperatures around 60 degrees and light winds blowing toward left field.
---
Who Is Jake Cave?
If you're not familiar with Cave (9-for-48, .188 BA), it's because he spent most of the previous five years hitting at the bottom of the Minnesota Twins lineup – when he wasn't on the injured list. Cave does have some pop in his bat, but not enough to carve out a regular spot in the lineup.
At least not before the injury bug bit Philadelphia. Bryce Harper (elbow) is just one of their many missing personnel, giving Cave the opportunity to play in the outfield; he may be below the Mendoza Line right now, but Cave's .216 BABIP suggests he's been quite unlucky to hit this poorly.
Cave has never faced Davis before, but even if Davis comes through, Colorado's bullpen has given up the second-most hits in the majors (77) as we go to press, and FantasyData projects Cave for 0.83 hits this Friday.
Getting him at -165 is a classic "buy low" opportunity.
MLB Pick: Jake Cave to Get a Hit (-165) at Bet365
---
Who Is Alec Bohm?
He's one of Philly's more promising recruits. The third overall pick in the 2018 Draft, Bohm (23-for-80, .324 BA) has spent the past three years with the Phillies trying to develop some consistency at the plate; they've also got him playing first base a lot this year instead of the hot corner.
It seems to be working. Bohm has a natural gift for making contact, although he's also benefitted from a .364 BABIP that's bound to regress somewhat.
FantasyData still has Bohm down for 0.99 hits, though, so we'll hop on board at -250.
MLB Pick: Alec Bohm to Get a Hit (-250) at Bet365
---
Is Nick Castellanos Still Playing?
He is indeed. Castellanos (21-for-72, .292 BA) is only 31, having made his debut with the Detroit Tigers in 2013; he was a first-time All-Star in 2021 for the Reds, but hasn't quite matched that performance level since joining the Phillies last year.
Castellanos doesn't have to be an All-Star this Friday – we just need one hit. And FantasyData projects him for 0.96 hits in this matchup, so once again, that -230 chalk doesn't look so bad under these circumstances. Bet accordingly.
MLB Pick: Nick Castellanos to Get a Hit (-230) at Bet365
---