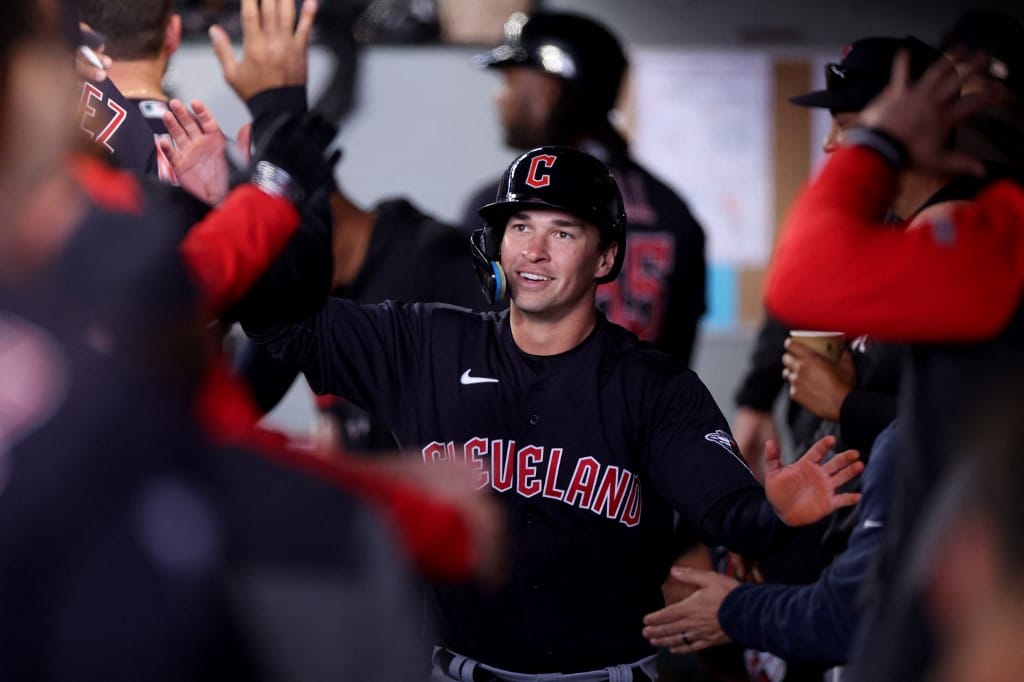 It seems the Cleveland Guardians are about to unload the clip on the Colorado Rockies.
The best betting value for Tuesday's MLB picks is with the player props for this matchup, specifically with several members of the Guardians getting a hit.
We could easily recommend six or seven Guardians for your MLB props, but this is a Top 3 piece, so let's stick with the following players to record a hit at the following payouts on the early baseball lines:
Will Brennan +0.5 Hits (-170)
Myles Straw +0.5 Hits (-155)
Mike Zunino +0.5 Hits (-115)
---
Tuesday, April 25, 2023 – 06:10 PM EDT at Progressive Field
---
---
All three of today's props are worth throwing 3-4 units of your bankroll at, especially Brennan's. What makes these bets so tasty? It might have something to do with the projected starting pitcher for Colorado.
Who Is Ryan Feltner?
Welcome to the back end of the Rockies rotation. Feltner (5.08 xFIP in 19 innings) is Colorado's No. 5 starter when everyone is healthy, but they're relying more heavily on the sophomore righty after injuries to German Marquez (forearm) and Antonio Senzatela (knee).
The Rockies took Feltner in the fourth round of the 2018 MLB Draft, after he went to Ohio State following a strong high school career in nearby Cuyahoga Falls. Feltner is Colorado's No. 21-ranked prospect according to FanGraphs, and scouts see him as pretty much what he is today: a fringe starter.
The good news for Feltner is that Cleveland's batters have never faced him, so he'll have the element of surprise this Tuesday. He'll also face a Guardians team that ranks No. 24 in hitting value, according to the FanGraphs WAR charts.
Feltner also gets to pitch on what promises to be a cold, wet night in Cleveland, with a 70% chance of rain at press time and temperatures forecast around 40 degrees. It's not ideal for our purposes, but the opportunity to hammer this vulnerable back-end starter is too good to pass up.
---
Who Is Will Brennan?
We've managed to find most of our betting value this year in the lower regions of the batting order, and Brennan (11-for-44, .250 BA) is no exception.
The second-year right fielder usually hits seventh or eighth for the Guardians; the Colorado native was an eighth-round pick in 2019 for Cleveland after making second-team All-Big 12 at Kansas State, and remains eligible for 2023 Rookie of the Year consideration, having hit 15-for-42 (.357 BA) during last year's 11-game stint.
Brennan is a left-handed hitter, so that's favorable for us versus Feltner, and FantasyData projects him for 0.94 hits this Tuesday. It's an easy call to take him at -170 or longer for your MLB player props.
MLB Pick: Will Brennan +0.5 Hits (-170) at Bet365
---
Who Is Myles Straw?
Moving even further down the lineup, we find Straw (19-for-73, .260 BA) in the 9-hole and starting in center field. This is another new player for the rebuilding Guardians; Straw was selected by the Houston Astros in the 12th round of the 2015 Draft and was a regular fixture for them in 2021 before he was shipped to Cleveland at the deadline for Yainer Diaz and Phil Maton.
Straw isn't a power hitter by any means, but he did earn a Gold Glove last year, and he does get on base enough for Cleveland to keep sending him out there. This will be a righty-v-righty matchup with Feltner; FantasyData still has Straw down for 0.86 hits, so grabbing him at -155 is well within reason.
MLB Pick: Myles Straw +0.5 Hits (-155) at Bet365
---
Will Mike Zunino Get a Hit?
Of the three players in Tuesday's baseball picks, Zunino (11-for-44, .250 BA) is probably the most recognizable, having made the 2021 All-Star Game as a catcher for the Tampa Bay Rays after several years with the Seattle Mariners. These are still regional teams in terms of fanbase, though, so Zunino retains some "who dat?" betting value.
He's also one of the worst-hitting catchers in the majors, posting a .148 BA for the Rays last year before they decided not to renew his contract. A right-handed hitter, Zunino will probably bat eighth Tuesday between Brennan and Straw; FantasyData projects him to rack up 0.70 hits against the Rockies.
It's not the sexiest baseball pick in the world, but that -115 payout makes it almost as tasty as the hit props for Brennan and Straw. Bet accordingly.
MLB Pick: Mike Zunino +0.5 Hits (-115) at Bet365
---