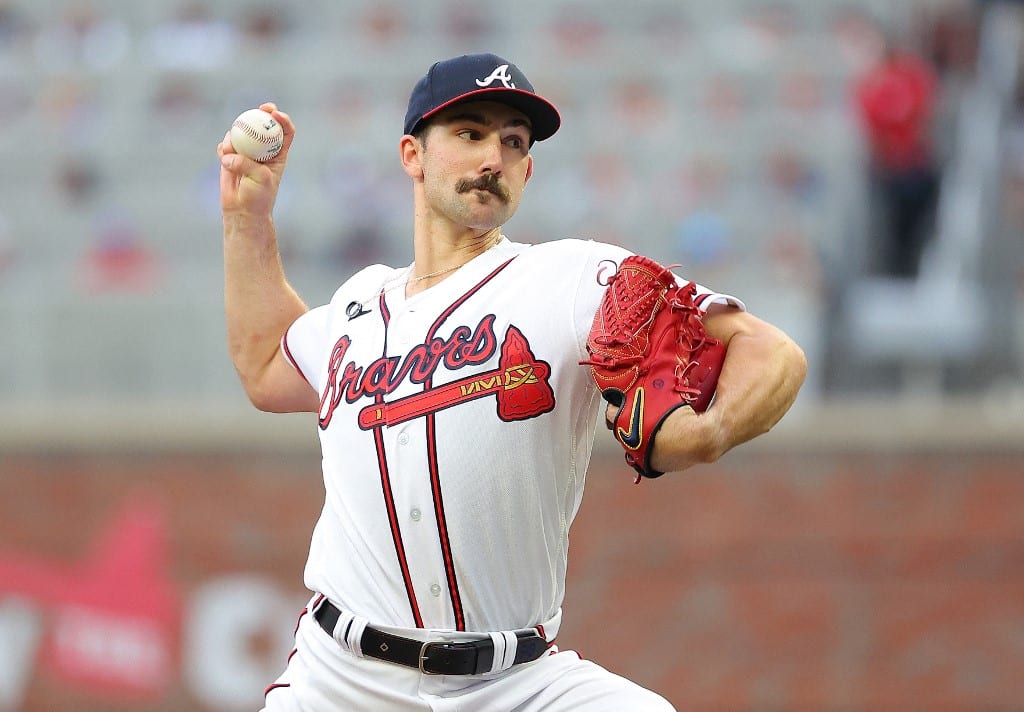 The Atlanta Braves were swept at home over the weekend but have a good chance of ending their four-game losing streak on Monday behind young ace Spencer Strider vs. the light-hitting Marlins.
Here are two great prop plays on Strider and a few others Monday with MLB odds from our top sportsbooks. 
Picks Summary
Austin Gomber Over 2.5 Earned Runs (-105)
Jose Ramirez Over 1.5 Total Bases (+115)
Spencer Strider Over 8.5 Strikeouts (-161)
Spencer Strider Yes to Record a Win (-111)
Ken Waldichuk No to Record at Win (-500)
Mike Trout Over 1.5 Total Bases (-108)
---
Monday, April 24, 2023 – 06:10 PM EDT at Progressive Field
---
---
Colorado's Austin Gomber
The worst pitcher in the National League thus far has been Colorado lefty Austin Gomber, at 0-4 with a 12.12 ERA and 2.14 WHIP. Gomber threw a quality start in his season debut in San Diego but has been obliterated for 19 runs and 22 hits over 10.1 innings in his past three.  
"I feel like some points right now I'm just out there throwing with a lot of stuff going on," Gomber said. "So if I can get back to worrying about pitching, then I'll be fine. That's the easy part, getting into the game and pitching. It's keeping everything else out."
The Rockies have won only one game in the past 13 days. They haven't won a series yet, the first time in franchise history they've failed to win any of their first seven. Gomber has made one start and three relief appearances in his career vs. the Guardians, none in Cleveland, going 0-1 with a 6.75 ERA (8.0 IP, 6 ER).
MLB Pick: Gomber Over 2.5 Earned Runs Allowed (-105) at Caesars Sportsbook
Cleveland's Jose Ramirez
Jose Ramirez has had a successful career off Gomber, going 3-for-5 with a double. Ramirez comes off a two-hit day on Sunday that included a homer.  
MLB Pick: Ramirez Over 1.5 Total Bases (+115) at Caesars Sportsbook
---
Monday, April 24, 2023 – 07:20 PM EDT at Truist Park
---
---
Did the Braves not get the message that playing at home is an advantage with the whole batting last thing? Six of Atlanta's eight losses are at home and it was just swept over the weekend by Houston in a rematch of the 2021 World Series. 
Atlanta's Spencer Strider
Atlanta's last win was the last time that right-hander Spencer Strider (2-0, 2.45 ERA), the 2022 National League runner-up, took the mound. The 24-year-old dominated the Padres in San Diego last Tuesday, shutting them out on one hit over six with nine. Strider's 97.5 mph average fastball velocity was up from his previous 97.1 season average.
Strider has struck out eight exactly nine in all four starts even though he hasn't been allowed to throw more than six innings yet. Dating to last season, Strider has struck out at least nine in eight straight outings (high of 16). He and Hall of Famer John Smoltz are the only pitchers in franchise history to accomplish that –Nolan Ryan set the MLB record when he tallied at least nine strikeouts over 11 straight starts in 1977. 
The last time Strider didn't record nine strikeouts or more was last Aug. 26, 2022, against the Cardinals, when he had seven.
Strider only saw the Marlins for a total of one inning over two appearances last year, but they are again one of the weakest lineups in the majors. The Marlins strike out 24% of the time this season. They whiffed 11 times on Sunday, eight against Guardians rookie Logan Allen.  
MLB Pick: Strider Over 8.5 Strikeouts (-161) at Caesars Sportsbook
MLB Pick: Strider Yes to Record a Win (-111) at Caesars Sportsbook
---
Monday, April 24, 2023 – 09:38 PM EDT at Angel Stadium
---
---
Oakland's Ken Waldichuk
This is the lone national TV game of the night on Fox Sports 1, and the Angels have a crazy high 5.87 implied run total on Monday night against the wretched A's and maybe the worst starting pitcher in the American League in Ken Waldichuk (0-2, 7.65 ERA). 
The state of the Oakland franchise right now is that the A's don't really have anyone better to throw out there than Waldichuk. He did blank the Cubs over five last time out, so maybe we are being hard on him. But 27 hits and 10 walks allowed in 20 innings is not good.
Waldichuk wasn't any better this spring at 0-4 with a 10.54 ERA and 1.057 OPS in five games, including four starts. He is 1-1 with a 4.26 ERA in two career starts against the Angels. 
MLB Pick: Waldichuk No to Record at Win (-500) at Caesars Sportsbook
Los Angeles' Mike Trout
Mike Trout is 4-for-5 career off Waldichuk, with two doubles and a homer. Trout enters on a five-game hitting streak and two straight games with at least one homer. 
A's starting pitchers are 0-11 with an 8.88 ERA this season. That streak of 22 consecutive games without a win from the starting pitcher is the longest single-season streak in Athletics history. 
MLB Pick: Mike Trout Over 1.5 Total Bases (-108) at Caesars Sportsbook
---