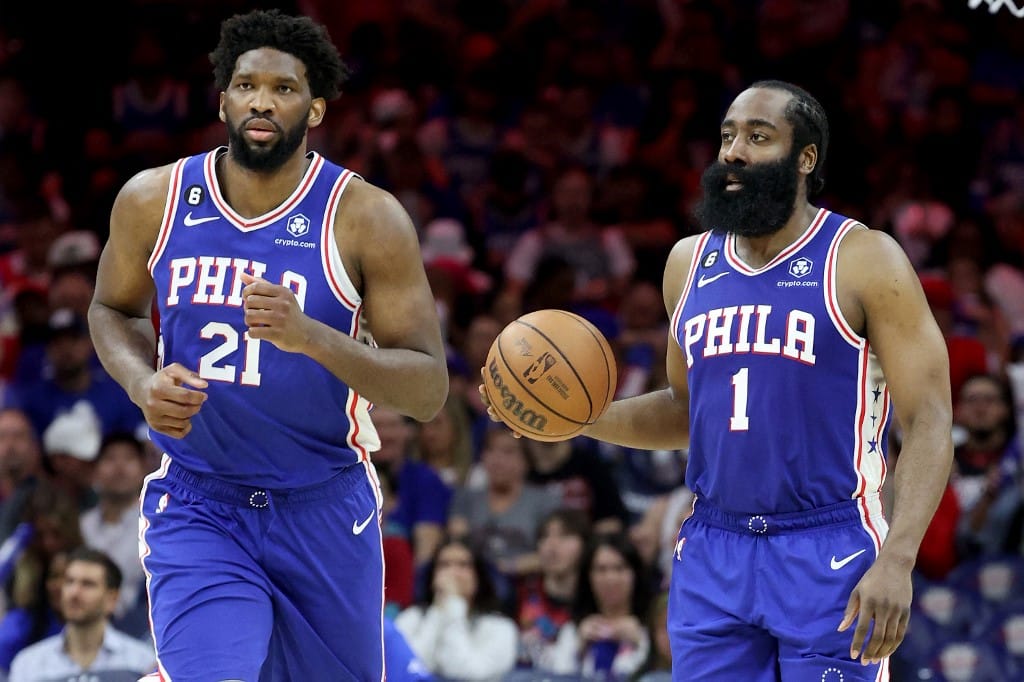 NBA Prop Pick: Joel Embiid Over 29.5 Points (-120) at BetMGM
---
Picks Summary:
James Harden Over 8.5 Assists (-125)
James Harden Over 1.5 Steals (+105)
Joel Embiid Over 29.5 Points (-120)
Even with the NBA odds shifting, the Over is still the right call for Sunday's James Harden and Joel Embiid player props.
---
Sunday, May 14, 2023 – 03:30 PM EDT at TD Garden
---
So here we are, Game 7 of the Eastern Conference Semifinals between the Philadelphia 76ers and Boston Celtics. It's been the proverbial rollercoaster ride thus far, and we took advantage last week with our NBA player props for Game 4:
James Harden: nine assists (Over 8.5)
James Harden: four steals (Over 1.5)
Joel Embiid: 34 points (Over 27.5)
Granted, that overtime frame helped us out a little; Harden picked up his ninth assist as the Sixers prevailed 116-115. But we got the bounce-back from Harden that we were hoping for after he struggled in Games 2 and 3.
If it ain't broke, don't fix it. The 76ers find themselves in a similar spot heading into Game 7, having lost 95-86 this past Thursday at home. They'll be on hostile ground at the Garden this Sunday, and the NBA odds have moved to make these Over targets a bit less tasty than last week; otherwise, these are still the right bets to make, albeit for a smaller size.
What's Wrong With James Harden?
There's a long list of reasons why Harden isn't the MVP he was five years ago. Age is the most obvious, with Harden being 34 years old this August and a 14-year NBA veteran with a lot of playoff miles on his beard. Lifestyle choices and fitness level are always a concern with Harden as well.
As he ages, Harden becomes more prone to having bad days, as he did in Game 6 when he scored just 13 points on 4-of-16 shooting. However, he also had nine assists and three steals, so it's not like Harden stopped doing all the other things a quality point guard needs to do.
Given the "extra" day of rest between Games 6 and 7, there's a very good chance we'll see Harden flourish again this Sunday. And just like last week, we're getting at least a slice of betting value from everyone in the marketplace who is too quick to jump off the Harden bandwagon.
The projections at FantasyData have Harden racking up 10.26 assists and 1.24 steals in Game 7, giving us even more confidence in hammering the former for a potential payout of -125 on the early overseas NBA lines. That's down from +100 last week, so size your bets appropriately.
The vig on the steals prop is also down from +145 to +105, so you should bet smaller again, but at least Harden's steals projection is up slightly from 1.19 last Sunday. Every little bit helps.
NBA Prop Pick: James Harden Over 8.5 Assists (-125) at Bet365
NBA Prop Pick: James Harden Over 1.5 Steals (+105) at BetMGM
How Many Points Will Joel Embiid Score?
Slightly more than 30 would be par for the course. Here are Embiid's results from earlier this series:
Game 1: inactive
Game 2: 15 (4-for-9)
Game 3: 30 (9-for-19)
Game 4: 34 (11-for-26)
Game 5: 33 (10-for-23)
Game 6: 26 (9-for-19)
That result from Game 2 is an outlier; Embiid was returning to action after missing the opener with a sore knee and only saw 26:37 of floor time, almost exactly 20 minutes less than he played for us last week in Game 4. Chances are he'll get in at least 36 minutes this Sunday, and probably more as the Sixers try to stave off elimination.
FantasyData has Embiid down for 32.14 points in Game 7, so we're getting a bit less than a 2-point cushion between the projections and the actual NBA odds; the total may have risen three points since last week, but the juice has also dropped, so we're still very happy to recommend the Over for Sunday's basketball picks.
The Embiid prop might even be the tastiest one of the three this week. It should be the least volatile of the three, although Harden has been consistent with his assist numbers these past four games (11, nine, 10, and nine). The Harden steals prop is obviously the most volatile and therefore requires a smaller bet size for optimal bankroll growth, but wagering a single unit seems reasonable here.
We're getting closer to recommending two units on the Embiid prop, but nailing down a correct bet size is a bit like nailing Jell-O to the wall. Choose an amount that fits your bankroll needs, bet accordingly, and enjoy the game.
NBA Prop Pick: Joel Embiid Over 29.5 Points (-120) at BetMGM