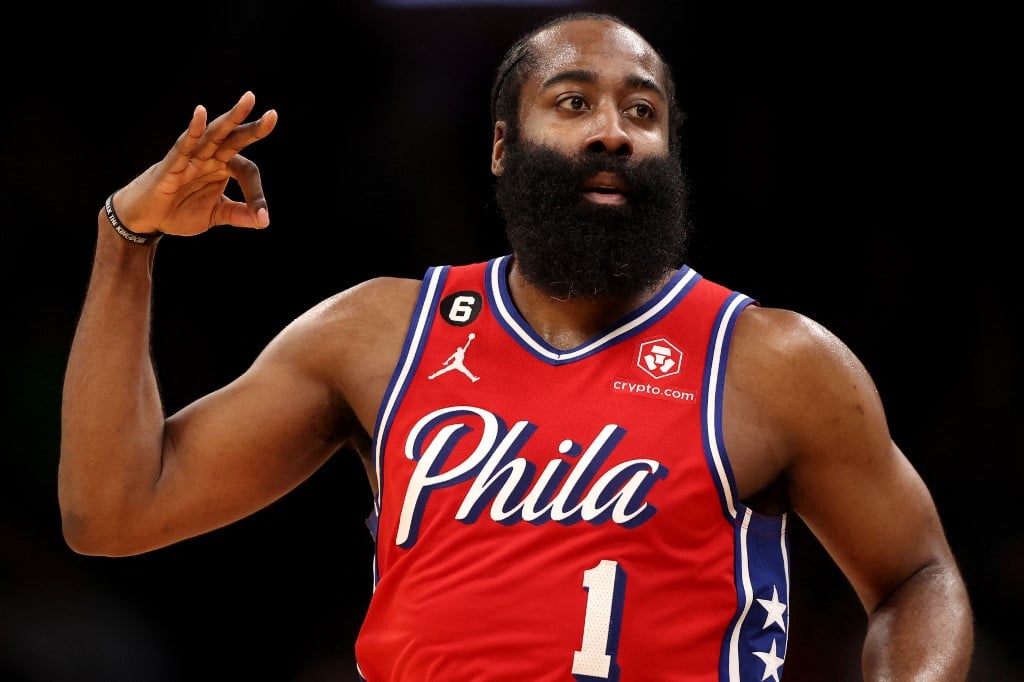 NBA Prop Pick: James Harden Over 8.5 Assists (+100) at BetMGM
---
Picks Summary:
James Harden Over 8.5 Assists (+100)
James Harden Over 1.5 Steals (+145)
Joel Embiid Over 27.5 Points (-120)
The Philadelphia 76ers need James Harden to step up this Sunday versus the Boston Celtics. Our latest NBA picks say he'll deliver.
---
Sunday, May 07, 2023 – 03:30 PM EDT at Wells Fargo Center
---
It's hard to believe we're saying this, but James Harden is underrated. Five years have passed since Harden was named league MVP; he is now on his third team in three seasons, and he missed this year's All-Star Game for the first time since 2011.
Harden played like an All-Star, though. And after a disappointing effort this past Friday, Harden's totals for Sunday's NBA player props have dropped low enough for us to take advantage.
We're going with the Assists prop and the Steals prop for Game 4 between Harden's Philadelphia 76ers and the Boston Celtics, and while we're at it, let's throw in Joel Embiid going Over 27.5 Points, which also seems plenty low enough to exploit.
Is James Harden Washed?
Not yet. Harden didn't make the All-Star team, but he did lead the league in assists at 10.7 per game. That's his seventh straight season of double-digit dimes. And scoring 21.0 points per game isn't exactly washed, even if he used to score 30-plus for the Houston Rockets.
Harden reminded everyone of what he can do when he dumped 45 points on Boston in Game 1 while Embiid was sitting out with a sore knee. But now that Embiid is the MVP, Harden is lost in his tall shadow, and his energy level was definitely not there Friday night during Game 3.
Listless or not, Harden still finished with 11 assists. FantasyData projects him to rack up another 10.33 assists this Sunday, and the early overseas NBA lines have Harden's Over/Under at 8.5 with the Overpriced at +100. This is an uncontested dunk.
The coverage of Sunday's postgame media session makes it look like Embiid challenged Harden to "be aggressive" in Game 4. That's not exactly what happened, but those two words were indeed used; if the betting public wants to respond by putting Harden in the bad dog box, all the more value for us and our basketball picks.
NBA Prop Pick: James Harden Over 8.5 Assists (+100) at BetMGM
---
How Many Steals Will James Harden Get?
Steals are considered one of those classic "hustle" plays, so once again, we seem to be getting a bargain price on Over 1.5 Harden steals at +145 vigorish; FantasyData projects Harden for 1.19 steals in Game 4, which is right in line with his average of 1.2 steals as a Sixer.
As mentioned above, Harden was lights-out against Boston in the series opener, during which he stole the ball twice – then zero times in Game 2 and just once in Game 3. Don't read too much into this. Steals are a low-volume, high-variance stat that requires patience and smart bankroll management if you want to crush it in the long run.
The Celtics may be the best team in the NBA on paper, but they're not perfect. Boston ranks seventh overall in turnover percentage (13.4%), with Jayson Tatum and Jaylen Brown each coughing up the ball 2.9 times per game during the regular season. Expect those numbers to go up this Sunday as the defensive pressure from Harden and Co. reaches new levels of intensity.
NBA Prop Pick: James Harden Over 1.5 Steals (+145) at BetMGM
---
Will Joel Embiid Play Sunday?
We'd be surprised if he didn't – but only a little. Embiid is officially listed as questionable for Game 4 because of his troublesome right knee; head coach Doc Rivers said Embiid feels "great" after playing Games 2 and 3.
It's still very interesting to see Philadelphia tagged as high as +3 for Sunday's matchup, but that's only one point worse than Game 3, which was also in Philly. The Sixers would be getting way more points than that if there were any real concerns about Embiid's status.
Your bet will presumably be graded No Action if Embiid isn't active (consult with your chosen online sportsbooks before betting), so we can focus on the value we're getting on Over 27.5 points scored, with the juice at -120.
Embiid is very likely to eclipse that total. He scored 33.1 points per game during the regular season, and 30 points in Game 3 after being held to just 15 points in Game 2 – his first since he hurt his knee during the first-round tilt with the Brooklyn Nets.
Give the Celtics due credit for putting Philly in this 2-1 hole after winning both games since Embiid's return. But for a change, the NBA odds aren't asking us to pay a premium on Embiid's Total Points prop. Bet accordingly.
NBA Prop Pick: Joel Embiid Over 27.5 Points (-120) at BetMGM