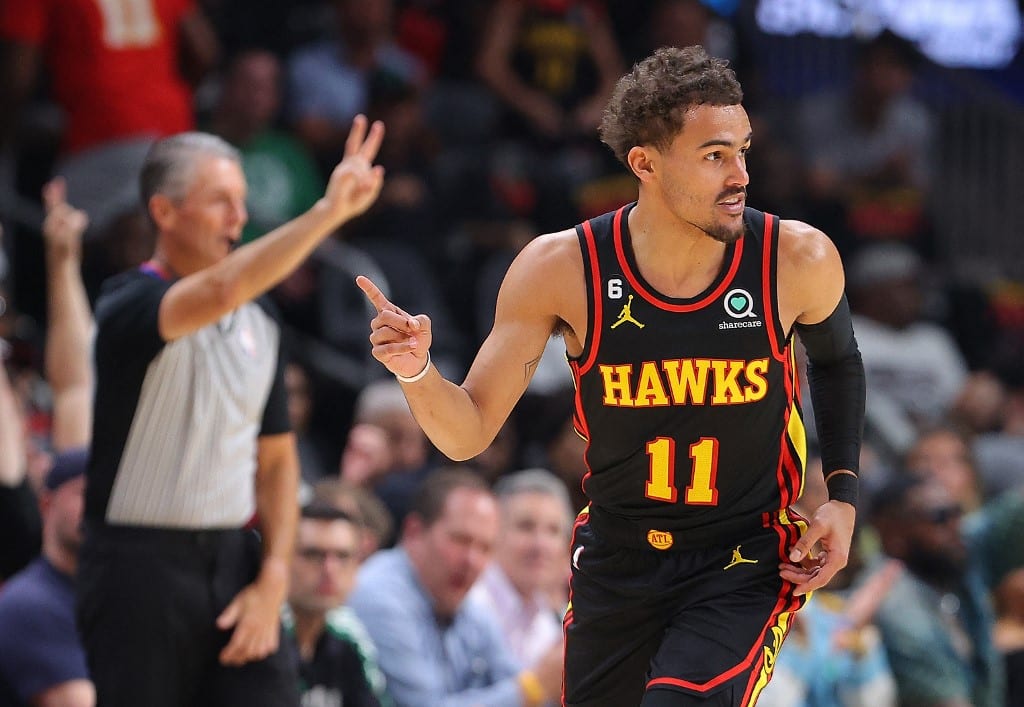 ---
NBA Prop Pick: Trae Young Over 27.5 Points (-125) at BetMGM
---
Picks Summary:
Trae Young Over 27.5 Points (-125)
Aaron Gordon Over 6.5 Rebounds (-115)
Russell Westbrook Double-Double Yes (-139)
---
The NBA Playoffs continue tonight and there are three teams who have a chance to end their Series tonight. All three teams are at home and are heavily favored by the NBA odds. The Atlanta Hawks take on the Boston Celtics, the Minnesota Timberwolves will face the Denver Nuggets, and the Los Angeles Clippers will take on the Phoenix Suns.
The OddsTrader NBA player prop tool is a surefire way to find the best price for the player prop you are looking for. Using that tool I found today's Best Bets for NBA player props.
---
Tuesday, April 25, 2023 – 07:30 PM EST at TD Garden
---
Trae Young (Atlanta Hawks)
The Boston Celtics intend to end their series against the Atlanta Hawks tonight. The Celtics put themselves in this position with a 129-121 win on Sunday to take a 3-1 lead. Jaylen Brown and Jayson Tatum scored 31 points each for the Boston Celtics in the win.
The Hawks will be playing without guard Dejounte Murray. Murray was suspended for making contact with a referee at the end of Game 4. So the already tough task for the Hawks has gotten even tougher, and the NBA odds reflect that by heavily favoring the Celtics.
The Pick
Trae Young is averaging 26.8 points per game this series. Yet Young's point total has increased in each game. He has scored 16, 24, 32, and 35 points respectively in the last four games. Tonight, without Murray, Young will have even more offensive usage.
The Celtics play a very tough brand of defense and Trae Young is one of the few players offensively gifted enough to beat that tough defense. The Hawks will rely on him to stay alive tonight. Win or lose, Trae Young will have a big night. Trae Young will go Over his point total tonight.
NBA Prop Pick: Trae Young Over 27.5 Points (-125) at BetMGM
---
Tuesday, April 25, 2023 – 09:00 PM EDT at Ball Arena
---
Aaron Gordon (Denver Nuggets)
The Minnesota Timberwolves needed overtime but they were able to keep their season alive with a 114-108 win over the Denver Nuggets on Sunday night. The Timberwolves will need that same level of heart and execution if they are trying to keep the series going tonight. No NBA team has won a seven-game series after losing the first three games.
Anthony Edwards has been huge for the Timberwolves' efforts. After being held to 18 points in game one, he has averaged 37 points per game since. Edwards hit the crucial 3-pointer to seal the victory for the Timberwolves on Sunday night.
The Pick
Aaron Gordon is playing larger due to the Timberwolves' size. The Timberwolves use Karl Anthony-Towns at the four, and he plays down low quite often. This has given Gordon more opportunities to grab rebounds. Gordon has gone over tonight's rebounding prop in three of the last four games. The only game in which he failed to go over this rebounding number was game 1, where he only played 23 minutes. If Gordon gets his full complement of playing time, as he has in the last three games, he will go over his rebounding prop again tonight.
Because of the matchup, Aaron Gordon has found himself down low and in a position to grab more rebounds than in the regular season. We will take advantage of reading this matchup to make another winning player prop. Our second pick for the day is Aaron Gordon to go over his rebounding total.
NBA Prop Pick: Aaron Gordon Over 6.5 Rebounds (-115) at Bet365
---
Tuesday, April 25, 2023 – 10:00 PM EDT at Footprint Center
---
Russell Westbrook (Los Angeles Clippers)
NBA fans have been robbed of what potentially was the most exciting series when Kawhi Leonard fell to an injury. Now, the Suns seem to be completely overpowering the Clippers. Losing your top player is tough, losing your top two players is virtually insurmountable.
The Phoenix Suns defeated the Los Angeles Clippers 112-100 in Los Angeles in Game 4. The Suns have a chance to end the series in front of their home fans tonight. The Suns have been firing on all cylinders. Kevin Durant and Devin Booker both scored more than 30 points in the Suns' Game 4 win. Chris Paul also added 19 points and 9 assists. At less than full strength, the Clippers do not appear equipped to compete with this juggernaut.
The Pick
Russell Westbrook has stepped up to try to keep the Clippers alive. Westbrook was initially brought in to complement Kawhi Leonard and Paul George. Now, Westbrook has had to take center stage as the primary scorer.
Westbrook scored 37 points on 17-29 shooting in Game 4. Over the last three games, Westbrook is averaging 31.7 points per game with seven assists and 6.3 rebounds. Westbrook has been all over the floor and his athleticism is undeniable. The Clippers will need another huge performance from Westbrook in order to keep tonight's game competitive.
Russell Westbrook will help the Clippers compete with a Double-Double tonight.
NBA Prop Pick: Russell Westbrook Double-Double Yes (-139) at Caesars Sportsbook