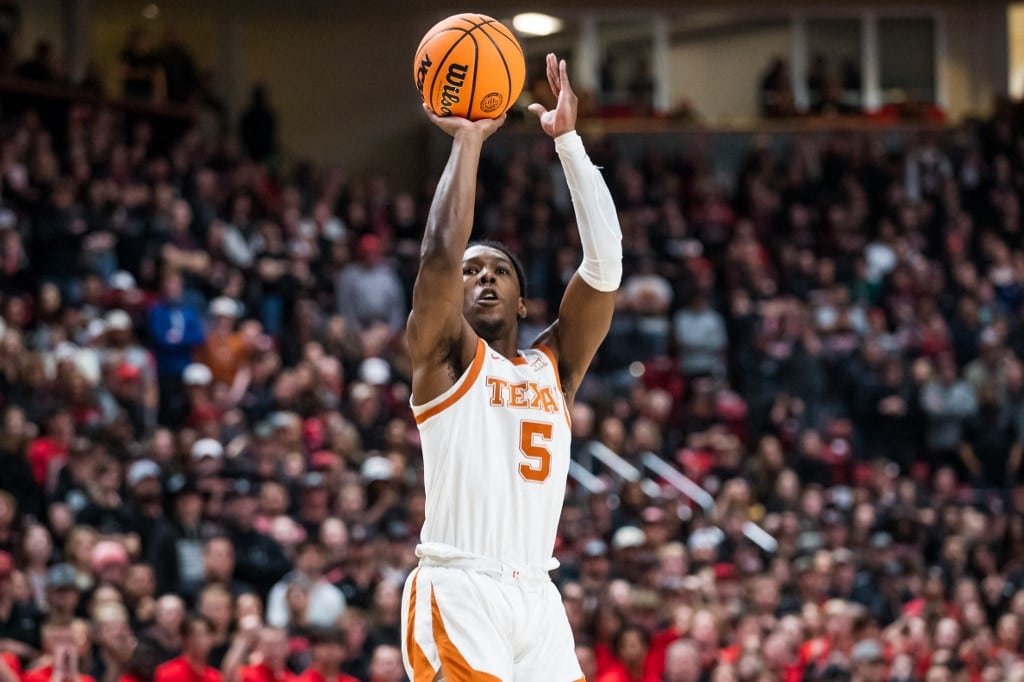 We're getting down to the nitty-gritty. There are only a small handful of games left to go before Champ Week, and not much time left for teams to make an impression on the March Madness selection committee. One win or loss could make all the difference.
As fate would have it, each of our three AI-approved college basketball picks for Tuesday features ranked teams going at it, and as usual, the free OddsTrader BetStation app has selected the Over as the right choice on the NCAAB odds. Let's get right to it.
Picks Summary
Iowa State vs. Texas: Over 136 (-110) at Caesars Sportsbooks
Marquette vs. Creighton: Over 147.5 (-110) at FanDuel
Tennessee vs. Texas A&M: Over 128.5 (-106) at FanDuel
---
Tuesday, February 21, 2023 – 09:00 PM EST at Moody Center
---
---
No. 8 Texas (Over 15-10-2) has been a strong Over pick this year, and the computers like them to beat No. 23 Iowa State (Under 17-9) 77-71, for a combined 148 points; that's a dozen more than the 136-point total at Caesars Sportsbook as we go to press.
Can the Cyclones Keep Up?
That 17-9 Under record is definitely a concern. Iowa State isn't the kind of team we like to see in an Over bet; they rank No. 6 on defense and No. 88 on offense according to Ken Pomeroy's efficiency stats, and these Cyclones are anything but swift at 65.1 possessions per game (No. 312).
We need the Longhorns to work their magic this Tuesday. Texas has the No. 12 offense and No. 32 defense on the Pomeroy charts, and a much faster Adjusted Tempo at 69.9 possessions per game (No. 75). That's much more to our liking.
The matchup itself isn't ideal, though. Texas gets most of their scoring in the paint, but the Cyclones rank third in the nation in fewest 2-pointers allowed at 13.0 per game. The good news is they commit many fouls with their hard-nosed defense, and the 'Horns are shooting 75.1% from the line (No. 50) as a team.
NCAAB Pick: Over 136 (-110) at Caesars Sportsbooks
---
Tuesday, February 21, 2023 – 08:30 PM EST at CHI Health Center Omaha
---
---
Moving from the Big 12 to the Big East, we have what should be a very competitive contest between No. 10 Marquette (Over 15-11-1) and No. 19 Creighton (Under 15-11-1). The Bluejays are projected to win 80-79, adding the promise of overtime to a fat 11.5-point gap with FanDuel's total of 147.5.
Didn't Their Last Game Go Under?
It did; the Golden Eagles beat the Jays 69-58 (Under 153.5) on December 16 as 3.5-point home faves. But the sportsbooks probably over-corrected when they sliced that total by six points – or perhaps we should blame the betting public instead.
Either way, we're looking at two very closely matched teams, both operating at a relatively spright pace of around 68-69 possessions per game. Marquette (No. 3 offense, No. 63 defense) has all the earmarks of a solid Over team; Creighton (No. 27 offense, No. 11 defense) isn't quite in our wheelhouse, but they're not egregiously lopsided towards defense.
We've also got a clash of styles here that's much more suited to our needs. As with Texas, the Eagles have a strong interior presence, ranking No. 21 in made 2-pointers at 21.3 per game, but Creighton is No. 362 out of the 363 Division I teams in 2-point attempts allowed (44.7 per game).
The Jays only allow opponents to shoot 45.3% inside the arc (No. 23), so they're daring you to come inside, but Marquette has the goods to deliver.
NCAAB Pick: Over 147.5 (-110) at FanDuel
---
Tuesday, February 21, 2023 – 07:00 PM EST at Reed Arena
---
---
Last up, we're heading to the SEC for an important tilt between No. 11 Tennessee (Under 16-11) and No. 25 Texas A&M (Under 14-13). If the computers are right, the Vols will win this game 71-68, once again giving us double-digit clearance over the 128.5-point total at FanDuel.
What Happened to Tennessee?
If you mean Saturday's 66-54 loss to Kentucky (Under 132.5) as 1.5-point road faves, yes, that was disappointing for Vols fans. And that was despite defensive beast Jahmai Mashack scoring 16 points on 7-of-12 shooting.
Tennessee (No. 67 offense, No. 1 defense) has had to play recently without two key contributors in guard Josiah-Jordan James (plus-8.1 BPM at Sports Reference) and forward Julian Phillips (plus-6.6 BPM). They remain game-time decisions for Tuesday.
Texas A&M (No. 24 offense, No. 47 defense) fit our needs for the most part, but the Vols will look a lot more like an Over candidate if James and Phillips suit up. Bet accordingly – the AI has spoken.
NCAAB Pick: Over 128.5 (-106) at FanDuel
---