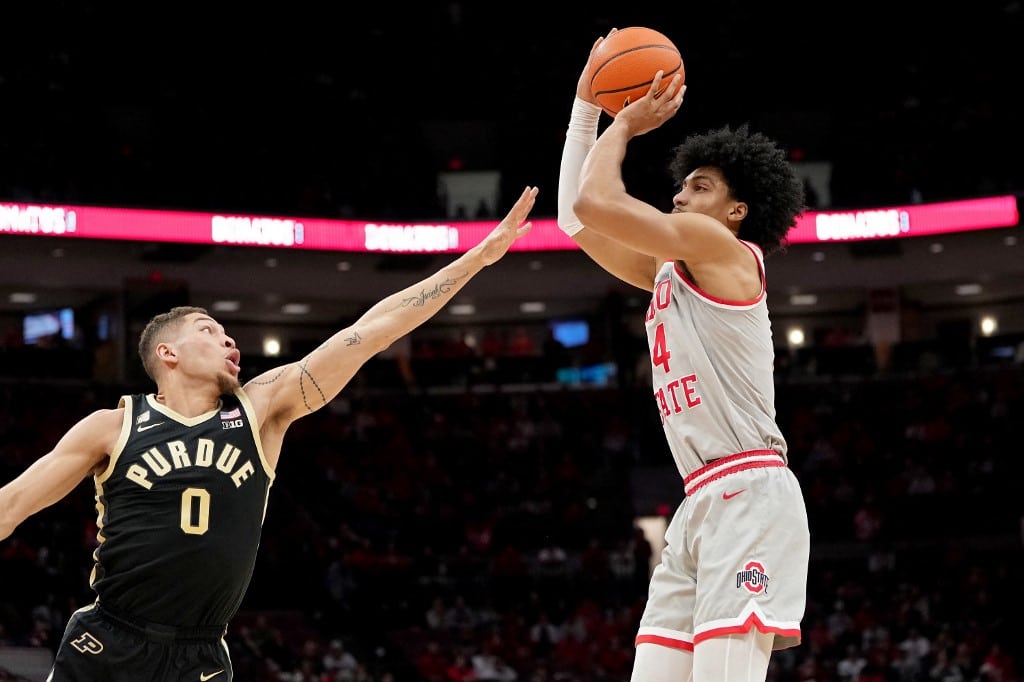 Sunday's AI-approved college basketball picks include three important matchups, starting with one of the best teams in the country.
OddsTrader computer picks don't always recommend the Over. Sometimes the AI projects the Under as the right choice; sometimes it comes up with the exact same number of points as what you'll find on the NCAAB odds board.
But more often than not, the computers like the Over. The best NCAAB picks from Sunday's slate are all on the Over, and these are three pretty big games, too – none bigger than our first matchup, which you'll be able to watch nationwide on CBS.
Picks Summary
Ohio State vs. Purdue: Over 139 (-110) at Caesars Sportsbook
Cincinnati vs. UCF: Over 138 (-110) at SugarHouse
North Carolina vs. NC State: Over 152 (-108) at SBK
---
Sunday, February 19, 2023 – 01:00 PM EST at Mackey Arena
---
---
The No. 3 Boilermakers (Under 16-11) might not look like a strong Over pick, but the AI says they'll beat Ohio State (Over 14-12) 80-69; that represents a 10-point gap between the projections and the 139-point total at Caesars Sportsbook.
Did They Go Over Last Time?
They did indeed – barely. The Buckeyes hosted Purdue on January 5 and nearly came away with the win before falling 71-69 (Over 139). That result was close enough that the total hasn't changed for their rematch in West Lafayette, at least not as we go to press.
Maybe it should, though. This defeat was the start of an awful 1-12 SU and ATS slide for Ohio State; they went from No. 24 in the polls to maybe not even making the CBI, let alone the NIT.
The Buckeyes currently find themselves at No. 60 overall (No. 26 offense, No. 110 defense) on Ken Pomeroy's efficiency charts, which looks good for our Over pick. But OSU's scoring has dropped from 81 points per game before tipping off against Purdue to 65.8 since (Under 7-5).
The good news is that Purdue (No. 9 offense, No. 27 defense) still packs plenty of scoring punch. That should be enough to get Over the hump Sunday, even if both of these Big Ten teams operate at a slow pace.
NCAAB Pick: Over 139 (-110) at Caesars Sportsbook
---
Sunday, February 19, 2023 – 12:00 PM EST at Addition Financial Arena
---
---
The meat in our Over sandwich is brought to you by the AAC, where the computers have UCF (Over 13-11-1) beating Cincinnati (Over 13-12-1) 75-72. There's a 138-point total on the college basketball lines at SugarHouse, giving us a healthy 9-point gap to work with.
How's the AAC Doing This Year?
Quite well for a mid-major, although they'll probably never be as good as the Big East was. The American Athletic Conference ranks ninth overall at Sports Reference, just behind No. 8 WCC but way ahead of No. 10 C-USA.
Much of that success is due to Houston, the second-ranked team on this week's AP poll, but the Knights and Bearcats have both played reasonably well thus far. Both teams are better at defense than offense, though, and UCF is particularly slow at 64.6 possessions per game, leaving them No. 319 in Adjusted Tempo on the Pomeroy charts.
Sunday's total isn't too big, mind you, and the last time these teams met on February 4, they got very close to our target score when the Bearcats won 73-64 (Push 137).
NCAAB Pick: Over 138 (-110) at SugarHouse
---
Sunday, February 19, 2023 – 01:00 PM EST at PNC Arena
---
---
These are tough times in the ACC, but you can't go wrong with North Carolina (Under 14-12) versus No. 23 NC State (13-13-1 Totals). The computers like the Wolfpack to win 82-78, a full eight points above the 152-point total at the sportsbooks.
How's Hubert Davis Doing in Chapel Hill?
It's been an up-and-down season for Davis and the Tar Heels. They're down right now after losing four of their last five, putting them on the Tournament bubble and making Sunday's game a virtual must-win.
Davis told reporters Friday that he's considering some lineup changes to squeeze some more offense out of a North Carolina team that ranks No. 35 in that department on the Pomeroy charts, and No. 337 in 3-point shooting at 30.6%.
Offense wasn't a problem on January 21 when the Tar Heels beat NC State 80-69, but they went Under 153 points, so we need a couple more buckets this time around – and North Carolina did shoot 4-of-18 from downtown in that contest.
The Wolfpack are pretty good at perimeter defense, but they didn't fare much better themselves at 5-of-17 from long range, so maybe some positive regression will be all they need to get the Over paid. Bet accordingly – the AI has spoken.
NCAAB Pick: Over 152 (-108) at SBK
---