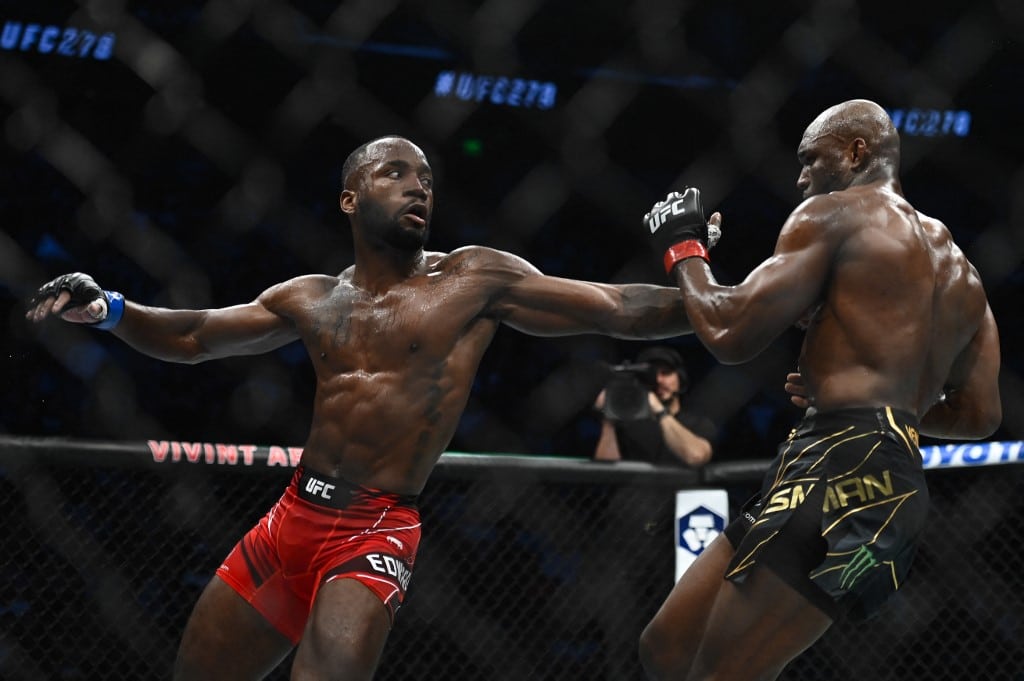 This Saturday, the UFC arrives in London, England, as the newly crowned welterweight champion Leon Edwards makes his first title defense on home soil.  
Sportsbooks have released the betting odds for UFC 286 at the 02 Arena. We're sharing our most valuable best bets from the evening's championship bout between Edwards and Kamaru Usman and the co-main event between Justin Gaethje and Rafael Fiziev.  
---
Pick Summary
UFC Pick: Usman by Decision (+115) at FanDuel  
UFC Pick: Rafael Fiziev ML (-225) at BetMGM  
---
UFC 286 Welterweight Championship Bout
Saturday, March 18, 2023 – 05:00 PM EDT at the 02 Arena
---
Leon "Rocky" Edwards (20-3-0) returns to the octagon for the first time since shocking the world and head-kicking Kamaru Usman into his first-ever UFC and championship loss. The country of England burst into joy after sitting without a hometown champion since the days of Michael Bisping's middleweight reign, and now the Birmingham-representative returns home for his first title defense.
Before the Edwards defeat, Kamaru Usman (20-2-0) had dominated the landscape of the UFC's welterweight division. It looked certain that the 170lb king would one day sail off into retirement as an undefeated champion behind a trail of beaten bodies.  
However, after seven years and a 15-0 consecutive streak, the gold was taken from the first-ever Nigerian-born UFC champ. He'll be out for revenge in England's capital when entering a trilogy bout with Britain's own.
Edwards vs. Usman: Fight Tape Analysis 
We're presented with two polar opposites regarding fight style. Usman, a former NCAA Div II wrestling standout, has utilized his grappling background throughout the entirety of his professional MMA career and title reign. He's undoubtedly leveled up his striking offense behind the teaching of Trevor Wittman out of Sandford MMA, but we shouldn't expect him to be as willing to trade on the feet this time.  
Edwards, hailing from the streets of Birmingham, is a well-rounded martial artist who unquestionably favors his striking offensive. More shockingly, before his title-winning head-kick KO, he took Usman down in the first round. This, however, wasn't a game plan that could withstand 25 minutes with a college wrestling brute, as Usman clearly won rounds 2, 3, 4, and four minutes of round 5 before the eventual knockout.  
UFC 286 Odds & Prediction
The UFC pricing with OddsTraders top sportsbooks isn't fooled by the Edwards knockout, as they've priced Usman as a significant betting favorite.  
The casual MMA viewer may think, "well, Edwards knocked him out; why isn't he the favorite?". The knockout was impressive, and while we can't take anything from Edwards, he was seconds away from losing the contest via unanimous decision.  
Usman isn't going to let anything go, and he won't be testing his striking skills this time around. It could result in a lackluster 25 minutes because Edwards owns a stubborn ground defense, but don't be surprised when Usman shoots for the takedown, holds him down, and removes any chance for the champ to repeat the previous result.  
UFC Pick: Usman by Decision (+115) at FanDuel
---
UFC 286 Lightweight Co-Main Event Bout
Saturday, March 18, 2023 – 05:00 PM EDT at the 02 Arena
---
Justin Gaethje (23-4-0) will be involved in the "people's main event" inside the 02 Arena this weekend. He is known for his forward-moving, relentless striking offense and wealth of highlight reel finishes. The Greeley, Colorado native will be firing from all cylinders in an attempt to return to the win column as he'll receive an ideal opponent in Fiziev who'll be willing to stand and trade strikes.   
Rafael Fiziev (12-1-0) is a handful of significant victories away from claiming his stake at a UFC lightweight championship opportunity. A win over the former lightweight interim champion this weekend would undoubtedly push him closer to this life-changing moment.
After losing his UFC debut in 2019, Fiziev has torn through the 155lb weight class and collected KO/TKO victories over Renato Moicano, Brad Riddell, and former champion Rafael dos Anjos. So, another win against a former titleholder will solidify his position and the top, potentially putting him as the next challenger for Islam Makhachev's title.  
Gaethje vs. Fiziev: Fight Tape Analysis  
Despite owning significant skills in the wrestling department, Justin Gaethje's hand-power has been the story of his career thus far. An ability to mix up ferocious leg kicks with a barrage of heavy-handed head strikes has seen him collect five KO/TKO wins from six UFC wins.  
Fiziev will welcome the striking offense of Gaethje, and as a former Muay Thai kickboxing champion, he's displayed an elite level of striking during his UFC tenure thus far.  
The difference-maker on Saturday will be the speed of Fiziev and his ability to nullify the low kicks of Gaethje. Gaethje has experience fighting well-rounded strikers but rarely faces a faster, younger, and more technical striker like Fiziev.  
UFC 286 Odds & Prediction 
The UFC prices at OddsTrader have placed Fiziev as the betting favorite despite Gaethje's past success.  
I think it's clear for anybody to see that a three-round striking war will undoubtedly favor the fighter who's been striking at a high level his entire life – and in this situation, it's Fiziev. The price isn't great, but a moneyline play on Fiziev at -225 feels like a safe choice and a wager that's affordable as a single wager or in a parlay.   
UFC Pick: Rafael Fiziev ML (-225) at BetMGM  
---