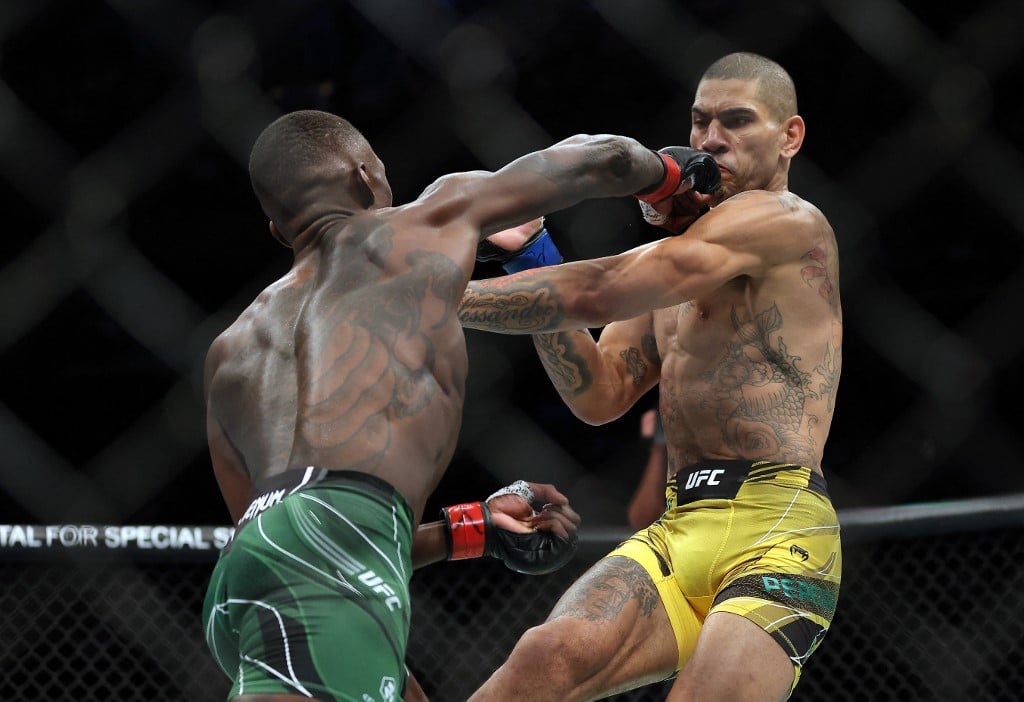 This Saturday, the UFC arrives in Miami, Florida, for the first premier event in the 305 since 2005. The newly crowned middleweight champion Alex Pereira makes his first title defense against the man he took the gold from, Israel Adesanya.
The sportsbooks have released the betting odds for UFC 287, and we're sharing our most valuable best bets from the evening's middleweight championship bout and the co-main event between Florida representative Jorge Masvidal and Gilbert Burns.
Out Top UFC Picks
Adesanya by Decision (+180)
Masvidal/Burns Fight Goes the Distance (+130)
---
UFC 287 Middleweight Main Event Bout
---
Saturday, April 08, 2023 – 09:05 PM EDT at Kaseya Center
---
---
Israel Adesanya (23-2-0) returns to the octagon following his first-ever middleweight loss and the third overall loss to Alex Pereira during his kickboxing/MMA career.
However, many critics will argue that the first kickboxing loss against Pereira was poor judging, and it's equally challenging to dispute the fact that Adesanya has won every minute of every fight against Pereira outside of the knockouts.
Unexperienced as a professional mixed martial artist but incredibly dangerous, Alex Pereira (7-1-0) did the unthinkable and claimed UFC gold in his fourth UFC bout and eighth pro bout overall. This feat was accomplished through brute force and striking power, as the former multi-time kickboxing champion has now added another accomplishment to his combat sports career.
Adesanya vs. Pereira: Fight Tape Analysis
We must deal with the facts, and although it's quite nerve-wracking to fade the intimidating knockout power of Pereira, this outcome won't be a continuous trend. As mentioned, Adesanya has been winning every minute of all three previous fights with Pereira. If it wasn't for two late knockouts in the kickboxing and MMA bouts, respectively, we can safely say that Adesanya would be 2-1 in this feud.
Previews Meetups Between Adesanya vs. Pereira
The first MMA meeting between these two men displayed how Adesanya was technically superior to Pereira. He even came close to stopping Pereira inside the first round before the bell came to the rescue.
The second MMA battle between these foes won't differ from the first. Evidently, Pereira is dedicated to his training, but this won't solve Adesanya's footwork, striking selection, and octagon IQ, much like he didn't in the first fight.
Adesanya was minutes away from taking a unanimous decision last time out, and this time around, he'll get the job done. He won't falter and allow Pereira to get on the inside, keep his range, and strategically striker his way to regaining the middleweight championship.
UFC 287 Odds & Prediction
The Pereira hysteria doesn't fool the UFC pricing with OddsTrader's top sportsbooks, and they've labeled Adesanya as the betting favorite.
However, due to the nature of Pereira's fighting style and his overwhelming punching power, we're receiving some excellent prices.
While the straight moneyline on Izzy is respectable, I prefer the boosted odds of +180 for him to receive a nod from the judges and emulate an almost identical performance from the previous bout, but without the round five downfall.
UFC 287 Betting Prediction: Adesanya by Decision (+180) [1u returns 1.15u profit] at FanDuel
---
UFC 287 Welterweight Co-Main Event Bout
---
Saturday, April 08, 2023 – 09:05 PM EDT at Kaseya Center
---
---
Jorge Masvidal (35-16-0) returns to the 305, and we should expect overwhelming support for the hometown MMA legend. His career has been defined by memorable performances, including the fastest knockout in the sport's history – a flying knee stoppage over Ben Askren that will live on highlight reels forever.
His opponent is a fellow UFC vet and no stranger to making headlines. Gilbert Burns (21-5-0) will be looking to play the spoiler card in Miami and outperform the Miami local with his well-diversified skillset. Burns has fine-tuned from a world championship jiu-jitsu offense over the years into a complete skillset in all areas.
Masvidal vs. Burns: Fight Tape Analysis
While Burns has notably leveled up his striking offense and defense over the years, he doesn't own the striking prowess of Masvidal. For this reason, we should expect a fight of two tails, where the Brazilian will be looking to ground the fight and utilize his valuable BJJ credentials. In contrast, Masvidal looks to do what he does best and deliver a "3-piece and a soda" on the feet through a striking gameplan.
We could see both gameplans play out, and although both fighters' strengths are apparent, they're no slouches regarding the opposites. Masvidal knows how to grapple and overcome one of the best BJJ practitioners in UFC history, Demian Maia. The same goes for Burns; he's handled multiple world-class strikers on the feet.
The most notable attributes of Burns and Masvidal are their durability and toughness. It's the fight game, and toughness goes a long way. Neither man has regularly been stopped inside the distance, as grapplers and power punchers have equally struggled to defeat these warriors via KO/TKO or submission.
UFC 287 Odds & Prediction
The UFC prices for this fight have placed Burns as a heavy betting favorite, but the line is way off. It's a dog-or-pass situation regarding the moneyline because the value is undoubtedly on Masvidal.
However, for the aforementioned reasons, durability is the key factor I'd want to put my money behind. And this is why betting on this fight to go the distance makes more sense than taking a flyer on the money. Whichever man walks out victorious, I expect it to be achieved via the opinion of the judges.
UFC 287 Betting Prediction: Fight Goes the Distance (+130) [1u returns 1.30u profit] at FanDuel
---
UFC 287 Main Card & Odds
UFC 287 Preliminary Card & Odds
---