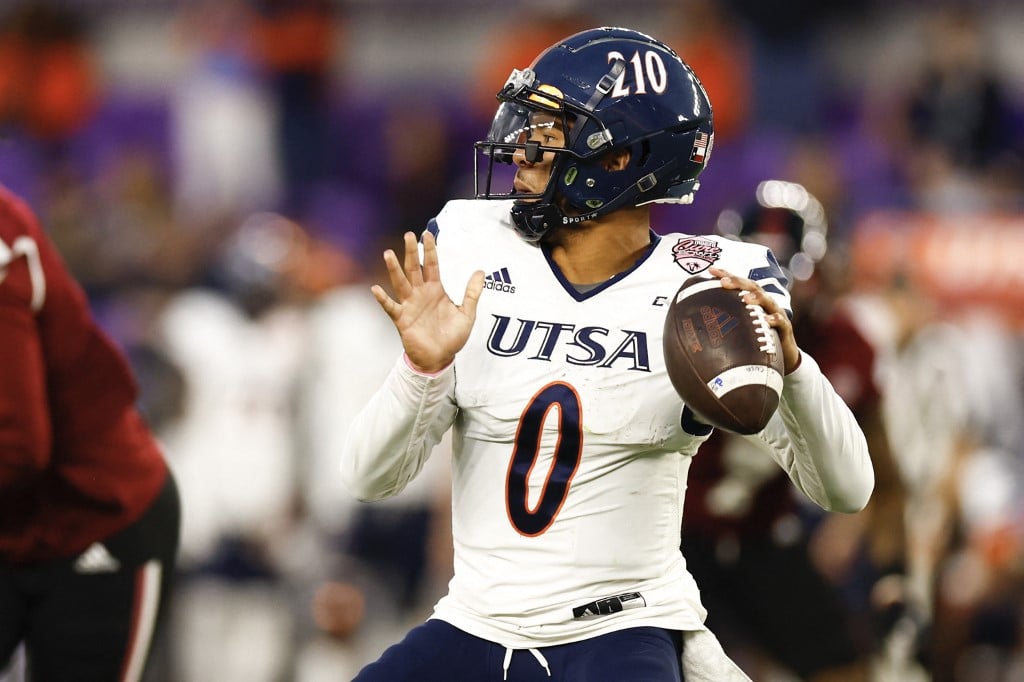 NCAAF Pick: UTSA Over 7.5 Wins (-150) at Bet365 (check our Bet365 Review)
---
It's time for the Texas-San Antonio Roadrunners to play with the big boys. Okay, the 2023 AAC (American Athletic Conference) isn't part of the Power 5, but it's a big step up from Conference USA – a giant step, in fact.

And a challenging one. UTSA went 11-2 last year (7-6 ATS) and swept the C-USA table before losing to Troy at the Cure Bowl; with the move up to the AAC, the Roadrunners are looking at a regular-season win total of just 7.5 on the college football odds board at Bet365 as we go to press.

Don't despair, San Antonio. The Over is priced at -150 for this wager, and not only are the Roadrunners poised to cash in, but we think they've got what it takes to win not just eight, but nine games before they go bowling.
American Dream
It's easy to see where UTSA's betting value comes from. Making the leap to the American is indeed a challenge; the ghost of football's Big East Conference still had enough talent last year to finish sixth overall on the Simple Rating System chart at Sports Reference, and miles ahead of Conference USA, who placed ninth out of the 10 FBS members.

Having said that, the Roadrunners did dominate their conference in both 2021 and 2022. They cracked the Associated Press Top 25 both seasons, reaching as high as No. 22 last year – but their plus-5.36 SRS only ranked No. 47. This is why the Group of Five doesn't get invited to the College Football Playoff.
Beep Beep!
Let's not bury these Roadrunners just yet. Their performance level would have won them nine games last year in the AAC, at least in theory:

Tulane (12-2, plus-11.53 SRS)
Cincinnati (9-4, plus-5.85)
UCF (9-5, plus-5.74)
East Carolina (8-5, plus-4.41)

Those records include the postseason, but Cincinnati and UCF both lost their bowl games, so we can still use this as a rough guide to what may happen in 2023 – and nine wins should be even easier for UTSA to achieve, given how many familiar foes they'll be facing this year.
---
It's A Raid
That's right: The Roadrunners weren't the only team to jump from Conference USA to the American. The Big 12 went and snapped up both Cincinnati and UCF, as well as Houston (8-5, plus-3.80 SRS), so the AAC responded by raiding the C-USA cupboard.

Here's how all the other new Americans stacked up last year in their old conference:
UAB (7-6, minus-0.98 SRS)
North Texas (7-7, minus-2.71)
Florida Atlantic (5-7, minus-6.44)
Rice (5-8, minus-9.45)
Charlotte (3-9, minus-16.23)
Not exactly the best and brightest that college football has to offer. UTSA will play everyone on this list except Charlotte – that's four relatively easy wins right there. They also get Texas State (minus-10.04 SRS, No. 115 overall) and Army (minus-0.62, No. 72) at home in non-conference action in Week 2 and Week 3 respectively. Two more wins, and they're already cashing in the Over.

Done and done. The Roadrunners will play at Temple (minus-7.72 SRS, No. 107) on October 7, and they'll host South Florida (minus-10.11, No. 116) on November 17. Those were the bottom two teams in the American last year.
---
Attractor Traylor
But what about that ninth victory we're predicting? It'll have to come from the following games:
The obvious target here is that home game versus the East Carolina Pirates. The early NCAAF lines for this matchup have yet to be released, but it should be a winnable game for the Roadrunners against a team that finished No. 51 overall according to SRS, performing roughly one point worse than UTSA on a neutral field.

The Pick
Of course, the Roadrunners have to maintain or improve their level of play to cash in our bet. And there's every reason to believe they'll do just that. UTSA is about to enter Year Four under head coach Jeff Traylor, the reigning and two-time C-USA Coach of the Year in his first crack at the top job in college.

Traylor will return most of his core players from last year's impressive offense, including QB Frank Harris, the reigning C-USA Most Valuable Player, and RB Kevorian Barnes.
The defense will naturally be more of a question mark, but there's hope for improvement with safety Rashad Wisdom recovering from the injuries that limited him to six games last year. Bet accordingly.
NCAAF Pick: UTSA Over 7.5 Wins (-150) at Bet365
---