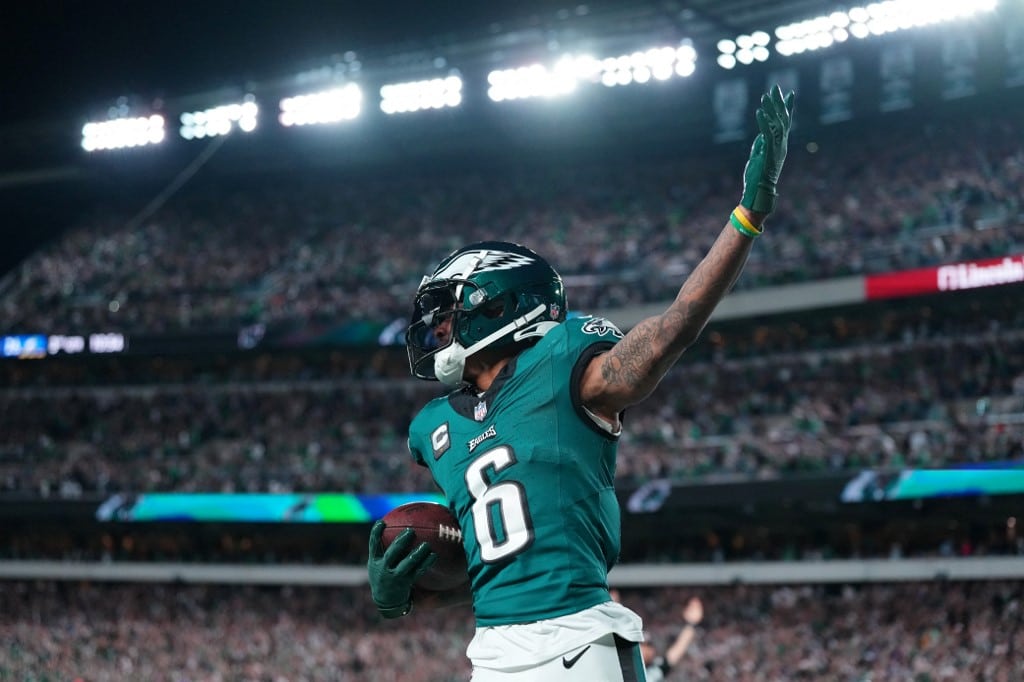 The NFL's Week 11 schedule builds to a great Monday night matchup between the Kansas City Chiefs and Philadelphia Eagles. Sunday also has some key divisional matchups with Steelers-Browns, Bears-Lions, and Titans-Jaguars. We also have a pick for the potentially high-scoring matchup between the Chargers and Packers.
You can find the best prop picks using the player props section on OddsTrader, and we included the top sportsbooks to make these player props for Week 11.
Picks Summary
---
Sunday, November 19, 2023 – 01:00 PM ET at Cleveland Browns Stadium
---
David Njoku (Cleveland Browns)
The offensive numbers figure to be low for this game given the total is just 32.5 points, one of the lowest for any NFL game in the last 15 years. This is what happens when you have Kenny Pickett and rookie Dorian Thompson-Robinson at quarterback in a bitter rivalry with Myles Garrett and T.J. Watt looking to load up the stat sheet for their Defensive Player of the Year campaigns.
This game may be light on points, but yardage will be gained, and this feels like a steal of a line for David Njoku, the 2nd-leading receiver on the Browns. While Thompson-Robinson played poorly in his 1st start against Baltimore, the fact is he had little prep time for that game when Deshaun Watson was a surprise scratch at the last minute. Baltimore's defense is also better than Pittsburgh's, which has already allowed rookies like C.J. Stroud and Will Levis to throw for well over 200 yards this year.
But even in Thompson-Robinson's bad game against Baltimore, he found Njoku 6 times for 46 yards on targets. The receiver you need to probably fade here is Amari Cooper, who will require better throws to the outside. The Browns can more easily scheme the tight end Njoku open underneath and in the middle of the field. He should have no problem clearing 30 yards in this matchup as Kevin Stefanski has done a great job of preparing quarterbacks not named Deshaun Watson in his offense.
The Pick
Not only did Njoku have 46 yards with this quarterback against Baltimore, but he had 48 yards in Pittsburgh in Week 2, and he had a season-high 77 yards against Seattle when P.J. Walker was his quarterback. Njoku is used to the Cleveland quarterback carousel. He'll produce for your NFL picks in this matchup.
NFL Pick: David Njoku Over 29.5 Receiving Yards (-112) at BetRivers (check our BetRivers Review)
---
Sunday, November 19, 2023 – 01:00 PM ET at Ford Field
---
David Montgomery (Detroit Lions)
Hard to say if David Montgomery holds any ill will towards his former team from Chicago, but he should want to play a big role this week as Detroit looks for a win over its rival.
Montgomery returned last week from injury and ripped off a 75-yard touchdown run. He still had 41 yards on his other carries too despite the Lions giving rookie Jahmyr Gibbs more snaps and work than usual. That could be the norm going forward for the Lions, but you can count on them to figure out ways to get both backs involved.
The Chicago defense has been stout against the run this year, ranked No. 2 in yards and No. 1 in yards per carry (3.2) allowed. But who exactly are the great run offenses the Bears have played this year? Certainly not the Chargers, Panthers, Saints, Raiders, Vikings, or Buccaneers. Tampa Bay still had 120 rushing yards in that Week 2 game.
The Bears have not played a single rushing offense ranked higher than 14th in yards this year, and they have played 5 of the bottom 6 rushing offenses. The Lions are No. 7 and have the best rushing attack the Bears have seen all year. Their offensive line is great and will win this matchup.
The Pick
Maybe betting on his touchdown score is a safer pick, but you never know when Gibbs steals that one as he had a pair of 1-yard touchdown runs against the Chargers last week. We'll trust the game script of the Lions controlling the game, feeding their workhorse back, and Montgomery breaking over 50.5 yards on the ground against his former team.
NFL Pick: David Montgomery Over 50.5 Rushing Yards (-118) at BetRivers
---
Sunday, November 19, 2023 – 01:00 PM ET at Lambeau Field
---
Jordan Love (Green Bay Packers)
Jordan Love was close to putting a full game together in Pittsburgh last week. He had a season-high 289 yards and threw 2 touchdown passes. He was close to a 3rd scoring toss, but veteran corner Patrick Peterson tipped a pass in the end zone for an interception.
Love has odd home-road splits this year. He has thrown multiple touchdowns in 4-of-5 road games but has yet to do it once in 4 home starts where he was held to 1 touchdown pass each time.
But the Chargers are a generous pass defense, and a better day should be ahead for Love. The Chargers have allowed quarterbacks to complete 68.2% of their passes for 14 touchdowns, 6 interceptions, and a league-high average of 315.7 passing yards per game.
The Pick
Love has not been great this year, but we are going to trust Brandon Staley's defense to make him look better this week and end this scoring drought in Green Bay. The Packers have not scored 21 points in the last 7 games, their longest streak since 1990-91. They will get the job done at home, and Love throwing touchdowns (plural) will be a big part of that streak ending.
It would also be the first time the Green Bay home crowd gets to see Love throw more than 1 touchdown pass in a game.
NFL Pick: Jordan Love Over 1.5 Passing Touchdowns (+118) at Unibet
---
Sunday, November 19, 2023 – 01:00 PM ET at EverBank Stadium
---
Evan Engram (Jacksonville Jaguars)
This prop pick is when regression meets opportunity meets precedent.
Regression: Engram's 446 receiving yards are the most in the NFL in 2023 for any player who has not caught a single receiving touchdown. In other words, he is due for a score.
Opportunity: Engram is tied for 15th in the NFL with 55 receptions, and that is the highest total by any player without a touchdown catch in 2023. The next-closest player is Tyler Conklin of the Jets (33 catches without a touchdown). Engram has had at least 7 targets in every game since Week 2, so the opportunities continue to be there each week.
Precedent: Engram only scored 4 touchdowns in the 2022 regular season with Jacksonville, but his best game was his first shot at Tennessee when he had 11 catches for 162 yards and 2 touchdowns. Maybe lightning can strike twice here.
The Titans are the only defense to not allow a touchdown catch to a tight end this season. This is the time for that streak to end too.
The Pick
Hedge by taking the over in Engram's receiving yards if you want, but we are locking in on these streaks of no touchdowns scored by Engram and no touchdowns allowed to tight ends by Tennessee's defense to end this week. The Jaguars need a big performance after last week's embarrassing 34-3 loss to the 49ers.
NFL Pick: Evan Engram Anytime Touchdown Scorer (+210) at Caesars Sportsbook (check our Caesars Sportsbook Review)
---
Monday, November 20, 2023 – 08:15 PM ET at GEHA Field at Arrowhead Stadium
---
DeVonta Smith (Philadelphia Eagles)
It is so rare for an AFC team to play an NFC team 3 years in a row, that this is only the 3rd time it has happened since the 1970 merger. But the Eagles have had big games against the Chiefs with their passing game in 2021 and Super Bowl 57.
In the 2021 regular season, Smith had 7 catches for 122 yards against the Chiefs. In Super Bowl 57, Smith had 7 catches for 100 yards against the Chiefs. He even finished ahead of A.J. Brown, who had 6 catches for 96 yards in that game.
The good news is the Eagles are throwing the ball even more this season. The bad news is Smith's numbers are down, as Brown has exploded in this offense even more than he did in 2022. Smith has fallen from 70.4 yards per game to 59.2 yards per game in 2023.
Worse, the Chiefs are playing much better defense this year and they rank No. 5 in passing yards allowed and No. 3 in net yards per pass attempt.
But unlike last year, the Chiefs are not getting crushed by No. 1 wide receivers like Brown this season. If you look at the 10 players to break 56 yards on the Chiefs this season, only 3 of them were No. 1 wide receivers: Detroit's Amon-Ra St. Brown (71 yards), Miami's Tyreek Hill (62 yards), and the Jets' Garrett Wilson (60 yards). Everyone else was a tight end and/or secondary receiver.
Josh Palmer of the Chargers is more like a No. 3 receiver and he had 133 yards, the most the Chiefs have allowed this year. The Chiefs also allowed Detroit's Josh Reynolds to have 80 yards on opening night, and rookie Jordan Addison had 64 yards for the Vikings on a day where Justin Jefferson was limited to 28 yards and eventually left injured.
Basically, it pays to be a No. 2 receiver to face the Chiefs this year.
The Pick
The other potentially good news for Smith having another big game against the Chiefs is that tight end Dallas Goedert is out after having surgery on his forearm. It's mostly just Brown and Smith for the Eagles as they do not have a good backup that's a receiving tight end, and they have not really developed a consistent No. 3 wideout.
It would be surprising if Smith didn't go over 55.5 yards in this one after back-to-back 100-yard games against the Chiefs. We'll gladly take his over in a game that shouldn't end 38-35 this time, but these offenses are going to move the ball.
NFL Pick: DeVonta Smith Over 55.5 Receiving Yards (-115) at BetRivers
*The line and/or odds referenced in this article might have changed since the content was published. For the latest information on line movements, visit OddsTrader's free betting odds tool.