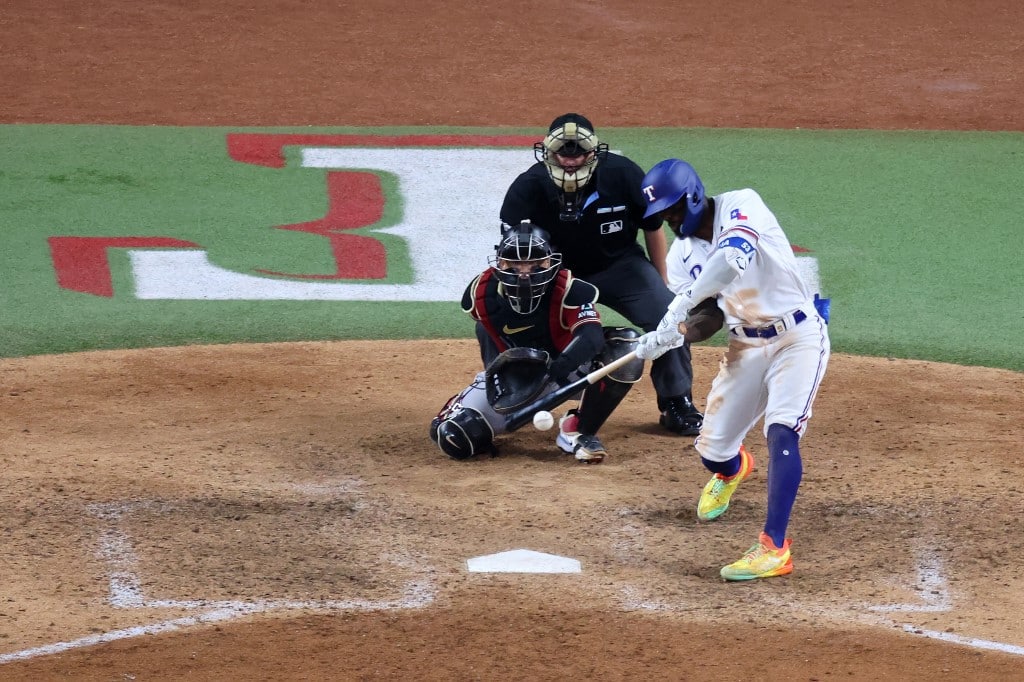 After that crazy Game 1 last night, where the Rangers made an amazing comeback and won 6-5 in extra innings, the top betting sites have dropped the MLB odds for tonight's World Series Game 2.
Now, for our top picks, we'd say go with the Rangers ML and take the "under."
We're making these suggestions with the help of OddsTrader's MLB computer picks, and, of course, our own handicapping skills, so let's break down the analysis.
Picks Summary
---
Saturday, October 28, 2023 at 08:03 PM EDT at Globe Life Field
---
Our computers project a low-scoring game in which Texas triumphs, and I agree. Accordingly, you should wager on Rangers ML and the "under."
Jordan Montgomery (Texas Rangers)
Texas starts Jordan Montgomery tonight. Montgomery is the biggest reason why Texas will win and the "under" will hit.
With his excellent postseason, he is defying the teams that previously let him go and rewarding Texas with a reliable starting pitcher. His 2.16 postseason ERA speaks for itself.
Evidently, he has turned it up a notch now that postseason play has begun. Among other things, he has strengthened his command.
Unfair
In 25 playoff innings, he has limited his walk total to four. One can speak badly of one outing, but it would be unfair to do so.
While he did allow four earned runs to Baltimore, that game was a blowout in favor of Texas, so those opposing earned runs really didn't matter.
In any case, since that game in Baltimore, he has excelled at limiting opposing run production, pitching 14 innings and allowing two earned runs.
Montgomery's Arsenal
Montgomery's postseason track record is particularly impressive because he has thrived against lineups that are both objectively very good and that match up well against him in view of the pitches that he throws.
In descending order of frequency, he primarily throws a:
Sinker

Changeup

Curveball

Fastball
Heat maps illustrate his ability to place his pitches consistently along the borders of the strike zone where batters tend to achieve significantly less damage.
Remarkable
This consistent border-line location is especially remarkable in view of his low walk rate — it is easier to throw pitches away from the middle of the zone if you are willing to walk batters, but Montgomery is not willing to concede walks.
Achieving effective location is Montgomery's biggest strength in other respects as well. He distributes his pitches well throughout different parts of the strike zone and uses location to alter the batter's eye level.
For example, he gladly elevates his sinker — although this is a pitch that pitchers typically like to bury in the strike zone — before throwing a low curveball.
Montgomery has the weapons to dominate right-handed batters — he is a southpaw, and the curveball and changeup are classic weapons against opposite-handed hitters.
Generally, his pitches are distinguished by good spin and unique movement.
Matchup Details
Unlike Montgomery's recent victims, Arizona matches up poorly against him. The Diamondbacks rank 20th with a slugging rate well below average against his favorite pitches from lefties.
20th offers too much optimism for Diamondbacks batters because this ranking is inflated by their success against lower-caliber pitchers. Montgomery's iteration of these pitches is superior for the reasons noted above.
Indeed, even against worse versions of Montgomery, Diamondbacks batters have struggled. Expect Christian Walker and Tommy Pham, among others, to struggle.
Pham and Walker are combined 1-for-10 against Montgomery. Walker is anyhow mired in a slump: he has one hit in his last 19 at-bats.
Merrill Kelly (Arizona Diamondbacks) 
Merrill Kelly starts for the Diamondbacks tonight. Kelly's form is weaker than Montgomery's. Among other things, Kelly has shown a problematic vulnerability to allowing home runs.
This tendency was evident in his start on October 17 against Philadelphia in which the Phillies belted three home runs off him.
Kelly's Arsenal 
Kelly throws a:
Fastball

Changeup

Cutter

Sinker

Curveball

Slider
He throws his fastball most often, although it is a problematic pitch for him.
As heat maps show, he often leaves this pitch in the most middle parts of the strike zone where batters tend to do greater damage. Taking advantage of its placement, batters hit a lot of home runs off this pitch. Overall, they slug .489 against it.
Kelly's arsenal distinguishes itself from Montgomery because, among other negative things, it has this glaring weakness. Kelly's favorite pitch will facilitate his undoing tonight.
Matchup Details 
The Rangers will thrive tonight against all of Kelly's pitches. They match up well against him, as evident in their .458 slugging rate against his pitches from righties.
MLB Picks
Montgomery's success will make it easy for the "under" to hit because the run total that Kelly allows won't suffice to help the game go "over."
In Kelly's worst postseason start this year, he allowed four earned runs, and yet the over/under is eight.
As for his bullpen, it underachieved in Game 1 and is primed to bounce back from an unusually poor effort. One must like Texas' bullpen to experience continued success in view of its ability to protect leads throughout the playoffs.
MLB Pick: Rangers ML (-145) at Caesars Sportsbook
MLB Pick: Under 8.5 (-105) at Caesars Sportsbook (Check our Caesars Sportsbook Review)
*The line and/or odds referenced in this article might have changed since the content was published. For the latest information on line movements, visit OddsTrader's free betting odds tool.