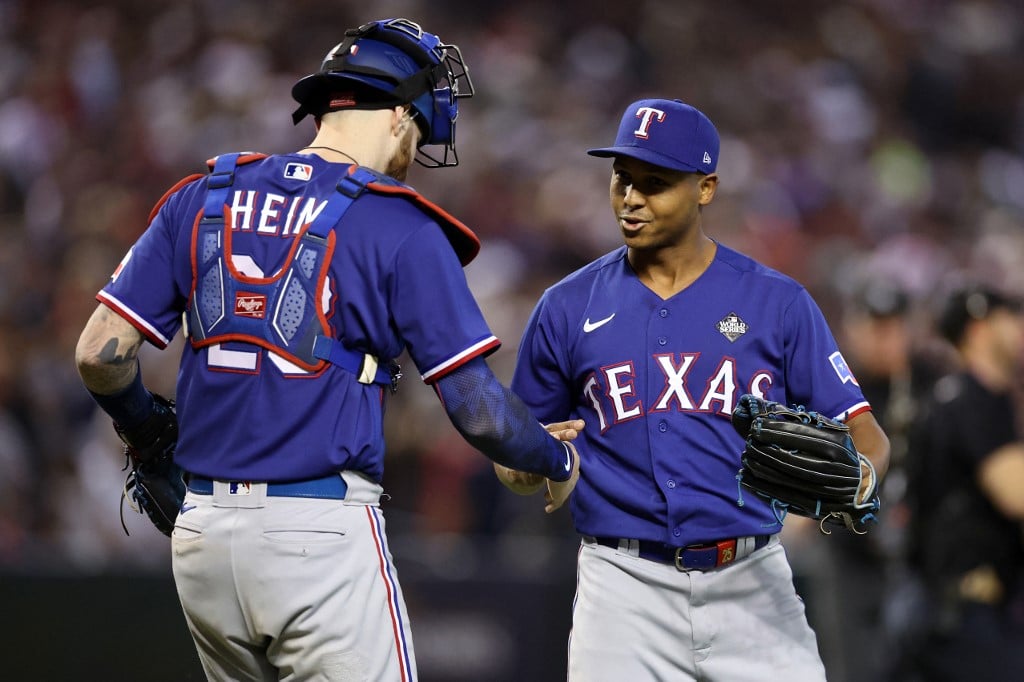 The sportsbooks have released their betting odds for today's baseball action, as Texas leads Arizona two games to one in the World Series.
Tonight's Game 4 is worth investing in, both side and total. My recommendations are backed by OddsTrader's computer AI and by my handicapping.
Picks Summary
Rangers ML (-110)
Over 9.5 (+105)
*All odds from Bet365 (check our Bet365 Review)
---
Tuesday, October 31, 2023 – 08:03 PM EDT at Chase Field
---
Our computers project a Rangers victory in a high-scoring game. I will argue that you should bet according to this projection: take Rangers ML and the "over."
Arizona's Messy Pitching Situation
OddsTrader's Computer AI projects a particularly high scoring total for Texas. This projection accurately reflects Arizona's difficult pitching situation.
We can chart a decline in the quality of Arizona's pitching: the Diamondbacks went from their best two starting pitchers, Zac Gallen and Merrill Kelly, to Brandon Pfaadt, who gave up all three runs that Texas scored in Game 3.
The problem with the Diamondbacks now is that it is too soon for Gallen or Kelly to start again, so now they have to turn to their bullpen.
Many bettors don't like betting on bullpen games, but we can conclude from charting this decline that Arizona's pitching outlook tonight is very negative.
Arizona's Bullpen
The Diamondbacks' bullpen has had good moments in the postseason, but it also had the luxury of selecting its best relievers to pitch a limited number of innings.
Arizona's lack of pitching depth will be exposed, as its bullpen tries to last all nine innings. During the regular season, Arizona's bullpen ranked 18th in ERA.
While 18th isn't absolutely awful per se, it is absolutely awful matched up against an elite lineup like Texas's, which ranks third in runs per game.
While it is impossible to know exactly which pitchers Arizona will trot out, we know from this ranking that the net quality of Arizona's pitching today will be low.
Who Will Start for Arizona?
We do know or at least have a sense of some of the pitchers that the Diamondbacks will deploy.
Joe Mantiply will start for them. Mantiply has pitched 6.1 innings this postseason and yields a 4.26 ERA, which is consistent with his 4.62 regular season ERA.
For Texas, Corey Seager is already 2-for-3 against Mantiply, so he is rather likely to help Texas start strong.
Ryne Nelson (Arizona Diamondbacks)
Reportedly, Ryne Nelson is a strong candidate to pitch a bulk of innings for Arizona. He has made starts before, so he is capable of pitching a lot of innings.
It would be great if he could last many innings tonight, so as to allow Arizona to be more selective with its selection of further relief pitchers.
But there's a reason why Nelson did not start Game 3, whereas the low-quality Pfaadt did. So far this postseason, Nelson has pitched a total of one inning. He's allowed three earned runs, amounting to a 27.00 ERA.
He hasn't pitched in two weeks, so he will also be rusty tonight. But Arizona lacks alternatives.
Andrew Heaney (Texas Rangers)
Andrew Heaney will start for the Rangers tonight.
Unlike Ryne Nelson, Heaney has earned the trust of his team to start. In the regular season, he made 28 starts and yielded a 4.15 ERA.
He is not an ace and he'll help the total "over," but he is a competent starter with definite advantages tonight.
Heaney's Arsenal
In descending order of frequency, Heaney throws a fastball, slider, and changeup.
Heaney makes the most of these three pitches. For example, he plays them well off each other. He'll elevate his fastball before burying a slider in order to change the batter's eye level.
Like his fastball, he gladly distributes his change-up throughout different parts of the strike zone. What distinguishes his changeup is his ability to locate it consistently along the borders of the strike zone where batters tend to do less damage. While he doesn't throw these pitches hard, he creates velocity differentials that generate for batters the same effect that fast pitches do.
Most prominently, his slider is 10.5 mph slower than his fastball, making both pitches difficult to adjust to when he throws them one after the other. Instead of velocity, he employs a lot of spin, especially on his fastball and slider, which makes it harder for batters to track their location.
Matchup Details
Heaney matches up well against Diamondbacks batters in view of the pitches that he throws, while Arizona ranks below average in slugging against his pitches from lefties.
MLB Pick: Rangers ML (-110) at Bet365
MLB Pick: Over 9.5 (+105) at Bet365
*The line and/or odds referenced in this article might have changed since the content was published. For the latest information on line movements, visit OddsTrader's free betting odds tool.