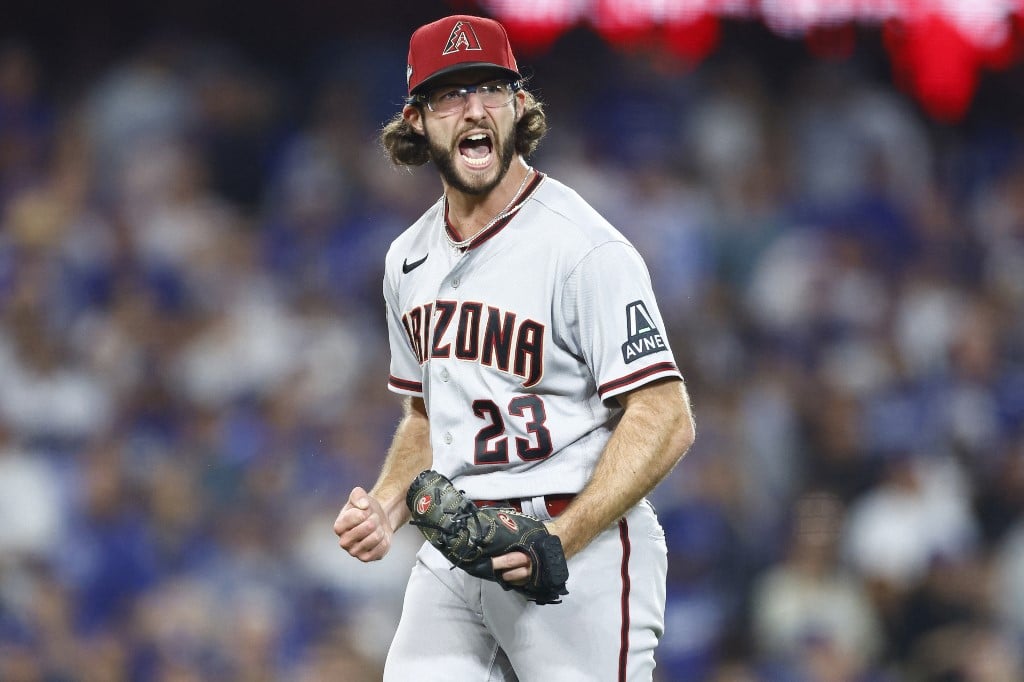 The World Series action continues, as Texas leads Arizona three games to one. Tonight is Game 5, and the Diamondbacks have to win, or they will be eliminated.
For your best bets, I will recommend wagering on Diamondbacks ML and the "under." My recommendations are backed by OddsTrader's computer AI and by my handicapping.
Picks Summary
Diamondbacks ML (-110)
Under 8.5 (-105)
*All odds from Bet365 (check our Bet365 Review)
---
Wednesday, November 1, 2023 – 08:03 PM EDT at Chase Field
---
Computer Pick
Our computers project that Arizona will prevail in Game 5, thus keeping its World Series hopes alive, in a low-scoring game.
I agree with this projection and accordingly will argue that you play Diamondbacks ML and the "under."
Zac Gallen (Arizona Diamondbacks)
Arizona starts Zac Gallen tonight.
OddsTrader's computer AI accurately predicted that Texas would win Game 1 even though Gallen for Arizona and Eovaldi for the Rangers were the starting pitchers.
So what's different in Game 5 this time? Location, location, location. Game 5 takes place in Phoenix, whereas Game 1 took place in Texas.
Zac Gallen at Home
Arizona's starting pitcher is a different pitcher at home than the Zac Gallen on the road. In the regular season, Gallen's road ERA was 4.42. Conversely, he yielded a 2.47 ERA at home. Whereas batters hit .245 and slugged .422 against Gallen in his road starts, Gallen at home yielded a .230 BA and .339 slugging rate.
The significance of location is also measurable in terms of a comparison of game results. To feel extra confident about a change of fortune for Gallen and Arizona tonight, we can even use the Rangers as our example: on May 2, Gallen allowed three runs in five innings in Texas.
In the rematch on August 22, Texas mustered one run in six innings against Gallen in Phoenix. Gallen, in fact, had one of his best starts of the season on that day, as he struck out eleven Rangers batters.
His success in Phoenix against mighty Texas shows that location trumps consideration of matchup. Gallen is reliable at home regardless of who he faces, even against the toughest lineups.
Gallen's Arsenal
When Gallen is on his game, he'll make excellent use of his pitches: he primarily throws a fastball, curveball, changeup, and cutter. These pitches make up just over 96% of his arsenal.
His curveball and changeup are especially dangerous weapons for him. Overall, both pitches yield a .210 BA. Opponents slug .344 against his curveball and .336 against his changeup. He plays both pitches well off his fastball, utilizing the difference in velocity between them to keep hitters off-balance.
Opposing batters also lose balance when he changes their eye level by burying his curveball or changeup after one of his elevated fastballs.
Nathan Eovaldi (Texas Rangers)
Nathan Eovaldi starts for the Rangers tonight, and he will help keep the game low-scoring.
As evident in his 3.52 postseason ERA, Eovaldi shows good form. He has been strong on the road, where he thrived against both Houston and Tampa Bay.
While the Diamondbacks hit him well in his last start against them, Eovaldi is effective in rematch situations. For example, on April 12 he was walloped by the Royals before holding them to two runs in six innings on April 18 in Kansas City.
Eovaldi in Phoenix
The dry climate of Arizona does not bother Eovaldi. On the contrary, he enjoys pitching in Phoenix.
In his career, he boasts a 2.67 ERA in five starts in Chase Field.
Matchup Details
Eovaldi also matches up well against Arizona in view of the pitches that make up his repertoire.
Primarily, he throws a fastball, split-finger, cutter, and curveball. These pitches combine to make up 96% of his arsenal.
The Diamondbacks match up poorly against him in that they rank well below average in slugging against his favorite pitches from righties.
The Side
I like Arizona to win mainly for three reasons: Gallen, as evident in his home ERA, has proven himself to be a stronger pitcher than Eovaldi.
Besides having the starting pitching edge, Arizona has the situational edge. Texas will be under a lot of pressure to try and clinch the World Series. This is a pressure that the Rangers are not used to because they haven't even been to the World Series since 2011. It's hard to expect them to clutch up by winning the three final games, especially considering that these games have been in Arizona. Surely the Diamondbacks will get a win at home.
Finally, when Gallen leaves his start with the lead, the Diamondbacks have the best reliever out of both bullpens to turn to. Kevin Ginkel, who has yet to give up a run in ten postseason innings, is fresh.
MLB Pick: Diamondbacks ML (-110) at Bet365
MLB Pick: Under 8.5 (-105) at Bet365
*The line and/or odds referenced in this article might have changed since the content was published. For the latest information on line movements, visit OddsTrader's free betting odds tool.