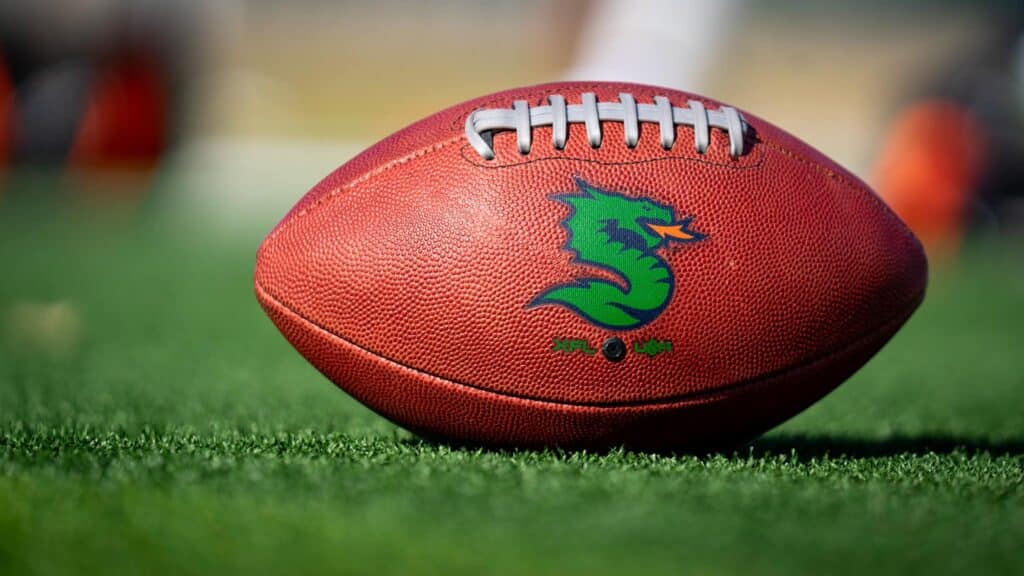 It is fitting that the XFL season was originally the passion project of WWE overseer Vince McMahon, because this league has more comebacks than Terry Funk. This is the third time the XFL is trying to launch a successful season, and the last one was working out in 2020 until COVID-19 caused operations to cease.
But it is 2023 and here we go again with a new leadership group including The Rock. All eight teams are in action this weekend with two games on Saturday and two more on Sunday.
Anyone saying they have extreme confidence in any of these games is a grifter, because the week one point spreads range from 1.5 to 2.5 and the totals range from 36 to 37 points.
Week 1 is a bit of a mystery, but we have some picks and gut feelings about each game to kick off this XFL season.
Pick Summary
Vipers vs. Renegades: Over 37 (-110) at Bet365
Guardians vs. Roughnecks: Roughnecks -2.5 (-110) at Bet365
Battlehawks vs. Brahmas: Battlehawks -2.5 (-110) at Bet365
Sea Dragons vs. Defenders: Over 36 (-110) at Caesars Sportsbook
---
Saturday, February 18, 2023 – 03:00 PM EST at Choctaw Stadium
---
---
In the first game of this XFL season, the Arlington Renegades are a 2-point favorite against the Vegas Vipers with a total of 37 points.
You can find some significantly different odds out there among the sportsbooks for futures bets on who is going to win the XFL Championship this year. At Caesars Sportsbook, the Battlehawks are +400, which is tied with the Seattle Sea Dragons, followed by Arlington at +500.
But if you look at the futures market at FanDuel, Arlington is +430, where they are ahead of the Vegas Vipers (+650), so at least that looks consistent.
Renegades Lineup
If Arlington has an advantage, it would be that Bob Stoops is the only head coach to return to his team from the 2020 XFL season when he was 2-3 before the season was canceled. Stoops had a lot of success at Oklahoma and his teams scored a lot of points.
Arlington's quarterback is Kyle Sloter, who went undrafted in 2017 and made some buzz in preseasons with the Vikings, though he never made it into any regular-season games. Sloter played for the USFL in 2022 as well, and he played in one preseason game for the Jaguars, throwing 127 yards and a touchdown.
Vipers Lineup
The Vipers have Rod Woodson at head coach, a position he has not held outside of the high school level. But if Jeff Saturday can beat the Raiders without any coaching experience, then maybe Woodson can get the job done here.
Woodson does have potentially an exciting passing combination on this roster with Brett Hundley and Martavis Bryant. Huntley was the quarterback who started games in 2017 for Green Bay when Aaron Rodgers was injured. The Vipers made him the highest-paid XFL player with a $200,000 contract.
He has a potentially great wideout in Bryant, who looked like shades of Randy Moss in flashes with Pittsburgh. But it was always the off-field problems that hurt Bryant, similar to Josh Gordon.
Hundley also has Geronimo Allison at wide receiver, who was someone he played with at Green Bay, so there may be some more chemistry here than with the other teams figuring out their offense in Week 1.
The Pick
While Stoops is known for offense, his teams also were decimated on defense in many big games.
This game has the highest over of the four this weekend, even if it is just by one more point. With the Vipers potentially having a legit passing game, we think the over is your best pick in this matchup.
XFL Pick: Over 37 (-110) at Bet365
---
Saturday, February 18, 2023 – 08:30 PM EST at TDECU Stadium
---
---
The Houston Roughnecks are a 2.5-point favorite with a total of 36 points.
Again, we see some differences in the odds for these teams as Caesars Sportsbook sees Houston as the team tied with Orlando (+800) for the worst odds to win the championship. But FanDuel has Orlando (+950) positioned far behind Houston (+600).
Houston was 5-0 before the XFL season was canceled in 2020, but they also had P.J. Walker, who proved to be the star of the league at quarterback that year before he moved on to the NFL where he won a game over Tom Brady's Buccaneers this past season.
The team is different now, but Wade Phillips is the head coach in Houston now and he has more NFL head coaching success than the other seven XFL coaches combined. That probably is not the fairest comparison since Jim Haslett (Seattle) is the only other one to be an NFL head coach, but experience matters.
Wade can dial up better defenses than most in this league to take advantage of what may not be the best offensive lines as we get this season underway.
The Pick
If Orlando rolls with quarterback Paxton Lynch, a first-round bust by the Broncos, against a Phillips-coached defense, I will gladly take the Roughnecks at home to cover in this matchup.
XFL Pick: Roughnecks -2.5 (-110) at Bet365
---
Sunday, February 19, 2023 – 03:00 PM EST at Alamodome
---
---
The St. Louis Battlehawks are the only road team favored to win this weekend, so that 2.5-point spread is extra interesting when you consider the home team usually gets a couple of points.
One thing the sportsbooks agree on is that no team should have higher odds to win the championship going into Week 1 than St. Louis.
Why the buzz? Former NFL tight end Anthony Becht gets his first shot at coaching a team in the XFL, and AJ McCarron is the only quarterback in the league who can say he started an NFL playoff game, nearly beating the Steelers in the 2015 AFC Wild Card. McCarron will have former NFL running back Brian Hill in the backfield with him.
The San Antonio Brahmas have average odds (+500 or +550) to win the title at the sportsbooks as they look to give first-year head coach Hines Ward something to put on his resume after years of assistant coaching work in the NFL. Ward is, of course, the former Super Bowl MVP wide receiver for the Steelers, known for his toughness and blocking at the position in addition to being the go-to receiver for so many years.
The Pick
The Brahmas are going with Jack Coan, former Wisconsin and Notre Dame quarterback. His college career does not compare to McCarron's, but that was many yeas ago.
We'll see if McCarron can live up to the expectations here. Back in 2020's Week 1, the Battlehawks were the only road winner. We'll see if history repeats itself here and if they can look good in a Week 1 win.
XFL Pick: Battlehawks -2.5 (-110) at Bet365
---
Sunday, February 19, 2023 – 08:00 PM EST at Audi Field
---
---
The final game of Week 1 has the DC Defenders as a 1.5-point favorite against the Seattle Sea Dragons with a total of 36 points.
The Defenders are coached by Reggie Barlow, former NFL player, and the Sea Dragons are coached by Jim Haslett, who won the first playoff game in Saints history in the 2000 season.
The Sea Dragons also have June Jones as offensive coordinator, and he is an expert of the run-and-shoot passing offense. His quarterback is Ben DiNucci, who had one terrible start for the Cowboys against the Eagles in a prime-time game in 2020.
The Defenders have Jordan Ta'amu at quarterback, and he has experience with both the XFL in 2020 and the USFL in 2022. In fact, he led the USFL with 2,015 yards and 14 touchdowns.
The Pick
Like the first game of the weekend, we like the over best in this matchup with these offensive systems and quarterbacks in place.
XFL Pick: Over 36 (-110) at Caesars Sportsbook
---