Previously, we posted an article here at OddsTrader discussing the benefits of using algorithms with data points for NBA basketball.
They collect the information and disseminate it among various categories with the intent to deliver an outcome that is useful for betting on baseball.
Understanding How This Works for Baseball Wagering
The first aspect to understand, this Oddstrader tool is not an end-all to be-all. This is to be added to your array of tools. There is no one-stop shopping for determining how to beat the betting odds from sportsbooks. You should be taking the swiss army knife approach and utilizing a variety of information to make the best conclusion for your MLB picks.
The finest algorithms have all the bases covered (an intentional play on words) with the basic stats of runs scored and allowed. Having a complete structure of how each offense performs is tantamount, from home runs to baseball hits, along with walks.
From that point, additional information like total bases and extra-base hits are important because they help assemble a runs-created formula that helps build the model.
Factoring in Pitching The Right Way
This is an area where other algorithms fail, figuring out how pitching works. You can have all the basics accounted for, but the best ones like OddsTrader's MLB computer picks put together and give proper weight to the starting pitcher's numbers, along with having a complete understanding of a team's bullpen.
This is precisely what top sportsbooks like Bet365 (check our Bet365 Review) and BetRivers (check our BetRivers Review) do because even with starting pitchers throwing fewer innings than ever, they set the tone for any given contest. And every game a new starter takes the mound and he has a direct impact in putting together both a money line and a total.
Bullpens today have high usage because of the analytics. Whether you agree or disagree with how the game is played today, it doesn't matter, they are not going back and it needs to further evolve to attract more customers and viewers.
Comprehending the importance of bullpens is essential in today's betting baseball climate and is a crucial element for data points to find winners and be on the correct side of a total.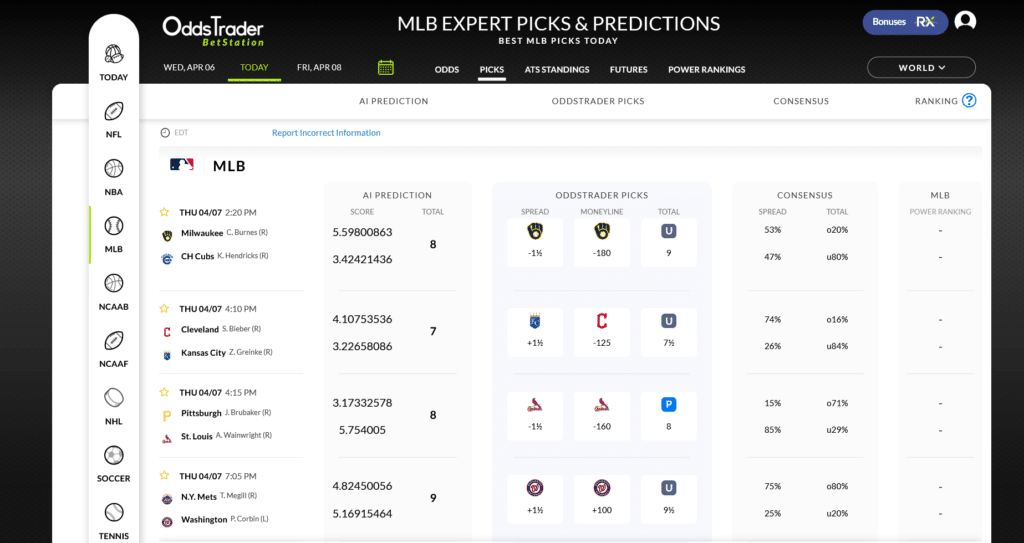 Don't Discount the Importance of Fielding
Much like in football where special teams matter in good and bad ways, the same is true about fielding in Major League Baseball.
The so-called "hidden numbers" are in plain sight for everyone to take in. Fielding does not impact every contest a team plays, but sharp bettors understand the best fielding clubs have a tendency to overachieve their hitting numbers because they are – saving – runs for their team.
The opposite effect is a squad that makes too many errors and doesn't field the ball properly and permits extra base runners or places runners in better scoring positions with base advancement. You might look at a club like this and wonder – why don't they have a better record? Then you discover they are 25th in fielding. That starts to explain what is called – Runs Lost – in today's game. That is why fielding numbers are part of the equation.
Determine Results For Best Usage
If you are reading this in the first two weeks of the season, don't be too harsh if the results are not great, because the information started with last season's numbers. After 10-12 games where everyone played home or away, the data collected starts to create the picture for this season, which will only improve going forward.
Nevertheless, begin keeping track of wins and losses from the start in categories. Find out what the algorithm does best when looking at favorites of say -105 to -140. Follow that up with -141 to -180 and -200 or higher. Keeping track of not only the wins and losses is important but the units, because that's where the money is.
On totals, do something similar for 7 or lower, 7.5 to 8.5, 9 to 10 and 10.5 and higher.
Find what works best and make it work for you. And remember to check back for more betting strategy at the OddsTrader blog. Happy betting!