The confidence you find in placing a bet should stem from a tape study session; when combining actual sports knowledge with an understanding of odds, you will soon notice the difference. Once you've conducted a reasonable amount of analysis on a particular fight card, you should then turn your research into the available odds.
Boxing Odds & Line Shopping
Here at OddsTrader, we assist bettors in time-saving by comparing the best available odds on the market, which brings us to our next step, finding the best odds. Boxing odds will vary from site to site. If you plan on wagering across boxing markets in the foreseeable future, choosing the best available odds can dramatically increase your ROI% over long periods.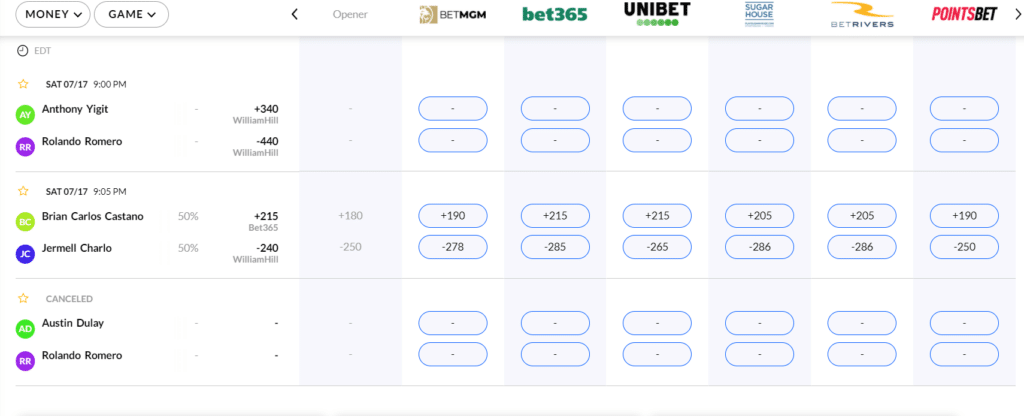 You won't notice the difference after a handful of boxing events, but if bettors consistently select the least valuable odds available, they're losing out on extra profits. So, always shop for the highest value odds available on the fights you are wagering on. With your tape study and value hunting concluded, you should invest time into weighing up your risk to reward ratio.
Boxing is known for its heavy favorites; remember, this isn't a team game that involves multiple players; you'll regularly stumble across highly juiced odds that aren't desirable—finding boxers who are undervalued or lesser-known can payoff, which leads back to understanding the sport and conducting tape study. You can avoid heavy favorites by introducing them into a parlay; combining two heavily juiced sets of odds will raise your profits – but these methods require extra care into your bankroll management.
Bankroll Management
As mentioned, boxing can sometimes provide odds that seem pointless. In some cases, you'll notice that Fighter A is priced at -800, meaning that an $800 stake would only return a $100 profit. On the flipside, Fighter B could be priced in the region of +400, meaning a $100 stake would produce earnings of $400.
It doesn't take a genius to understand that when bets of -800 lose, a bettor's ROI% takes a huge hit. Weighing up the risk to reward ratio is essential, and as we previously discussed, finding valuable odds versus betting heavy favorites is easily manageable.
The ethics of bankroll management should be applied in all sports betting, and boxing doesn't differ. Keeping an even stake across your bets, week to week, month to month should always be prominent in your handicapping skillset. Staking between 1-4% of your bankroll based on the confidence level you've gauged is a respectable example.
Final Thoughts
Boxing knowledge would be a considerable advantage over the competition (sportsbooks). However, if the sport is something you are passionate about and you're a beginner in the field – you still have ample opportunity to learn.
Understanding ROI%, bankroll management, and the available betting markets will always assist the fight knowledge you gain along the way. Boxing betting markets can sometimes be volatile, but hard work and dedication will pay off as is with any business. Research the fighters, understand the odds, manage your bankroll, make use of free betting tools such as ROI% calculators and most of all – have fun whilst gambling responsibly!