Now that we are in the second half of the season, run line plays can offer greater value. Some of this is out of necessity and part is this trying to find the best price based on particular games.
What happens after the All-Star breaks or more frequently in recent years or just before, the sportsbooks make determinations on the haves and have nots and start building money lines based on season-long form and public perception.
With this, the best and worst teams start to see inflated numbers that were not around back in May and most of June. A -140 ML favorite might be -160 or higher, which decreases the value of your selection and costs you more money if you are not correct. If you are an experienced baseball bettor and daily go over the betting MLB odds at OddsTrader, you know what we are referring to and how even a brief losing streak can drain a bankroll almost as fast as paying interest on student loans.
If you are not a big supporter of run lines or having a point spread for baseball, this could be the time to consider moving a certain portion of your selections to this type of betting because it can lower risk.
Let's explain what we mean.
Calculating Moneylines Into Run Lines
A standard run line is a plus (+) or minus (-) 1.5 runs. If you are taking the favored team at -1.5, you have to win by two runs. If you are choosing the underdog, you win at +1 run or taking the game outright.
Oddsmakers will often help you find the value if not the side to wager on for MLB picks. Let's say the New York Yankees are a -220 ML favorite, that should convert to them being -110 on the -1.5 RL, give or take 10 cents in either direction.
If the Yankees are at -130 on the RL, the books are telling you they expect New York to win by two or more runs and are making you play an inflated price because 130 x 2 = 260. This could suggest it is just the oddsmakers' opinion, as when you see the line, many others might have hammered the Yanks on the RL, causing an upward adjustment.
The same would be true if a favorite is -280 on the ML, yet, only -120 on the run line. Books are trying to chase bettors off with a bloated ML, but maybe this chalk action finds a club that is not scoring a lot of runs and is against an opponent with a good bullpen. In theory, the RL odds are in your favor, just do your homework to be as certain as possible that your pick can win by two runs.
Find and Determine the Best Run Line Situations
In any baseball season, approximately 30 percent of games are decided by one run. That's important to know when seeking a betting edge using the OddsTrader app.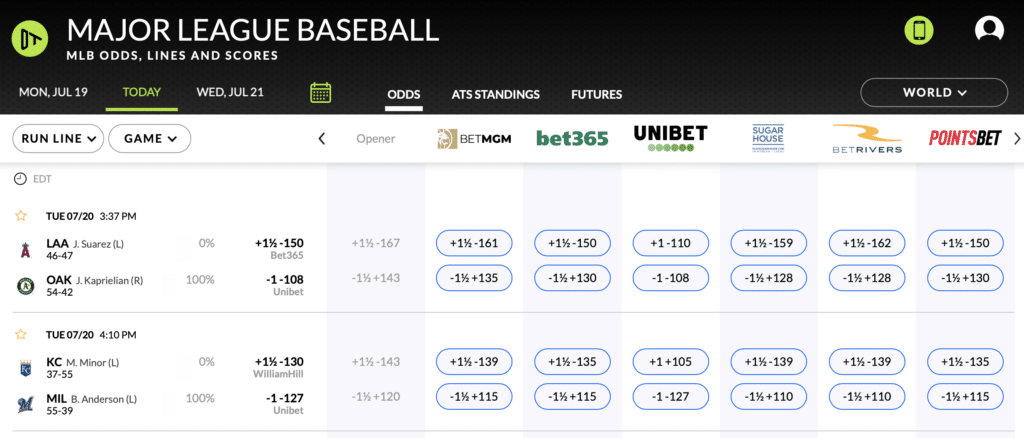 Also, with the increased usage of bullpens, invariably during the regular season, one pitcher out of the three or four that can be used in a given game will not have his best stuff and surrender runs. This can be painful backing home teams on the RL who take a 6-3 lead into the ninth inning and end up winning 6-5, not having another opportunity to bat.
If giving the -1.5, you should have the following: a decided edge in starting pitching and runs scored potential. At the same time, your team of choice should have at least a slight edge in the bullpen, to hopefully cover the spread.
If you are grabbing the +1.5 runs, you would prefer to have an advantage or be at least even with the starters and have a club that is at or close to the Top 10 in scoring or in home runs, giving you the chance to cut a deficit to one run. And having a bullpen that could hold the opposing team while your pick mounts a comeback.
There are also books that offer alternative run lines like 1, 2, 2.5, or even 3, all with adjusted odds that should match accordingly. If considering these, make sure they are in accordance with standard money line/run line differential.
For betting purposes, a loss is a loss, but one can be far less painful, if it is at +100, compared to -200 by using the run line versus large moneylines.