The NFL season will be here before you know it and along with betting on the sides and totals, are the litany of prop bets at all of the best online sportsbooks like BetRivers (check our BetRivers Review) and Bet365 (check our Bet365 Review). Let's talk about NFL player props including the popular TD scorer props so we will be better prepared to cash our picks this season.
What's a Touchdown Scorer Prop?
There are a few answers to this question depending on one's definition. When I see this prop bet, I construe it as a player to either score a touchdown at any time during the game or over/under a certain number of touchdowns.
Others will think of TD Scorer props as something along the lines of the first touchdown of the game as a choice between a passing, rushing, interception, or special teams TD with varying odds based on the likelihood of such an occurrence. Along the same lines will be odds on the first player to score a touchdown as well as the last player. That's just a shot in the dark in my opinion but to each his own.
One critical aspect of this prop that many newbies get wrong is a quarterback can only get a touchdown by breaking the plane of the endzone, just like every other player. Therefore, if you see the odds are sky-high on Aaron Rodgers, you should understand that if he throws a touchdown pass it does NOT count as a touchdown, not for him or any other quarterback. If passing touchdowns is what you are looking for, there's a prop just for that!
Matchups Matter
Before you blindly bet on this prop, make sure to do a little homework. As a matter of fact, always do your homework when betting a game because it can mean the difference between winning and losing over the long grind of an NFL season. Prop bets are no different and regarding the TD Scorer prop, you should always consider what kind of defense your offensive player will be facing.
If you are betting one of the most devastating receivers in the league, like Devante Adams, to have a huge game then make sure you do a little bit of due diligence. Is the pass defense he will be facing elite, good, average, or poor? The NFL odds on these props always factor that in but it is the bettor who should be aware of the circumstances which also include how he has fared against this defense in the past, and more specifically, the defender(s) who will be shadowing your top-tier wideout.
Oh, and speaking of top-tier receivers, your prop bets shouldn't exclude other receivers who could very well reap the benefits of their star teammate getting double-teamed. That will allow the lesser lights to shine brightly if the number one receiver can't get open. The odds will be longer and the payout more rewarding if you are on top of your game and doing your homework.
Don't Make Rookie Mistakes
Make sure that all of your bets are researched, regardless of the unit size. You owe it to yourself to get the best bang for your betting buck so shop at several of the best online sportbooks before pulling the trigger. The lines are different so why take +125 at one book at OddsTrader when you can get +140 at another? It all adds up, so be a sharpshooter and take advantage of the best lines available.
Injuries are a big deal, right? It's going to be tough for even a superstar like DeAndre Hopkins to score a touchdown if he's not playing. Scour the injury reports to make sure your guy is suiting up. If he is set to come off of the IL, make sure that he actually, ya know, comes off it. It seems ludicrous that someone would overlook such a rudimentary detail, especially a seasoned bettor, but we all make dumb mistakes from time to time, and this is one of them. As seen below, you can find updated injury reports at OddsTrader.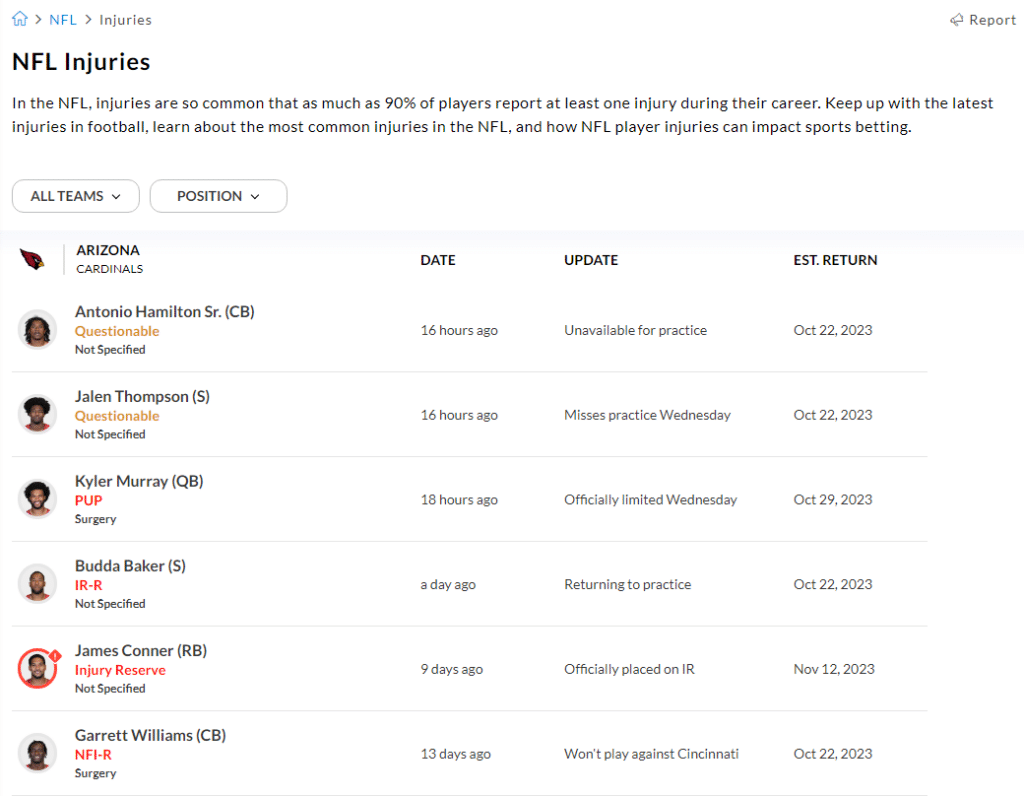 In short, NFL Touchdown Scorer props come in varying forms but if you research the game, the matchups, and the history between the player and the opposing defense you will find your cover rate improving and your wallet getting fatter in the process!