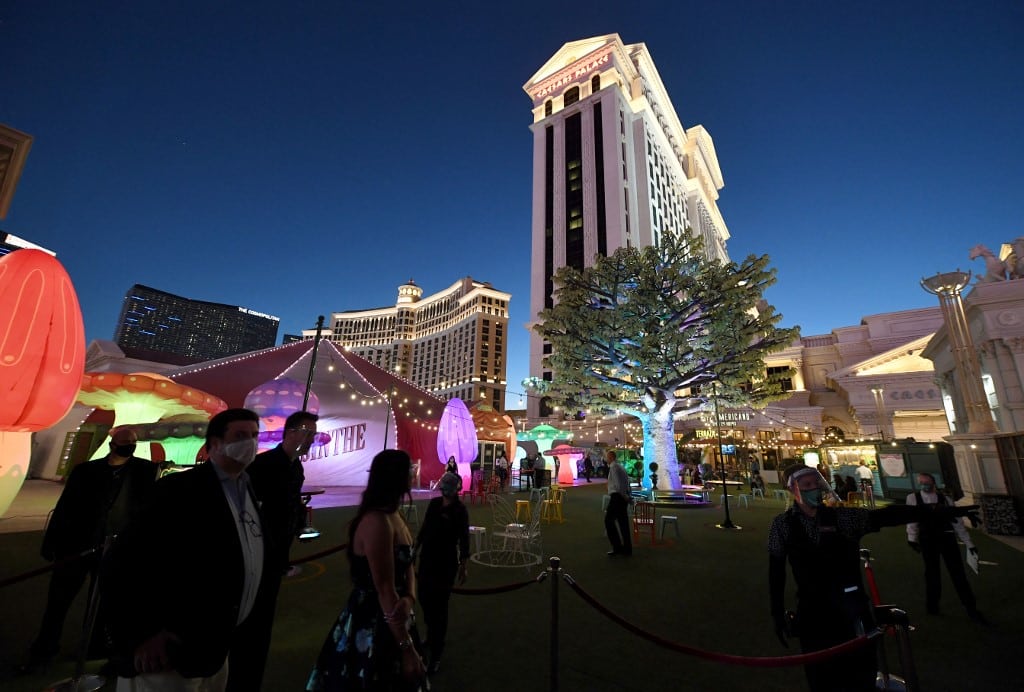 Caesars Entertainment took a major step on their path toward domination of the US legal sports betting scene with the official launch of their Ceasars Sportsbook app Monday.
Now the Caesars name is making its first appearance in the broad, competitive and lucrative US mobile sports betting industry.
Despite being a new "name" in the mobile space, Caesars will have an immense clientele built in thanks to all of William Hill's already popular US sportsbooks being rebranded under the Caesars name.
Tom Reeg, CEO of Caesars Entertainment, commented: "We are excited to launch our new comprehensive marketing campaign for Caesars Sportsbook. The rebranded and upgraded offerings for our Caesars Sportsbook will provide customized offers, flexible limits, a wide range of betting lines, and an intuitive user experience."
How to Become an Instant Heavyweight
Ceasars Entertainment made a bold move to acquire all of William Hill's US entities this year in what was $3.7 billion deal. Since that deal closed in late spring, Caesars has been benefitting financially and academically from William Hill's top-tier US operations.
Starting Monday, all of those sportsbooks will be rebranded under the Caesars nameand the US provider behemoth will not only benefit from what William Hill has already built but also from the Caesars mobile brand being readily available in someof the top markets in the nation.
Caesars Entertainment will embark on an aggressive, nationwide, multi-million marketing campaign almost immediately. Actor-comedian JB Smoove will be the face of the campaign aimed at leaving no doubt to the legal sports betting world that Caesars mobile has arrived.
Rewards You Say?
With the transition away from William Hill and toward Caesars Sportsbook comes the ground-breaking Caesars Rewards program that allows users to earn and redeem points with every bet on the Caesars Sportsbook app. The elite program will allow users to redeem points from winning bets or losing bets, for Caesars merchandise and stays at one of their 50 properties in 16 states around the country.
"Each bet earns Caesars Rewards Tier Credits and Reward Credits," it was explained in a news release. "Caesars Sportsbook links with Caesars Rewards, making it as easy to earn and redeem online as it is in person at one of Caesars' more than 50 destinations across 16 states. Reward Credits earned within the Caesars Rewards network can be redeemed everywhere, meaning everything you earn online can be used for free play, dining, getaways, and specially curated sports and entertainment experiences."
CEO Tom Reeg explained that "Caesars Sportsbook also brings players into an empire of play where, win or lose, every wager gives them more through our award-winning Caesars Rewards."
Ready for liftoff
Caesars becomes a factor immediately in eight states where William Hill had a presence including Colorado, Indiana, Iowa, Michigan, New Jersey, Tennessee, Virginia, and West Virginia – some of the most bet-friendly states in the country. The company is set to go live in three other exciting jurisdictions in the next few months – Arizona, Louisiana and Maryland.
Thanks to William Hill's hard work, Caesars will also gain immediate access to Illinois, Nevada and Washington, D.C.
Combining the states that Caesars is prime to be a factor in with the relationships it has forged with North America's biggest sports leagues and some of its teams, it makes the sports betting provider a nearly unstoppable force within the US industry.
Caesars is currently the official sports betting partner of the NFL, NBA, NHL and MLB and has similar deals in place with a few key individual teams in those leagues. Last month, Caesars won naming rights for one of the most iconic sporting venues in the country, the Louisiana Superdome, giving the company invaluable exposure within the Louisiana market as well as the national sports betting scene.
Royalty
The Caesars ascent to the top of the US legal sports betting food chain has been swift but is largely due to some shrewd moves made by the company during their development process. The right moves at the right time are sometimes all that is required. Caesars however, had the benefit of immense experience in the gambling space and the financial and intellectual backing to make their plans for sports betting provider dominance a reality.
"Sports bettors deserve a sports betting experience that treats them like royalty," said Chris Holdren, Co-President of Caesars Digital. "In our world, everyone's an emperor, and the Caesars Sportsbook app delivers an experience worthy of them. We invite people to play with us online, stay with us at our resorts and experience their favorite sports in new ways through our unparalleled partnerships."