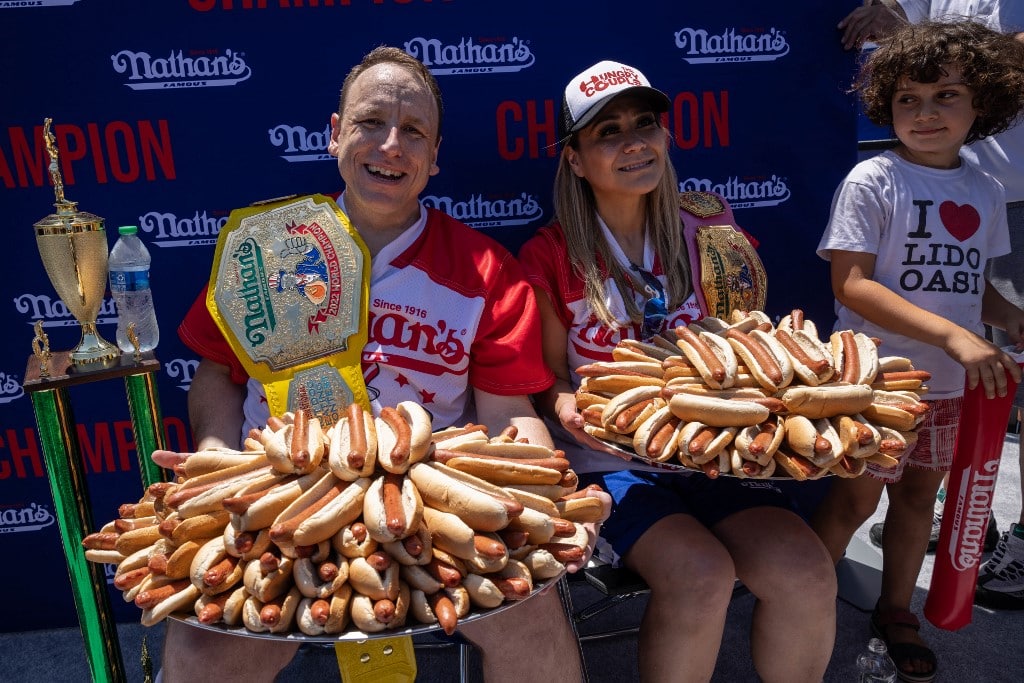 The annual Nathan's Famous International Hot Dog Eating Contest returns on the 4th of July and it will be beamed live by ESPN outside the original Nathan's location in Coney Island near Brooklyn, New York.
Picks Summary:
---
The Men's Division (odds courtesy of Caesars Sportsbook)
When: July 4, 2023, between 10:30 AM – 03:30 PM
Where: Surf and Stillwell Avenues in Coney Island, New York
Can You Bet on It? You bet you can! Caesars Sportsbook and a litany of other top U.S. sportsbooks have odds on both divisions as well as total hot dogs devoured for the men's and women's champions.
Major League Eating president Rich Shea said, "ESPN had already affirmed us as a sport in the early 2000s. With legal betting, we are really now as legitimate as the NFL and the NBA."
The Competitors:
Joey Chestnut (-3000)
Geoffrey Esper (+1400)
Nick Wehry (+2500)
James Webb (+3000)
Any Other Competitor (+4000)
Ren Zoza (+6000)
Bartley Weaver IV (+6000)
Gideon Oji (+6000)
Darrien Thomas (+7500)
Adrian Morgan (+7500)
Darrin Breedon (+10,000)
---
Joey Chestnut: The Unbeatable Favorite, but Is an Upset Lurking?
When it comes to the men's division, this is Joey Chestnut's world and the rest of us are just living in it. The man is the undisputed GOAT of hot dog eating and when pitted against other GOATS in their respective fields, Chestnut is Zeus on Mount Olympus while the likes of Michael Jordan, Tom Brady, Wayne Gretzky, and Ted Williams are mere demigods compared to him.
The man they call Jaws has won this contest 15 of the last 16 years and he holds the world record of 76 buns and franks in under 10 minutes during the 2021 event. Last year he went at a leisurely pace and still cruised to victory after downing 63 dogs.
But let's consider that the man, the myth, and the legend, was walking on crutches last year when he soldiered through the contest standing up with a ruptured tendon in his right foot.
Before the event began Chestnut said, "I feel better than I look. But I'm going to go out there and I'm gonna go out hungry and I'm gonna eat. It's something I love doing — it's the 4th of July, and I'm gonna push it. The tendon injury hurts really bad, but I can stand up and I can eat."
But let's face it, is anyone truly worthy of -3000 odds? I guess you could make a case that if not Joey Chestnut then who? Well, harken back to Ronda Rousey who was around -2500 against Holly Holm in their UFC title tilt while Iron Mike Tyson was -5000 against Buster Douglas in their heavyweight championship battle way back in 1990. Both of those big favorites were defeated so before you say it can't happen, well yeah, it can.
As unlikely as it is for anyone else to win this contest, I have a hard time justifying -3000 odds on anything or anyone. So, what do we do? Punt? No, we will search for the person to pull the upset and put a few bucks on a hope and a dream, a wing, and a prayer.
James Webb: Rising Star Chasing the Hot Dog Eating Legend
Aussie James Webb is a newcomer to the Major League Eating circuit and he scarfed down 40 hot dogs to place third last year in his first Nathan's tournament which was only 6 ½ behind second-place veteran Geoffrey Esper. But Webb has been training and racking up titles since then.
According to Webb, he was just happy to get the opportunity to battle Chestnut in his own playpen. "I don't think anyone will ever match him, so just to get closer to him will be a massive achievement in itself."
Webb spoke about the bite push as his preferred technique. "You have to relax your throat, you take a big bite, and then you use your next bite to push it down, so you minimize chewing."
He also said Coke Zero is his drink of choice. "So, when you burp, the air comes out, the food goes down, and you can fit more."
Pick: James Webb +3000 at Caesars Sportsbook
---
Women's Division (odds courtesy of Caesars Sportsbook)
Competitors
Miki Sudo (-5000)
Michelle Lesco (+1500)
The Field (+2500)
If it's ever appropriate to refer to a woman as a beast, Miki Sudo is it. However, if you've ever seen here then you know I am referring to her preternatural eating skills and not her physical appearance which is quite surprising for a competitive eating world champion. At 5'4" and 125 pounds her countenance is antithetical to what one would envision a woman with her championship "chops" to look like.
Sudo holds the women's world record for hot dog eating with 48 ½ she destroyed in the 2020 Nathan's event but sat out in 2021 because she was having a baby. Yet, last year, she returned with a vengeance and wolfed down 40 to easily best the rest of the field. We can easily see her doing it all over again. But don't you dare bet -5000 straight up! Wrap Miki in a parlay and get a bit more bang for your betting buck.
Pick: Miki Sudo -5000 at Caesars Sportsbook
---