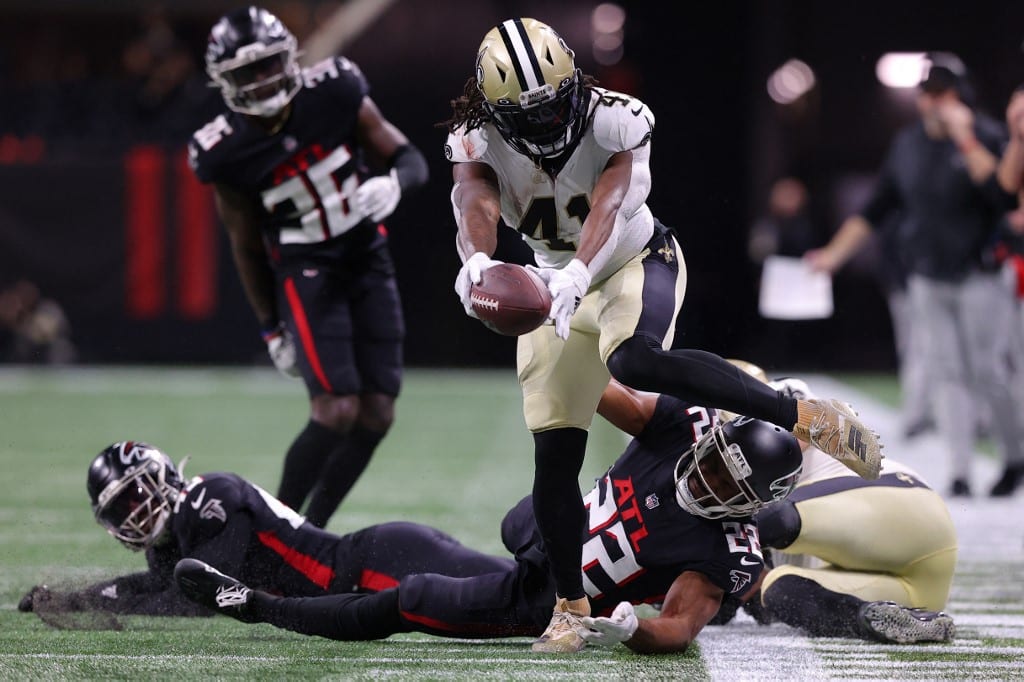 NFL Pick: 2023 NFC South Winner – New Orleans Saints (+125) at BetRivers
---
Last year, a losing record (8-9) was enough for the Tampa Bay Buccaneers to win the NFC South while everyone else finished 7-10 in disappointing seasons. But with Tom Brady off to retirement, the division odds are flipped with the Buccaneers expected to finish last now.
But are the Saints a worthy favorite with Derek Carr at quarterback, or will the Falcons shine with Desmond Ridder getting Bijan Robinson in the backfield? What about Frank Reich coming to the Carolina Panthers to coach Bryce Young, the No. 1 pick in the draft?
The Landscape
Here are the current odds from BetRivers for the winner of the NFC South in the 2023-24 NFL season:
New Orleans Saints (+125)
Atlanta Falcons (+200)
Carolina Panthers (+400)
Tampa Bay Buccaneers (+800)
The schedule should help these teams improve too as they get to play the AFC South and NFC North, which are full of unproven teams. You'll definitely want to factor in the schedule for your NFL best bets.
We have our best bet to win the NFC South below.
---
New Orleans Saints: Oh, Blessed Schedule!
In their first season without Drew Brees and Sean Payton, the Saints were exposed a bit. Situational play was poor, they blew both Tampa games in epic fashion, Andy Dalton led a mediocre offense, and the defense did not step up until it was too late in the season.
But the Saints are hoping to improve with Derek Carr coming over from the Raiders after 9 years that saw him fail to win a playoff game. However, he could have his best defense of his career as the Raiders were always below average in that area.
Carr's average defense ranked 26.9 in points per drive allowed in 9 years with the Raiders. He has not played with a defense ranked higher than No. 26 in that stat since the 2016 season when he helped the team with 12 games before breaking his leg.
If the Saints can just be average on defense, led by Cameron Jordan and Marshon Lattimore, then Carr should feel confident in that side of the ball for a change.
Solid RB Stable
On offense, running back Alvin Kamara is suspended 3 games for his off-field fighting incident, but he will be back soon. Jamaal Williams can hold the fort down after his career year for the Lions last year. Carr also has a solid receiving corps with Chris Olave poised to be the new No. 1 with Michael Thomas also returning.
But even if you think the Saints look like a mediocre team that could rank in the 12-to-18 range on both sides of the ball, the real reason to like them in 2023 is the 2023 schedule.
This is hard to believe, but of the top 8 teams in Super Bowl winner odds at the top online sportsbooks, the Saints play none of them on their 2023 schedule. That means no games against the Chiefs, Bills, Bengals, Eagles, 49ers, Cowboys, Jets, or Ravens.
The "best" team the Saints are scheduled to face is Detroit, a 9-8 team that made few big changes in the offseason, and that game will be Week 13 in New Orleans.
The Saints play 13 games against the bottom 13 teams in Super Bowl odds, who all have odds of +6600 or longer. They could have 4 games against rookie quarterbacks, including Bryce Young (Panthers twice), C.J. Stroud (Texans – Week 6), and Anthony Richardson (Colts – Week 8).
About the only way this schedule could be any easier is if the team got to play in Arizona instead of Minnesota in Week 10. The Saints are going to outperform their expected win total, and while Carr will get a lot of the credit for the expected improvement in the offense and close game record, the schedule is the real hero in New Orleans this year.
---
Atlanta Falcons: Ridder Me This
Of the many teams with unproven quarterback situations, the Falcons are one of the most interesting with Desmond Ridder set to start the opener after only appearing late in his rookie season for 4 uneven starts.
By the time Ridder took over, tight end Kyle Pitts was out with injury, so we will get to see how Ridder, Pitts, and new No. 1 wideout Drake London get along. But they will also be joined by running back Bijan Robinson. He was a high draft pick that you normally would not be happy about given it is the position where Tyler Allgeier, a 5th-round pick in 2022, could run for 1,000 yards in this offense.
Special Talent
But Robinson is considered a special talent and the Falcons absolutely want to run the football. They ran it the most in the league last year, and they are poised to do it again with a new talent who can also improve the receiving game from the running back position.
The defense still looks shaky, but that has become part of the Atlanta standard. If the offense can be good, then like the Saints, the schedule is going to be very favorable to this team.
The Falcons get to open with the Panthers (Week 1) and Packers (Week 2) at home. If Ridder is further along in his development than Bryce Young and Jordan Love, then the Falcons have a real shot of starting 2-0. Some other unproven quarterbacks the Falcons could be facing this season include C.J. Stroud (Texans – Week 5), Sam Howell (Commanders – Week 6), Baker Mayfield (Buccaneers – Week 7), Colt McCoy or rusty Kyler Murray (Cardinals – Week 10), and Anthony Richardson (Colts – Week 16).
No More Excuses
Ridder will be the one to watch this year, but coach Arthur Smith is finally free of Marcus Mariota, who he just never seemed to thrive with in two locations, including a stint with the Titans where Mariota was benched for Ryan Tannehill.
If the Falcons could go 7-10 with lesser talent in the last two seasons, then this schedule should offer a real opportunity for a winning record and playoff berth.
---
Carolina Panthers: New Era Begins
The Carolina Panthers under Matt Rhule were absurdly predictable. You basically just had to score 21 points or take the lead by halftime, and you were all but guaranteed a win over them.
In fact, the Panthers have lost 50 straight games when trailing in the fourth quarter, including an 0-29 record in games where the offense had the ball late in a 1-possession game. The toughest of these losses was to Tampa Bay last year, because with a win there, the Panthers would have won the NFC South.
Changing Fortunes
For a team that made the No. 1 pick in the draft, they are not nearly as terrible as those teams usually are. But that is because Carolina traded with Chicago to move from No. 9 to No. 1 to make sure they got Alabama quarterback Bryce Young.
Time will tell, but it looks like the most logical pick so far. Young has an ability to make things happen with his mobility and when pressure gets to him. His height (5'10") will hopefully not be a detriment just as it has not failed Russell Wilson or Kyler Murray in the NFL.
Tough Task
But Young does have a tough task of having success as a rookie with an offense that has traded away its best running back (Chrisitan McCaffrey) and wide receiver (D.J. Moore) in the last year. The Panthers have done a decent job in signing some receivers with experience like Adam Thielen and D.J. Chark, but Young is not stepping into an elite offense by any stretch.
New head coach Frank Reich should be an improvement over Rhule. After getting fired by Indianapolis where he had a new quarterback every single year, Reich could even be one of those coaches who excels more at his new job a la Bill Belichick (Cleveland vs. New England) and Andy Reid (Philadelphia vs. Kansas City). At the very least, he gets to start from scratch with a talented, young quarterback instead of trying to work around a Jacoby Brissett, old Philip Rivers, or broken Matt Ryan.
---
Tampa Bay Buccaneers: Welcome to the Basement
The Buccaneers won the division with an 8-9 record last year, but they looked just as bad, if not worse than the other NFC South teams. They were just fortunate that the Rams, Saints, and Cardinals badly mismanaged 4th-quarter leads or else this was a 5-12 team that lost Tom Brady to retirement.
The retirements have been piling up in Tampa ever since the Super Bowl win, and the team has simply not been able to keep up with restocking players. Todd Bowles is better served as a defensive coordinator than a head coach, and he did not do a good job last year in taking over for Bruce Arians.
Rebuild Mode
But the Buccaneers were also stuck with a 45-year-old quarterback who was done getting hit, so he would release the ball as fast as possible, leading to few sacks and turnovers, but ultimately few big plays and points scored.
Getting rid of Brady actually helps in some regards, but the problem is Baker Mayfield is not the long-term solution in Tampa. He may not even be a good short-term answer after finishing last in QBR for the 2022 season as he bounced from the Panthers to the Rams.
One wild comeback win over the Raiders, a team that was historically bad at blowing games in 2022, is not enough to make you think the Buccaneers have any edge in close games this year. With Bowles coaching a defense that still has talent, many games should be there for the taking. But with the lack of Brady's devil magic, the Buccaneers are poised to finish with the 4-13 or 5-12 record they should have had last year.
---
Conclusion: And the Division Winner Is…
We can eliminate the Buccaneers on schedule alone. They have to face a 1st-place schedule of the Bills (Week 8), Eagles (Week 3), and 49ers (Week 11) – no other team in the division has to play any of those teams in the regular season.
The Panthers are making the right moves for the future, but there will be plenty of growing pains this year as Young tries to learn Reich's offense without a true No.1 receiver. Also, while the Panthers are not your traditional team making a No. 1 pick after a horrible year, the fact is 25-of-26 quarterbacks drafted No. 1 in the Super Bowl era failed to win more than 7 starts as rookies. Only Andrew Luck (2012 Colts) won 11 games and made the playoffs.
The Pick
It comes down to the Saints vs. Falcons rivalry, and I am going with the team that should have the better defense and has the more proven quarterback in Carr. Even if the Saints are likely to still lose their first playoff game at home, they should get one in New Orleans thanks to this schedule.
NFL Pick: 2023 NFC South Winner – New Orleans Saints (+125) at BetRivers
---