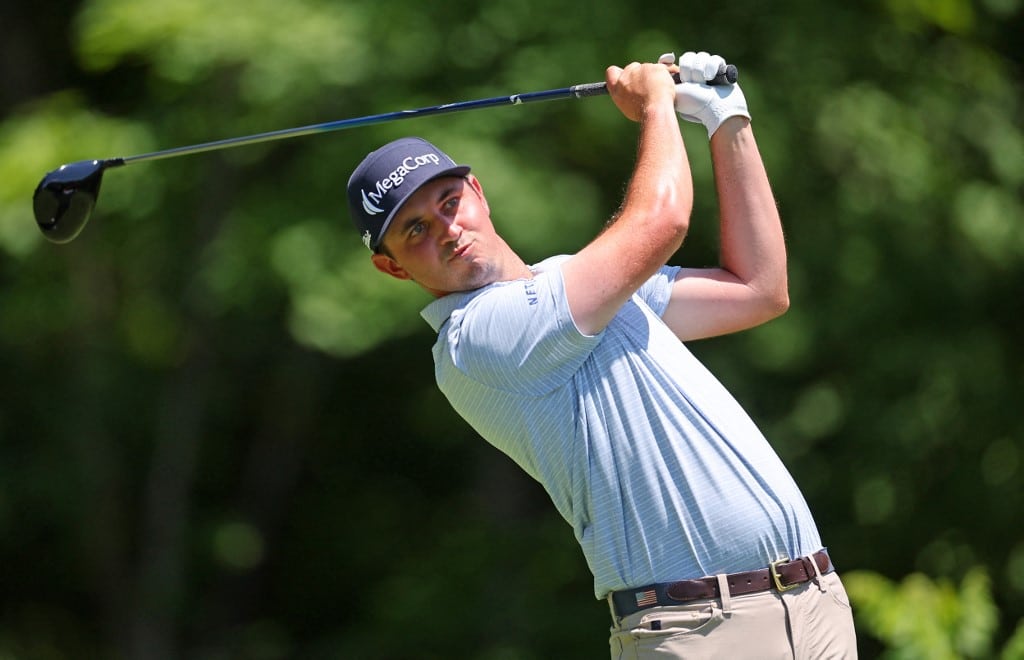 Picks Summary
---
2023 3M Open
July 27 – July 30, 2023 at TPC Twin Cities
---
Can the Postman Deliver the 3M Open?
Yes, I think "The Postman" or J.T. Poston as he is better known can deliver a red-letter day at TPC Twin Cities this week.
I am a little worried about him flying back across the Atlantic Ocean after a tough Open Championship when he performed creditably, backing up a strong Scottish Open where he was 6th. That 6th backed up a previous 6th at the John Deere Classic, so we know the thirty-year-old from North Carolina is in superb form.
The clincher for betting J.T. Poston here at Odds Trader this week is the number being offered by top online sportsbooks which is inflated by over 50% on my personal betting estimation. That inflated price allows us a built-in compensation that Poston could tank after a few tough weeks.
Take Bet365's price of (+5500) of J.T. Poston winning this week's 3M Open.
What to Know About TPC Twin Cities?
This week's track, the TPC Twin Cities in Blaine, Minnesota is an easy test on the PGA Tour with its wide fairways and fast Bentgrass greens.
The Arnold Palmer design rewards aggressive strong off-the-tee and tee-to-green players who can get hot with the putter. The four renewals have seen a best score of 21-under par and a worst winning score of 15-under and with the weather set fair this week will be no different.
Will the Open Competitors Be Jaded?
Yes, there is a very good chance player who played all four rounds at last week's Open Championship will find themself slow out of the blocks and a little jaded this week.
This gives bettors a better-than-average opportunity to oppose the top of the market and for the next two selections, we will be avoiding players returning from the Open.
Golf Pick: J.T. Poston to Win Outright (+5500) at Bet365
Golf Pick: J.T. Poston to Finish in Top 10 (+550) at Bet365
---
Adam Svensson Will Be Fresh This Week
Canadian, Adam Svensson is the first of two players that will be fresh off a break this week.
Back in 2019, Svensson got a start in the 3M Open when struggling on the PGA Tour and struggling to make a cut, so to finish 15th in that context is hugely impressive. Since then, the twenty-nine-year-old has made relentless progress up the world rankings whether on the KFT or PGA Tour.
After winning his first PGA Tour title in the fall of 2022, the RSM Classic, Svensson has somewhat disappeared off the radar but on his last start a few weeks ago, at the John Deere Classic, there was a glimpse of a player coming back to form.
With the FedEx Cup looming large, maximum motivation now abounds for Svensson who currently sits at 36th on the table and in contention for the mega-bucks Tour Championship.
Here at OddsTrader add Adam Svensson to Win for the 3M Open.
Golf Pick: Adam Svensson to Win Outright (+8000) at Bet365
Golf Pick: Adam Svensson to Finish in Top 20 (+333) at Bet365
---
Will the Emotional Ties Help Erik Van Rooyen?
Erik van Rooyen came back to form last week at the Barracuda Championship with a top 10 after an encouraging Scottish Open where a 63 gave a glimpse that better times were around the corner.
This made me think that perhaps he wins a second PGA Tour title this week because of his emotional ties to the area.
The thirty-three-year-old went to college at the University of Minnesota and met his wife, Rose who originates from the area. This tells us that he will be home from home in the agronomy this week at the TPC Twin Cities.
This week will be as good as any for EVR as he is known, to secure his playing privileges for next year, because his exemption for winning the 2021 Barracuda Championship is due to expire at the end of the current season.
We know Erik Van Rooyen is playing well and has a home game this week so, let's take the South African win at (+25000).
Golf Pick: Erik van Rooyen to Win Outright (+17500) at Bet365
Golf Pick: Erik van Rooyen to Finish in Top 10 (+1600) at Bet365
---