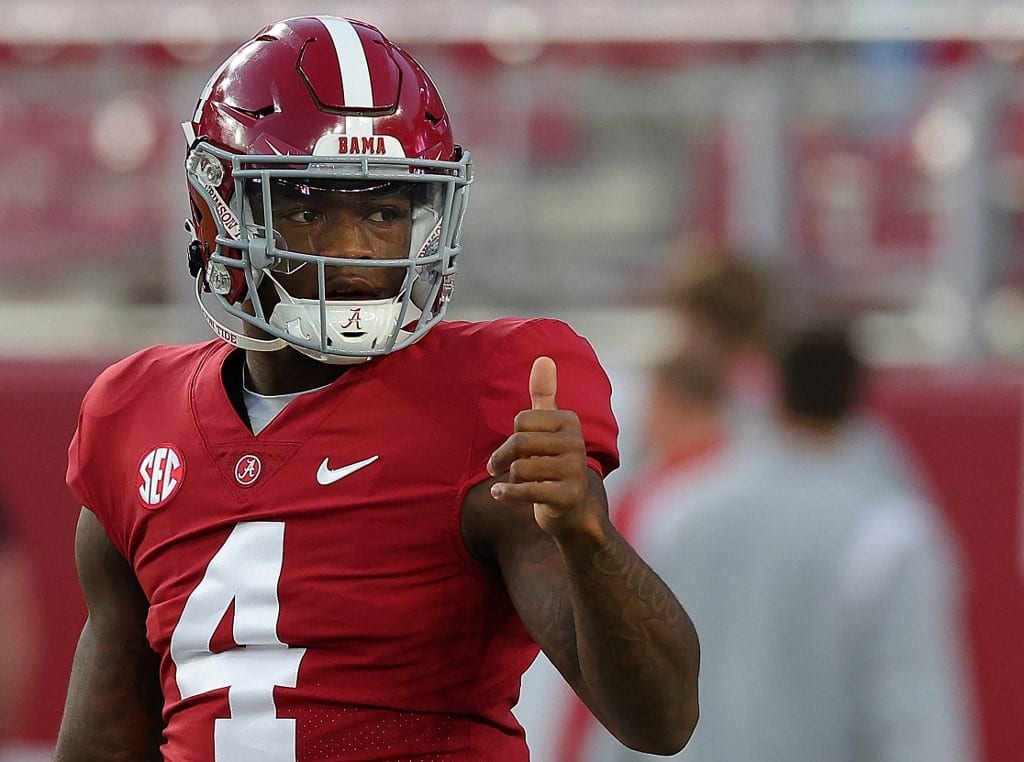 NCAAF Pick: Under 10.5 Wins (-145) at Caesars Sportsbook
---
The Alabama Crimson Tide are second favorites on the NCAAF odds board to win yet another title – but will they win more than 10 games?
Betting against the Alabama Crimson Tide is always challenging. In theory, Nick Saban's team is a prime fade candidate during the preseason, saddled by the high expectations of an insatiable betting public. Then the Crimson Tide go out and either run the table or implode spectacularly – if you can call losing two games an implosion.

It's been more of the latter these days. First, it was the Clemson Tigers, then the Georgia Bulldogs getting all up in Alabama's area, holding Saban and the Tide to just one National Championship over the past four seasons. And the NCAAF futures at OddsTrader have Alabama trailing Georgia for this year's title as well.

We're inclined to agree. After taking a close look at the 2023 schedule, we think Alabama will be stuck on 10 wins this year; Caesars Sportsbook has their win total at 10.5, with the Under priced at -145. Can the Tide clear this unusually low bar?
---
Crimson Kings
It won't be easy. The college football landscape looks a lot different today than when Saban arrived in Tuscaloosa in 2007; between the transfer market and all that NIL money, it's a lot harder for Saban to bogart all the top young talent in this sport.

In turn, that will make it harder for Saban to replenish his roster after the annual exodus of key players turning pro. This year's turnover was immense:
QB Bryce Young (No. 1 overall, Carolina)
LB Will Anderson Jr. (No. 3, Houston)
RB Jahmyr Gibbs (No. 12, Detroit)
S Brian Branch (No. 45, Detroit)
And that's just the first two rounds of the 2023 NFL Draft. Another six Alabama players were taken in the later rounds, although it will be Young and Anderson they miss most of all. As always, Saban has tons of young talent in the pipeline, but chances are the Tide will take a step backward at both positions this year.
I'm Just Sayin
Quarterback is the marquee position in college football, of course, and easily the most important from a betting perspective. It seems like Alabama always has the answer at quarterback, but Young was their lone Heisman Trophy-winning QB, scooping up the award in 2021 after running backs Mark Ingram (2009) and Derrick Henry (2015), and receiver DeVonta Smith (2020).

There's a good chance that Julian Sayin will claim his own Heisman honors somewhere down the road. However, Sayin is Alabama's lead prospect (and third overall on the ESPN 300) for the Class of 2024. Until Sayin is ready, the QB gig in Tuscaloosa looks like a toss-up between Jalen Milroe and Ty Simpson, with Notre Dame transfer Tyler Buchner also in the mix.

Of these three hopefuls, Simpson shows the most promise – but he's also coming off a sprained UCL during their spring scrimmage, and it was Milroe who got the majority of playing time behind Young last year. Don't be surprised if Buchner emerges from this group, given his work at Notre Dame with incoming Tide offensive co-ordinator Tommy Rees.
You Don't Know Jack
Replacing Anderson could prove even more difficult. The past 20 years or so have seen major innovations in the way coaches deploy their linebackers; in a 3-4 defense, these players usually get referred to by names rather than position, with "Jack" as the monicker for the weak outside linebacker.

Anderson was one of the best Jacks the Tide has ever produced. He was the leading edge rusher in the 2023 NFL Draft and second all-time in 'Bama history with 34.5 sacks and 62 tackles for a loss. Only Derrick Thomas had more.

These are very big shoes to fill, and it'll be Chris Braswell moving from strong outside linebacker ("Sam") to take Anderson's place. Dallas Turner is back for his senior season, moving into the starting Sam spot; they'll be fine, but do they have enough left up the middle beyond LB Deontae Lawson to contend in the SEC, let alone the College Football Playoff?

We're expecting otherwise. The transfer portal was especially brutal to Alabama this year, and the 2023 FBS schedule, while manageable, includes two road games that we think will turn into losses: at Texas A&M on October 7, and the Iron Bowl versus Auburn on November 25.

That leaves 10 wins for Alabama this year – at least during the regular season, which is how win totals work at top online sportsbooks. Bet accordingly.

NCAAF Pick: Under 10.5 Wins (-145) at Caesars Sportsbook
---