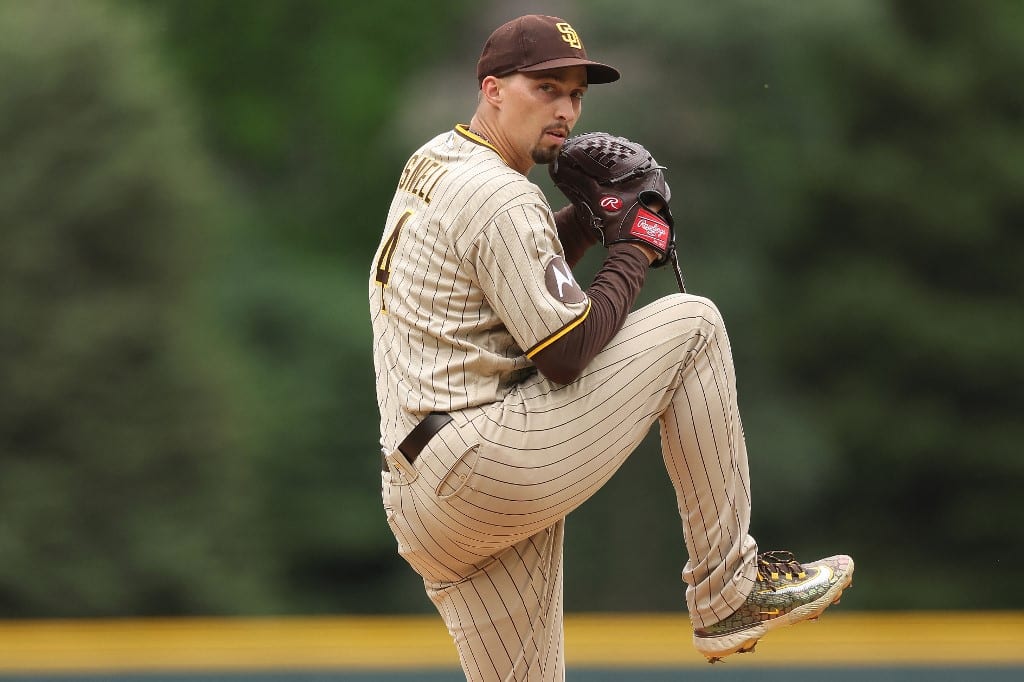 We have some great games today, and we're going to be looking at three of them for our player props of the day: Padres vs. Diamondbacks, Rockies vs. Dodgers, and Rangers vs. Giants.
For your best bets, I recommend investing in strong pitching performances from San Diego's Blake Snell, Colorado's Austin Gomber, and Texas's Jon Gray.
Picks Summary
Blake Snell Under 2.5 Earned Runs (-130) at Bet365
Austin Gomber Under 3.5 Earned Runs (-145) at Bet365
Jon Gray Under 2.5 Earned Runs (-140) at Bet365
---
Friday, August 11, 2023 – 09:40 PM EDT at Chase Field
---
Blake Snell (San Diego Padres)
Blake Snell starts for San Diego today. He is coming off a rare bad start in which he allowed three runs to the Dodgers.
The price for him to improve tonight, by allowing fewer than three runs, seems very attractive under the circumstances.
For starters, he had allowed a total of one earned run in his previous six starts. Giving up three runs in his third start this season against the Dodgers cannot cast doubt on his current form. Indeed, directly before giving up three runs to the Dodgers, he locked down an equally tough Rangers lineup.
Tonight, he must be expected to return to form because he is Blake Snell and he is facing a much weaker Arizona lineup.
Snell's Arsenal
Snell throws a fastball, curveball, changeup, and slider.
He is reliably effective because his stuff possesses high quality. For example, his fastball places in the 77th percentile in velocity and in the 86th percentile in spin. These numbers suggest that his fastball is relatively hard for batters to hit.
Plus, he plays it very well off his other pitches. Whereas he likes to elevate his fastball, he gladly buries his other pitches. In doing so, he changes the opposing batter's eye level.
He also uses the intense difference in velocity between his fastball and his other pitches to create a change of pace that likewise keeps batters off-balance.
Snell vs. Arizona's Lineup
Snell already loves pitching in Arizona: in Chase Field, he is 2-0 with a 1.42 ERA in three career starts.
But the Diamondbacks are extra bad right now: since July 28, they've reached four runs three times in twelve games. They required extra innings in one of those three games.
Since, July 28, they are slugging .279 against Snell's pitches from lefties.
MLB Pick: Blake Snell Under 2.5 Earned Runs (-130) at Bet365
---
Friday, August 11, 2023 – 10:10 PM EDT at Dodger Stadium
---
Austin Gomber (Colorado Rockies)
Austin Gomber starts for the Rockies tonight. There is great value in backing Gomber because of his awful start to the season. He was so bad for so long that his ERA still is awful and creates a negative impression of him, which is misleading.
Gomber was bad for mental, emotional, and mechanical reasons. In essence, he was a different pitcher back then.
Because he has changed the things that made him awful and because he is producing consistently positive results, the 3.5 with -145 betting odds that the books are attaching to his earned runs allowed prop is unfairly high.
To be exact, he has allowed two earned runs or fewer in seven of his last eight starts. Impressively, he sustained this trend by victimizing Padres, Yankees, and Angels lineups that rank top-nine in slugging against lefties.
This trend alone indicates that he would be a good pitcher to back even if his earned run allowed total were 2.5 instead of 3.5.
Gomber's Changes
Primarily, Gomber throws a fastball, changeup, slider, and curveball.
His fastball is his favorite pitch to throw, so it was especially important for him to alter the way he makes use of it. Now, more than before, he attacks right-handed batters with it by locating it inside.
Other differences from the earlier version of himself include changing his spot on the rubber from which he throws.
Dodgers Lineup
L.A. has cooled off, having scored two runs in both of its last two games.
Gomber is already good against key Dodgers batters. For example, Will Smith and Mookie Betts are combined 0-for-10 against him.
MLB Pick: Austin Gomber Under 3.5 Earned Runs (-145) at Bet365
---
Friday, August 11, 2023 – 10:15 PM EDT at Oracle Park
---
Jon Gray (Texas Rangers)
Jon Gray starts for Texas tonight.
Gray's most recent starts create a misleadingly negative impression of him. While he allowed three earned runs in 5.1 innings in his last start, he was unfortunate to yield a .375 BABIP (batting average of balls in play) despite inducing more soft contact than usual.
His 2.14 FIP (like ERA but factors out fielding) reflects how well he actually performed. In a similar vein, two starts ago, he allowed six earned runs but yielded a 2.66 FIP.
The upshot of this is that he is due for some good luck. But neutral luck would serve him just fine because his current form is very strong. He has now yielded an FIP below 2.70 in three straight starts.
This trend is impressive because he's sustained it even against lineups that have a much higher slugging rate against his pitches from lefties than his opponent tonight does.
Gray's Arsenal
Gray throws a fastball, slider, changeup, sweeper, and curveball.
With its strong velocity and good horizontal movement, his fastball is more than serviceable. But his other pitches are especially effective: they each yield a BA of .186 or lower.
Gray vs. Giants Batters
Gray's track record against San Francisco's hitters justifies confidence in him.
While AJ Pollock hits him well, he is injured. Brandon Crawford also hits him well, but Crawford was much better when he got those hits against Gray. Currently, Crawford has one hit in his last thirteen at-bats.
On the other side, Joc Pederson and LaMonte Wade have more strikeouts than hits against Gray. Wilmer Flores slugs .231 against him.
MLB Pick: Jon Gray Under 2.5 Earned Runs (-140) at Bet365
---