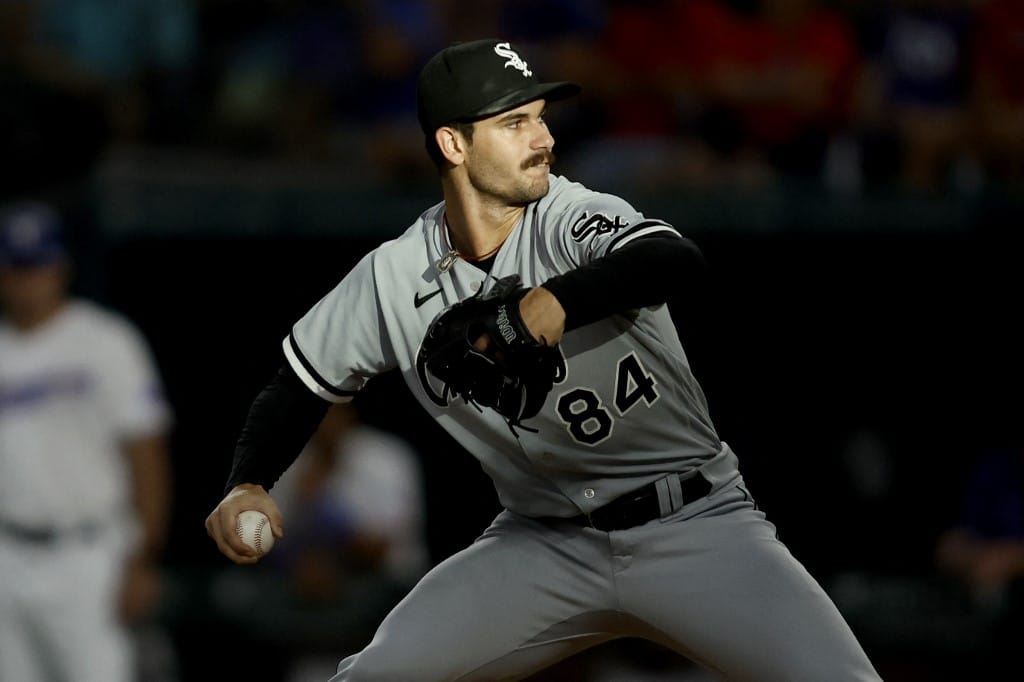 Top sportsbooks have released their odds for today's baseball card.
Three games interest me: Yankees vs. White Sox, Giants vs. Angels, and Rangers vs. Athletics.
I'd recommend that you invest in player props centered around impressive pitching performances, such as Dylan Cease for the White Sox, Logan Webb for the Giants, and Dane Dunning for the Rangers.
Picks Summary
Dylan Cease Under 2.5 Earned Runs (–130) at Bet365
Logan Webb Under 2.5 Earned Runs (–135) at Bet365
Dane Dunning Under 2.5 Earned Runs (–155) at Bet365
---
Monday, August 07, 2023 – 08:10 PM EDT at Guaranteed Rate Field
---
Dylan Cease starts for the White Sox today.
Looking at Cease's ERA in recent outings creates a misleading picture of him because he has suffered some starts in which he was unfortunate to yield a high BABIP (batting average of balls in play).
His 2.74 FIP (like ERA but factors out fielding) in June and his 2.55 FIP in July reflect how strongly he has improved and how consistent and long-standing this improvement has turned out to be.
Given his performance in June and July, it makes sense to perceive him once again as the dominant pitcher that, partly because he finished second in the AL in Cy Young voting last year, he was reputed to be before this season began.
Cease's Arsenal
Cease certainly has the stuff to be dominant. Primarily, he throws a fastball, slider, and curveball. These pitches are hard to hit.
His fastball, for example, places in the 79th percentile in velocity and in the 95th percentile in spin. In addition to boasting good velocity and a lot of spins, it has unique movement.
He effectively plays this pitch off his slider in that he likes to bury his slider after elevating his fastball in order to change the batter's eye level.
Moreover, he buckles batters' knees with a curveball that creates an intense change of pace relative to his high heater.
Like his slider, Cease's curveball has a lot of spins. Its movement is also relatively strong.
Yankees' Lineup
Hitting-wise, the Yankees can be counted on to flop after a strong performance in which they accrue seven or more runs.
They are struggling to find consistency because they rely so heavily on Aaron Judge.
It is well-known how poorly they played without Judge. While they have Judge, he is in awful shape right now. In August, he is 2-for-20.
MLB Prop Pick: Dylan Cease Under 2.5 Earned Runs (–130) at Bet365
---
Monday, August 07, 2023 – 09:38 PM EDT at Angel Stadium
---
The Giants start Logan Webb tonight.
Webb is consistently good, and this makes him reliable.
He has allowed two earned runs or fewer in four of his last six starts.
One impressive example of his strong form is his start on July 17 in high-powered Cincinnati's hitters-friendly ballpark where he allowed two runs in seven innings.
Webb's Arsenal
Primarily, Webb throws a changeup, sinker, and slider. His focus on the changeup as his favorite pitch makes him a unique challenge for batters.
He commands this pitch very well. As heat maps show, he often places it in the lower parts of the strike zone where batters tend to do less damage. It's smart of him to rely so heavily on this pitch because batters struggle to deal with it. They hit .217 and slug .308 against it.
Command, in general, is a strength for Webb, as evident in his low walk rate, but he also relies on strong movement, especially in his changeup and slider.
The latter's relatively strong horizontal movement helps it yield a .176 BA and .374 slugging rate.
Angels' Lineup
L.A.'s lineup has failed to exceed two runs in any of its last two games, but the Angels' hitting woes are more extensive.
Since July 28, they've mustered more than three runs only three times in ten games. Their outlook tonight is particularly negative because, since this date, they're slugging .363 against Webb's favorite pitches from righties.
This statistic shows that Webb's pitches have contributed to their ongoing hitting woes.
MLB Prop Pick: Logan Webb Under 2.5 Earned Runs (–135) at Bet365
---
Monday, August 07, 2023 – 09:40 PM EDT at Oakland Coliseum
---
Texas starts Dane Dunning tonight.
Dunning is coming off one of his strongest starts of the season. On August 2, he allowed two runs in 7.2 innings against the White Sox. In that start, he amassed eleven strikeouts while walking only one batter.
What is impressive about Dunning is his ability to string multiple excellent starts together, which is part of what leads me to believe that Dunning will put together another solid start tonight.
For example, on June 28 he allowed two runs in 8.2 innings against Detroit before, in the following start, allowing one run in six innings in Boston.
As evident in these examples, Dunning is especially reliable against weaker lineups, although, on occasion, he'll also lock down a lineup like Tampa Bay's.
Dunning's Arsenal
One of Dunning's virtues is the variety in his arsenal, which helps him be unpredictable for batters.
He throws six different pitches: his sinker, slider, cutter, changeup, curveball, and fastball. The one that he throws most often is his sinker, which he throws 32.5% of the time.
He can rely especially on his three-most frequent pitches, the sinker, slider, and cutter, all of which yield a slugging rate of .342 or lower.
Oakland's Lineup
Dunning's outlook is positive tonight because it matches up excellently against the A's. They rank 28th with a .379 slugging rate against Dunning's pitches from lefties.
Plus, because the A's are coming off a two-game win streak, they are in a bad spot. They've strung two wins together on seven occasions before this current one.
After five of those occasions, they scored two runs or fewer. This statistic shows that when the A's start to look like a good team they tend to fall and compel everyone to remember just how bad they are.
Take Dunning Under 2.5 earned runs at the MLB odds board.
MLB Prop Pick: Dane Dunning Under 2.5 Earned Runs (–155) at Bet365
---