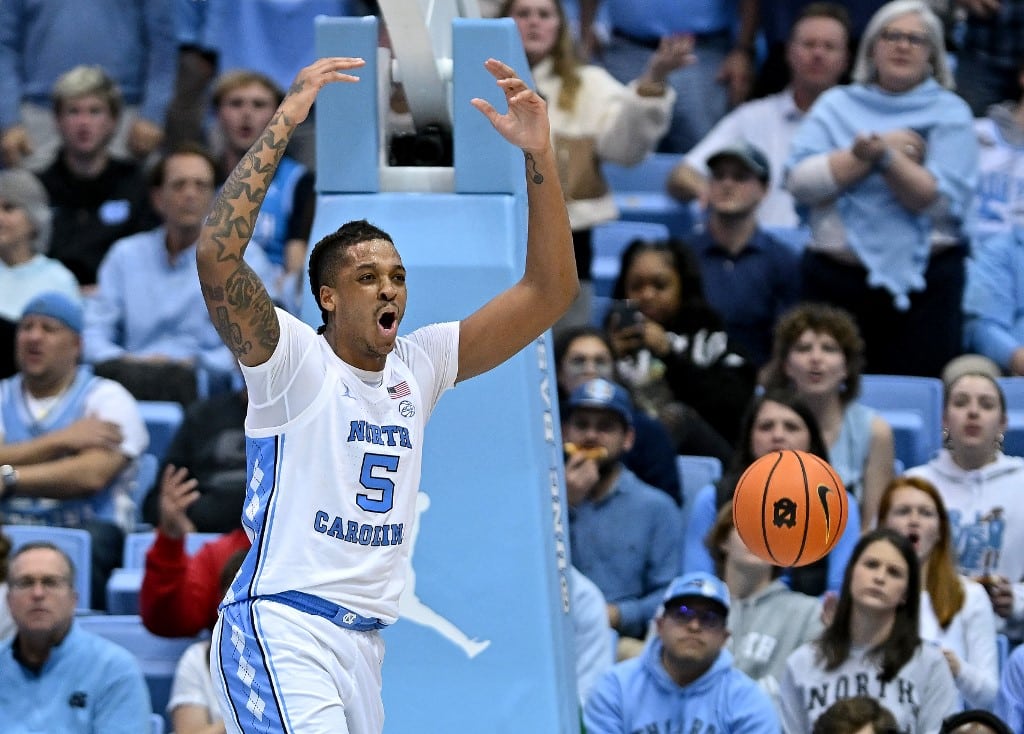 Top Sportsbooks have released their NCAAB odds for today's college basketball action.
Tonight's games that interest me are:
North Carolina vs. Florida State
West Virginia vs. Iowa State
For reasons that I will explain, you should invest in player props for both games.
---
Monday, February 27, 2023 – 07:00 PM EST at Donald L. Tucker Center
---
Florida State's Defensive Decline
Under head coach Leonard Hamilton, Florida State wants to play positionless basketball where all five of its players on the court can do everything. On defense, Seminole guards can, ideally, post up while forwards and centers can patrol the perimeter.
The objective to play positionless basketball always remains, on some level, a mere idealized hope. That is, Florida State does switch one through five and does try to play positionless basketball but it never works out completely.
Opposing offenses are, eventually, able to hunt for the right matchup in order to create individual mismatches in their favor. To prevent offenses from having the time and the comfort to do this, the Seminoles will press and be aggressive, but this year's Florida State team cannot press.
Pressing requires energy because it is an aggressive defensive tactic, and Seminole players cannot afford to expend so much energy because they lack depth. Whereas last year, for example, the Seminoles rank fifth in bench minutes, this year's Seminole squad ranks 296th in the category.
Moreover, the inability of Florida State's defender to play positionless basketball is particularly stark, as evident in the team's 244th ranking in defensive efficiency.
Opposing Centers
Centers tend to take advantage of Florida State's poor defense. Miami's Norchad Omier just, against the Noles, exceeded his season scoring average.
Before Boston College's Quinten Post achieved a team-high 21 points against the Seminoles after fellow center, Clemson's PJ Hall, likewise achieved a team-high in points when playing Florida State.
Defensively, Florida State struggles to combat the efficiency inside of opposing centers as well as their endeavor to draw fouls.
---
Armando Bacot
The above information leads me to have confidence, especially in Tar Heels' center Armando Bacot. Scoring-wise, Bacot is coming off a not-so-special performance, which creates further promise for tonight because he tends to bounce back with stronger performances.
For example, he scored 16 at NC State after scoring 12 against Miami. Because the Seminoles' interior defense is particularly vulnerable, we should expect him to bounce back by scoring more than 16 points.
NCAAB Prop Pick: Armando Bacot Over 16.5 points (-120) at Bet365
---
Monday, February 27, 2023 – 09:00 PM EST at James H. Hilton Coliseum
---
Erik Stevenson's Three-Point Shooting
Tonight presents a great opportunity to against West Virginia shooting guard Erik Stevenson.
Stevenson is a high-volume shooter for whom location matters a great deal. This season, he averages just over one made there per game on the road. Whereas he shoots 44.9% from deep in Morgantown, he converts 28% of his three-point attempts on the road.
For your college basketball picks, expect him to fail to convert enough three-pointers yet again in an away game.
NCAAB Prop Pick: Erik Stevenson Under 2.5 Threes Made (+105) at Bet365
---
Point Guards Thrive Against West Virginia
Opposing point guards tend to have excellent performances against West Virginia.
But Texas' Marcus Carr, Baylor's Adam Flagler, and other point guards were unusually effective in their games against the Mountaineers, often combining high point totals with good assist numbers.
---
Tamin Lipsey's Outlook
The tendency of point guards to thrive against the Mountaineers' defense creates a positive outlook for Iowa State's point guard, Tamin Lipsey.
Lipsey attempts and converts a usually high rate of shots around the basket. His driving ability will be prominent against a West Virginia defense that is more focused on guarding the perimeter and, partly as a result, concedes more operating room to opposing ball-handlers inside the arc.
Lipsey will continue to be great at finishing inside while navigating lengthy defenders at the basket. Improving his ability on offense to limit turnovers, he'll also enjoy plenty of opportunities to do so.
His ability to intercept passes, which shows in his high steal rate, will actually grant him more easy scoring chances.
NCAAB Prop Pick: Tamin Lipsey Over 8.5 Points (+115) at Bet365