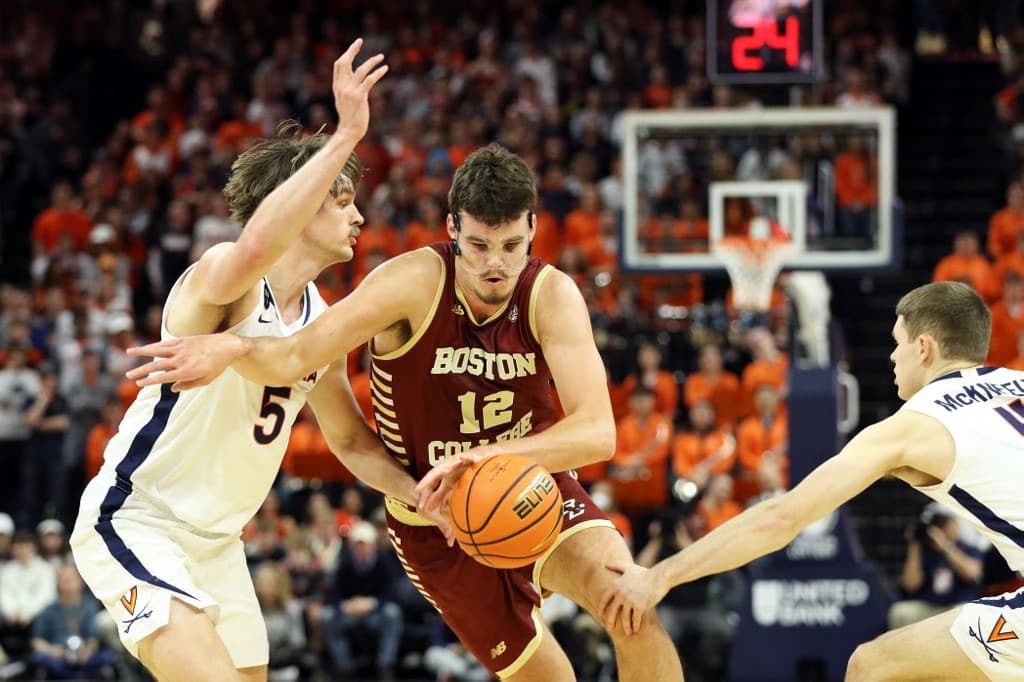 Top sportsbooks have released their NCAAB odds for today's college basketball action. Two games, in particular, interest me as worth investing in: Virginia vs. Boston College and Syracuse vs. Clemson.
For reasons that we will explain, you should invest in the following player props for both games.
---
Wednesday, February 22, 2023 – 07:00 PM EST at Silvio O. Conte Forum
---
---
Quinten Post's Last Time Against Virginia
It might seem odd to say, but it is amazing that Boston College center Quinten Post only scored 24 points in the first matchup. His scoring total was so high because it took Virginia time to figure out how to guard him. This was the time of the season in which Cavalier center Kadin Shedrick had fallen out of favor with his head coach.
Initially, Virginia relied on Ben Vander Plas and Francisco Caffaro to guard him. The results were disastrous: Post scored 14 of Boston College's first 16 points. Physically, he was too strong for the small-ball center Vander Plas. But he also had too many ways of beating the bigger but slower-footed and not-so-athletic Caffaro.
Post had too much finesse for Caffaro, putting the spin move on the latter when he got himself into great position near the basketball. Moreover, Post was too quick off the dribble for Caffaro; he could simply drive past Caffaro on his way to a basket whose rim protector was behind him.
Furthermore, Post had too much range for Caffaro. He could shoot deep threes, which would be uncontested because Caffaro required time to make his way to the three-point line.
Virginia Found the Solution
Virginia's head coach figured out how to stop Post. When Shedrick and forward/center Ryan Dunn entered the game, Post no longer posed a threat.
Shedrick in particular provided the needed physical prowess that Vander Plas lacks as a defender. Both Shedrick and Dunn offered an athleticism that Caffaro misses.
Quinten Post's Outlook Tonight
Post will perform worse tonight because Virginia's head coach obviously won't forget how his team managed to limit his production.
One might insist that Post still has an advantage over Shedrick because he is often active as his team's roll man in the pick-and-roll. But Virginia's coach has resorted to using Shedrick in drop coverage when the latter has struggled to recover back to his man via Virginia's characteristic hard hedge.
So, the Cavaliers will deny Post easy scoring opportunities near the basket while having the personnel to go out and contest his jump shot opportunities. While he easily led his team in scoring in the first game, Boston College will have to rely rather on other scorers than Post.
NCAAB Prop Pick: Quinten Post Under 14.5 Points (-115) at Bet365
---
Boston College's Perimeter Defense
We recommend investing in a Virginia three-point shooting weapon given how bad Boston College's perimeter defense is. Partly because the Eagles collapse on opposing ball-handlers inside, they do a terrible job of contesting opposing three-point attempts.
Teams are able to work the ball inside against the Eagles, forcing their defense to collapse inside, before passing to an open shooter behind the arc.
Especially the dribble penetration achieved by shifty Cavalier point guard Kihei Clark and his speedy teammate Reece Beekman will initiate this inside-out game, although Virginia will also employ a bevy of off-ball screens to free up its shooters.
Boston College's vulnerability defending the perimeter is evident in the fact that it ranks among the worst teams in the nation at limiting opposing three-point percentage.
Armaan Franklin
The Virginia shooter whom we wish to invest in is Armaan Franklin. Because of his versatility as a scorer, he has been near or above his over/under tonight repeatedly in his most recent games.
If he merely approaches his season average of 39.8 percent from deep, then he'll certainly have no problem exceeding his over/under. Against Boston College's perimeter defense, he'll rely especially on making threes.
For your NCAAB picks, you should invest twofold in Franklin: expect him to score a lot of points and to make many threes.
NCAAB Prop Pick: Armaan Franklin Over 12.5 Points (-115) at Bet365
NCAAB Prop Pick: Armaan Franklin Over 1.5 Threes-Pointers (-170) at Bet365
---
Wednesday, February 22, 2023 – 07:00 PM EST at Littlejohn Coliseum
---
---
Brevin Galloway
Expect a strong game from Tiger shooting guard Brevin Galloway against an Orange zone defense that tends to be less energized on the road.
Galloway will be a high-volume weapon for Clemson today against a zone defense that encourages opponents to attempt threes at a uniquely high rate. Even in games against other defenses, Galloway repeatedly has his team's green light to attempt a lot of threes.
But Galloway will also feature in his team's mid-range game; Orange opponents love to get the ball to the free-throw line. Galloway is a primary option here because he is relatively efficient in his two-point jumpers and Clemson will want to keep center PJ Hall closer to the basket to exploit Syracuse's vulnerability to rebounding.
NCAAB Prop Pick: Brevin Galloway Over 11.5 Points (-120) at Bet365
---