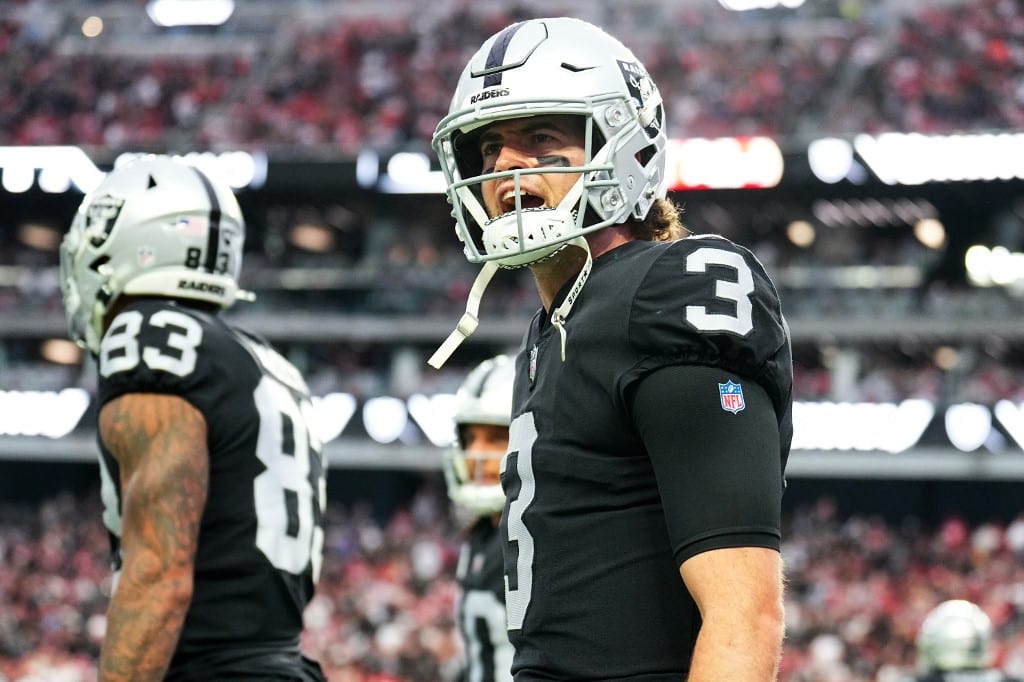 ---
The NFL wraps up the final week of the regular season with a full Week 18 slate of action featuring key games such as Chiefs-Raiders, Rams-Seahawks, and the season finale in Lions-Packers.
We have identified five of our favorite prop picks from the OddsTrader app for Week 18 in the NFL.
If you are looking for the OddsTrader BetStation, you just have to visit your mobile device's app store and download it for free to get computer-generated predictions on the NFL and other leagues.
---
Saturday, January 07, 2023 – 04:30 PM EST at Allegiant Stadium
---
Jarrett Stidham (Las Vegas Raiders)
In 2020, Stidham was a member of the Patriots when he threw his first NFL touchdown pass against the Chiefs in a COVID-impacted game where he came off the bench to replace an ineffective Brian Hoyer. He also ended up throwing two interceptions in that game, including a deflected pass for a pick-six.
Not much was thought of about Stidham after that game, but he followed Josh McDaniels to the Raiders this year. He got some action against the Saints during a 24-0 loss, but he got his first start against San Francisco's top-ranked defense last week after McDaniels benched Derek Carr.
In a shocking twist, Stidham actually played very well running a vertical attack and he passed for 365 yards and three touchdowns. He led the Raiders to 34 points and overtime where things did not go so well with an interception that was returned to set up the game-deciding field goal. But no one expected Stidham to play as well as he did against such a good defense.
Now with Stidham starting another home game against the Chiefs, this is another great chance to compete with a Super Bowl contender, and this is a much easier defense to throw against as many quarterbacks have been doing to the Chiefs this year.
The Pick
Stidham has a great wideout in Davante Adams, who had 124 yards and two touchdowns against the Chiefs in Week 5. The Raiders also have tight end Darren Waller and slot receiver Hunter Renfrow back, so this is more like the full offense McDaniels envisioned this year, but now with a quarterback who will do what he says.
When you play the Chiefs, you have to score a lot, and the total for this game is in the lower 50s. Expect plenty of offense, and with the way the Chiefs have struggled to win comfortably this year, do not be surprised if Stidham flirts with another 300-yard game and upset win of a top team.
NFL Prop Pick: Jarrett Stidham Over 235.5 Passing Yards (-114) at Unibet
---
Saturday, January 07, 2023 – 08:15 PM EST at TIAA Bank Field
---
Treylon Burks (Tennessee Titans)
He is not A.J. Brown and may never be, but let's not sleep on first-round rookie Treylon Burks. The light has seemingly gone on for him in Week 11 when he had 111 yards on seven catches against the Packers. He then had 70 yards and a fumble recovery touchdown against the Bengals.
A week later, Burks caught his first receiving touchdown against the Eagles, but he left that game early with a concussion. When he returned in Week 16 against Houston, the offense was stuck with rookie Malik Willis at quarterback, and he finds it impossible to throw for 100 yards. Burks did not catch a pass against Houston.
But put Josh Dobbs at quarterback against Dallas, and suddenly Burks was able to produce again with a better passer at quarterback. Burks had 66 yards against a good defense last week.
The Pick
Dobbs will have to throw in this one as Jacksonville is favored at home and expected to win. That means this won't be a game where Derrick Henry rushes for 200 yards and Dobbs struggles to throw for 100 yards.
The Titans are going to need the passing game to keep their season alive here, and Burks is the best receiver they have right now. His over should be an easy hit for your NFL picks.
NFL Prop Pick: Treylon Burks Over 36.5 Receiving Yards (-115) at Caesars Sportsbook
---
Sunday, January 08, 2023 – 04:25 PM EST at Lumen Field
---
Kenneth Walker (Seattle Seahawks)
Walker has regained the lead for Offensive Rookie of the Year at many of the top online sportsbooks after he rushed for 133 yards against the Jets, and New York wideout Garrett Wilson had another poor day with 18 yards on 11 targets.
But we can save the debate on the difficulties of being a rookie wideout vs. ease of producing immediately as a running back for another day. This is another matchup for Walker that should be good with the Rams continuing to keep Aaron Donald inactive. The Rams have allowed over 100 rushing yards in four straight games.
In Week 13, Walker had 3 carries for 36 yards against the Rams, but he had to leave that game after just 14 snaps for injury. He came back to a brutal matchup with the 49ers, the best run defense in the league, but he has since regained his stride with back-to-back 100-yard rushing games.
The Pick
Maybe Walker does not hit 100 yards this week, but he should be able to hit the over as the Seahawks try to keep their faint playoff hopes alive with a win at home to complete a sweep of the Rams.
NFL Prop Pick: Kenneth Walker Over 75.5 Rushing Yards (-110) at Bet365
---
Sunday, January 08, 2023 – 01:00 PM EST at Acrisure Stadium
---
Diontae Johnson (Pittsburgh Steelers)
You can bet on Diontae Johnson scoring a touchdown to end his scoreless streak at your own risk, but he should at least have a good yardage game here. The Steelers need to get more out of the passing game instead of one touchdown drive at the end of the game, and Johnson's production is the key to that.
Believe it or not, but all three of his games with over 80 yards this season have come in games where Mitch Trubisky was the primary passer. It makes sense that Kenny Pickett would feel more comfortable as a rookie with tight end Pat Freiermuth and fellow rookie George Pickens. But Pickett has to do better than completing 2-of-7 passes for 35 yards to Johnson as he did in Baltimore last week.
But the Steelers were able to move the ball decently in Cleveland in Week 3. Johnson had eight catches for 84 yards in that game. Johnson has gone over 80 yards in four of the last five games against Cleveland.
The Pick
If Johnson does not catch a touchdown this week, he will likely finish with the most targets (137) and catches (over 85) in a season without a touchdown catch in NFL history. But the Steelers should at least get him over in yards in this finale.
NFL Prop Pick: Diontae Johnson Over 53.5 Receiving Yards (-110) at Bet365
---
Sunday, January 08, 2023 – 08:20 PM EST at Lambeau Field
---
Jared Goff (Detroit Lions)
The Packers only allow 208.1 passing yards per game this year, which ranks No. 4 in the league. However, the Packers have not faced many great passing offenses this year.
But the Lions are an interesting opponent because most of Jared Goff's big passing numbers have come in Detroit's dome this year. He throws the ball less often on the road outdoors, and he only has gone over 250 yards three times away from Detroit.
Maybe the most interesting part is that Goff had a season-low 137 passing yards in the dome in Detroit's 15-9 win over the Packers in Week 9. Goff also averaged a season-low 5.27 yards per attempt in that game, so it wasn't just a lack of volume but a lack of efficiency too that day.
The Lions ran the ball decently with Jamaal Williams gaining 81 yards on 24 carries, but that isn't dominant enough to justify Goff only throwing for 137 yards.
The Pick
Goff is playing some of his best ball right now with the Lions still having an outside shot at the playoffs, though they could also be eliminated before the game kicks off if the Seahawks beat the Rams, which is likely. But the Packers are also playing their best ball, especially on defense.
Goff has played the Packers four times since 2020 and has not hit 250 yards in any of those games. We'll count on that streak to continue here and take his under.
Using the OddsTrader BetStation, we have identified Bet365 as having the best number at the best price for under bettors.
NFL Prop Pick: Jared Goff Under 250.5 Passing Yards (-110) at Bet365
---