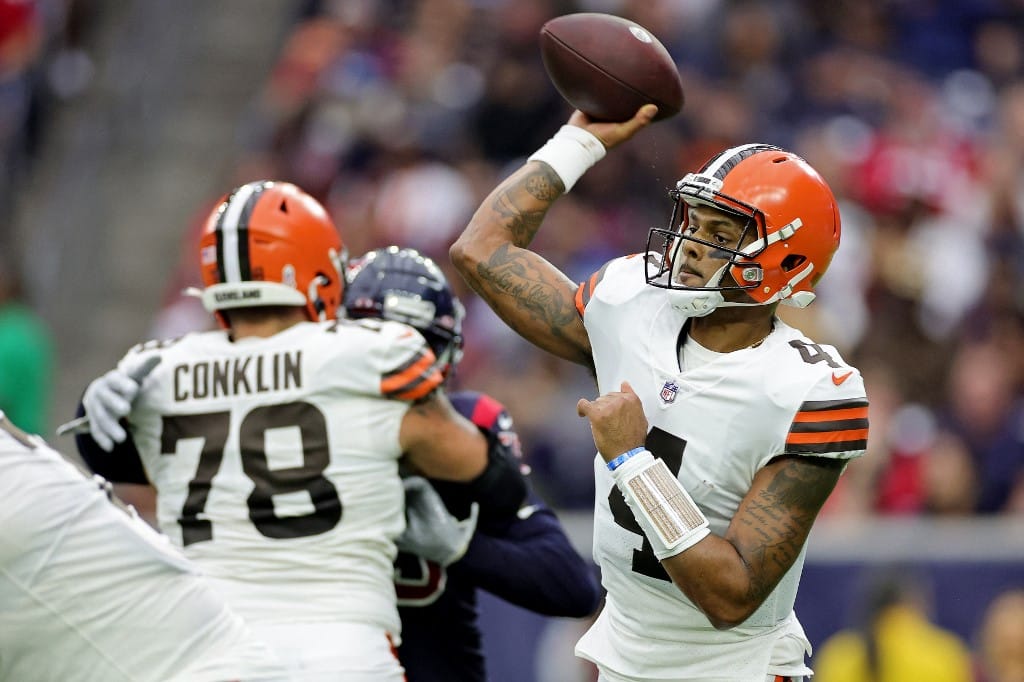 NFL Pick: 2023 Cleveland Browns Under 9.5 Wins (-130) at BetRivers
The Cleveland Browns have not finished higher than 3rd in their division for 15 straight seasons. It will be a hard streak to snap with the presence of the Cincinnati Bengals and Baltimore Ravens in the AFC North, not to mention a Pittsburgh team that had another winning record last year while the Browns finished 7-10.
But an optimist would point to quarterback Deshaun Watson having a full offseason to prepare as the starter. A cynic would point out Watson is 7-16 as a starter ever since his Houston team blew a 24-0 lead in the playoffs to the Chiefs in January 2020.
The top sportsbooks are somewhat bullish on the Browns, who have an over/under of 9.5 wins, which should put them right in the playoff mix with teams like the Chargers, Jets, Ravens, and Dolphins.
Is this the easiest under-NFL pick of the season, or is there something more to this Cleveland team? We look at their chances in a crowded AFC.
---
Significant Changes
The Browns are paying for an elite quarterback but did not get anywhere close to a good return on their investment in 2022. The roster is built in a way that if Watson is the player he used to be on the field, then this team might have a shot at the playoffs.
Waiting for Watson
While veteran quarterbacks like Matt Ryan and Russell Wilson received a lot of criticism for how they played on new teams last year, Watson was just as bad in his 6 starts with Cleveland.
You can cite rust, but he only had himself to blame for his suspension. Yet his insistence on blaming the media as recently for July shows a player who is still lacking improvement in his moral judgment. For the Browns' sake, hopefully, he is improving his play on the field because he flat-out stunk last year.
The Browns scored 8 offensive touchdowns in 6 starts with Watson last year.
The Browns had 9 offensive touchdowns in the first 3 games of the season with Brissett.
Watson passed for under 170 yards in 6-of-56 starts (10.7%) for Houston.
Watson passed for under 170 yards in 4-of-6 starts (66.7%) for Cleveland.
The Browns have built a very good offense in need of a quarterback to make things special.
They have one of the best offensive lines in the league.
Amari Cooper is a legitimate No. 1 wide receiver who did well in his first season with the team.
The Browns traded for Jets wide receiver Elijah Moore, who has 984 receiving yards since 2021.
They also drafted an intriguing 3rd-round rookie in Cedric Tillman.
Tight end David Njoku finally had a breakout season last year.
Kareem Hunt may be gone, but Nick Chubb is still one of the best running backs in the league and always averages 5.0 yards per carry each season.
If Watson cannot show significant improvement in this offense this season, the Browns are staring down the worst (fully guaranteed) contract in NFL history.
New Look for Defense?
On the other side of the ball, the Browns have a new defensive coordinator in veteran Jim Schwartz. This should signal a more aggressive approach if Schwartz's work with the Titans and Lions is any indication. He comes from the Jeff Fisher coaching tree and will replace Joe Woods, the only defensive coordinator head coach Kevin Stefanski has had in Cleveland.
Pairing Jadeveon Clowney with Myles Garrett did not work out. Clowney is gone, and the Browns made another trade with Minnesota to acquire Za'Darius Smith, which should work out better. In his last 3 non-injury seasons, Smith has posted sack totals of 13.5, 12.5, and 10. He should be good for at least 35 pressures and will be the best bookend rusher that Garrett has ever played with in Cleveland.
The defensive line also added tackle and run-stopper Dalvin Tomlinson from the Vikings. The linebackers are still marginal, but that defensive line is loaded with veteran talent. The secondary has potential with the cornerback tandem of Denzel Ward and Greg Newsome, and they added former Kansas City safety Juan Thornhill, who is usually good for a couple of interceptions and 40 solo tackles a season.
---
2023 Schedule Analysis and Pick
On paper, there is every reason to believe the Browns should be a better team in 2023 than they were last year. But in an AFC where there are already so many contenders with a more trustworthy quarterback situation, where does Cleveland stand with this schedule?
How many contenders will Cleveland beat if it is only considered the 3rd-best team in its own division? The Browns are 5-12 against playoff teams since 2021, and 3-of-5 wins were against the Bengals, including a game where the Bengals rested starters for the playoffs. The only other wins over playoff teams were Tampa Bay in overtime (an 8-9 team having a poor year) and a Baltimore team last year that did not have Lamar Jackson.
Last year, the Browns were 1-1 against each AFC North foe, though note what happened in the wins:
Beat the Steelers without T.J. Watt at home.
Beat the Bengals without Ja'Marr Chase at home.
Beat the Ravens without Lamar Jackson at home.
The best-case scenario should be 3-3 in the division again, but even if we give the Browns a win in the easiest games against the Bears, Texans, Cardinals, and Colts, they still are going to have to find ways to win against the 49ers or in Seattle or against the Jets and Jaguars to get over 9.5 wins.
Even in his last full season, Watson was 4-12 as a starter for the 2020 Texans. The Browns should improve on their 7-10 record, but let's draw the line short of 10-7 and take the under 9.5 wins at the NFL odds board.
NFL Pick: 2023 Cleveland Browns Under 9.5 Wins (-130) at BetRivers
---
2022 Recap: Jacoby Brissett Deserved Better
The 2022 Browns were more or less the same disappointing team they were in 2021 when they finished 8-9 and missed the playoffs. This time there was just more quarterback drama.
The Browns blew more 4th-quarter leads (3) than they had 4th-quarter comebacks (2), including an egregious blown lead of 13 points in the final minutes against the Jets in Week 2, preventing a 3-0 start.
Cleveland again failed to win the high-scoring games, going 1-9 when allowing more than 17 points in games last year.
Running back Nick Chubb was great and rushed for a career-high 1,525 yards, though the Browns still had a mediocre finish on offense.
Defensive end Myles Garrett was great and had 16 sacks, though no one else on the mediocre defense had more than 3 sacks.
Jacoby Brissett started the season at quarterback while Deshaun Watson served an 11-game suspension for being accused of sexual misconduct by two dozen women. Brissett ended up playing the best he ever has in the NFL, but those situational shortcomings by the Browns in losses to the Jets, Falcons, Chargers, and Ravens only produced a 4-7 record in his starts.
But it was still a shame to see Brissett, who finished No. 8 with a 60.0 QBR in 2022, go to the bench in Week 13 when Watson made his return against Houston. The Browns won that game by scoring 3 return touchdowns as Watson only passed for 131 yards and an interception in his first game since the 2020 season.
The Browns failed to score more than 13 points in Watson's next 3 starts, so he never really shook off the rust. His 38.3 QBR would have ranked 27th last season if he qualified for rankings. Even Chubb's effectiveness as a runner went down with Watson behind center. Chubb had 0 rushing touchdowns in the 6 games with Watson after scoring 12 rushing touchdowns in 11 games with Brissett.
With a chance to sweep Pittsburgh in Week 18, the Browns lost 28-14, making sure they would finish behind the Steelers in the division rankings as they have for every season since 1990.
---