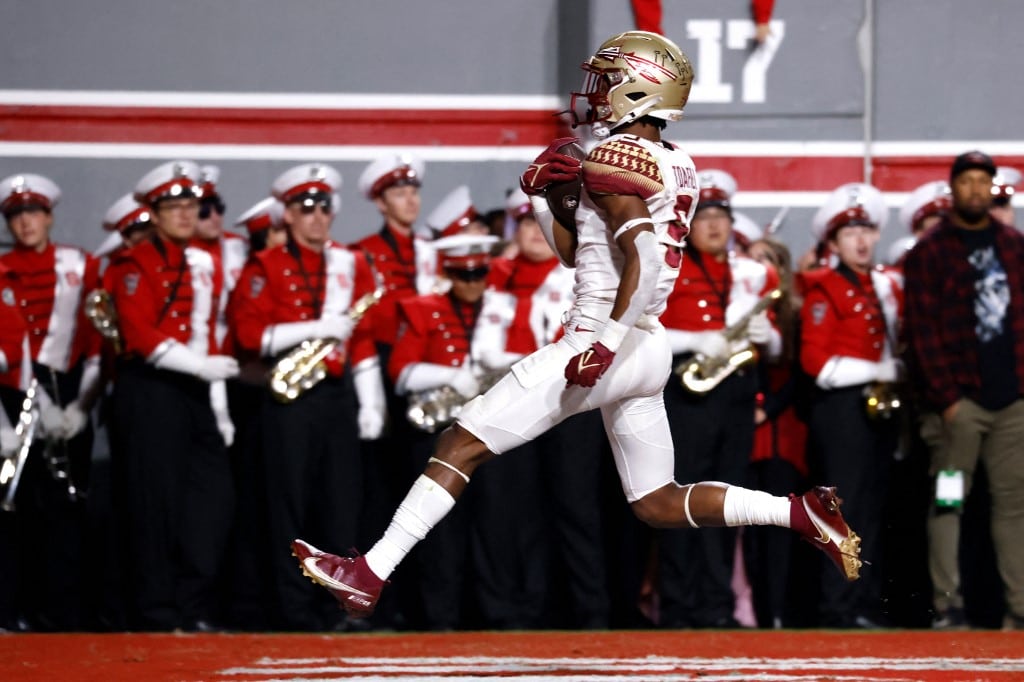 Top NCAAF Pick: Florida State Over 9.5 Wins (-140) at Caesars Sportsbook
---
Who you got: Florida State, or Clemson? There are other teams in the ACC, of course – we even recommended the Pitt Panthers at +2800 to win the conference. That price is still available on the NCAAF futures market as we go to press. However, FSU (+170 at BetRivers) and Clemson (+145) are very likely to wind up facing each other at the next ACC Championship Game.
They might even be tied in the standings when they get there. We've got Clemson winning 10 regular-season games this year, leaning towards the Over for our college football picks; it only seems fair to give Florida State (who opened at 10 wins) the same treatment.
Except for one thing: We don't have to choose between Over 9.5 and Over 10 at various levels of vigorish like we do for the Tigers. All the online sportsbooks on our radar screen had Florida State's total at 9.5 heading into August. The only real question is whether FSU will actually make it all the way to 10 wins in 2023.
Hit The Road
We do expect Florida State to sweep their entire home schedule this year at Doak Campbell Stadium. That's seven relatively easy wins right there; November 11 versus the Miami Hurricanes will be interesting, but eminently winnable for this rejuvenated FSU program.
Take them outside of Tallahassee, and things get a bit murkier. Boston College (Sept. 16) shouldn't be too difficult, but Florida State has to prove itself against Wake Forest (Oct. 28), a team they haven't beaten in Winston-Salem for nearly six years – or anywhere since 2018.
Let's say they do just that. And let's give FSU the November 25 season finale at Florida while we're at it. But they'll be behind the 8-ball at Clemson (Sept. 23), and LSU is a 2.5-point favorite at press time for their September 3 season opener at Camping World Stadium in Orlando.
That leaves one game that we're projecting as a must-win for Florida to reach double digits: November 4 at Pitt. We're obviously a bit skittish about that one – although a win by the Panthers would certainly help our ACC title futures pick.
Season To Taste
The trick with projecting regular-season win totals is to avoid the trap of picking a winner in each game, then adding up the victories. Consider that 2023 opener against LSU; if Florida State is a +125 moneyline underdog, that means the betting market thinks their chances of winning straight-up are somewhere around 44.4%, hold percentage notwithstanding.
As it turns out, we have early odds for that Week 4 game at Clemson, with FSU priced at +120 this time. That bumps their projected chances of winning up to 45.4%. We don't have that Week 10 game at Pitt yet on the NCAAF odds board, but chances are very good Florida State will win at least one of those other two matchups, making their result against the Panthers far less critical to their quest for 10 victories.
Return to Relevance
So what's the catalyst for all this optimism regarding FSU's chances this year? It's in their continually improving results under head coach Mike Norvell, who's entering his fourth season at the helm; Norvell guided Florida State to three wins in 2020, five wins in 2021, and all the way to 10 wins last year – including their 35-32 Cheez-It Bowl victory over Oklahoma (+10.5).
That's your classic "Year Three" bump right there. FSU didn't cover the Cheez-It Bowl, but they did go 8-4 ATS during the regular season – and yes, they did beat LSU 24-23 as 4-point underdogs in Week 1, this time at Caesars Superdome in New Orleans.
It'll be more difficult to beat the spread in 2023 now that expectations have been raised, but regular-season win totals are another animal. And those raised expectations have also brought an influx of talent to Tallahassee via the transfer window, including versatile TE Jaheim Bell from South Carolina, who instantly becomes one of their best players.
Naturally, this FSU offense is going to be a lot of fun to watch, with Norvell pulling the strings and QB Jordan Travis under center. But we can expect Florida State's defense to continue its path towards excellence; they've also gotten better every year during Norvell's reign, and they've got arguably the team's best overall player in DE Jared Verse, who earned 2022 First-Team All-American honors after transferring from Albany. Bet accordingly.
NCAAF Pick: Florida State Over 9.5 Wins (-140) at Caesars Sportsbook
---