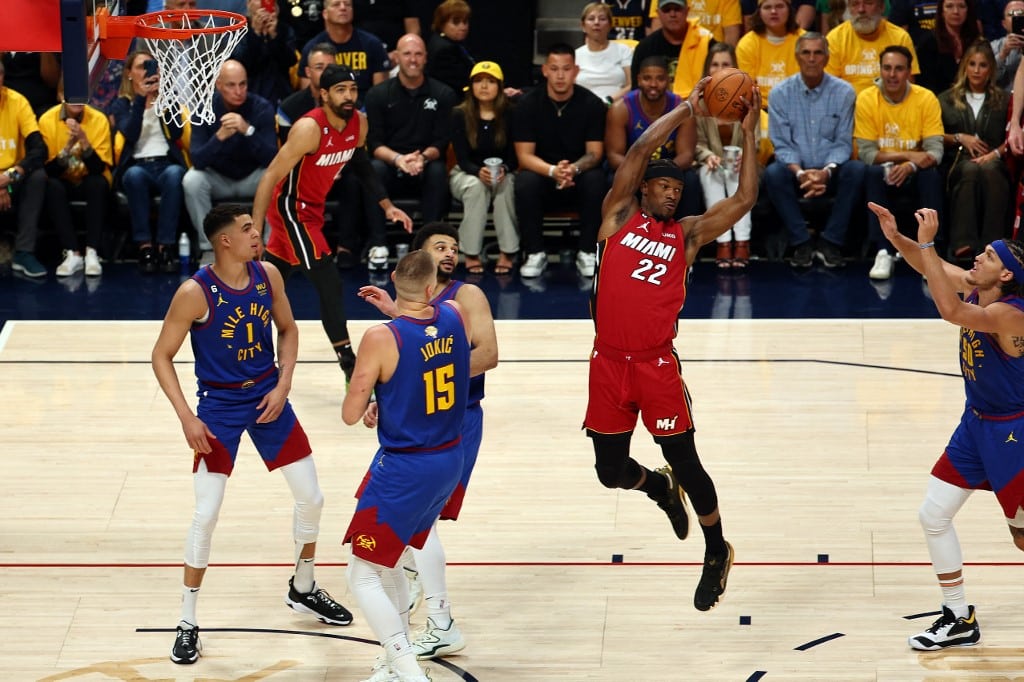 Sunday's Top AI Pick
---
The Denver Nuggets had never played a game in the NBA Finals before Thursday night, but their Game 1 victory over the Miami Heat looked like a very confident team that has won 7 games in a row. The Nuggets have not lost since the Suns tied the series at 2-2 in the second round.
The Miami Heat have some work to do after a tough Game 1 that only saw two lead changes, and the best the Heat could do was get within 9 points late in the game before losing 104-93. But this is the 6th NBA Finals for head coach Erik Spoelstra, so he is used to making these adjustments.
Denver is still a considerable favorite in Game 2 with a spread of 8.5 points and total of 214.5 points. We have our top pick for Game 2 pulled from the computer predictions at OddsTrader.
---
Sunday, June 04, 2023 – 08:00 PM EDT at Ball Arena
---
---
Joker Continues Historic Postseason
Nikola Jokic was the overwhelming favorite to win Finals MVP in this series, and he already got off to a great start for that in Game 1. Jokic finished with his ninth triple-double of this postseason, extending his single-season record with:
27 points
10 rebounds
14 assists
This one also made history as Jokic joins Jason Kidd as the only players to have a triple-double in their first NBA Finals game. Jokic did not shoot much early, but he had 10 assists at halftime and scored 12 points in the fourth quarter to finish off the Heat.
Not to be outdone, Jamal Murray put up 26 points and 10 assists in his Finals debut for Denver. The Nuggets did everything well except shoot the 3, where they were 8-for-27 (29.6%).
Miami Struggles on Both Ends
It was not a good night for the Miami Heat. Jimmy Butler only scored 13 points, his lowest ‌in his last 20 postseason games. Some thought Caleb Martin was deserving of the Eastern Conference Finals MVP award, but he was MIA in Game 1, scoring 3 points on 1-of-7 shooting.
Bam Adebayo stepped up with 26 points, but he needed 25 shots to do it. At least he scored, as Max Strus finished 0-for-10 from the field for 0 points. He missed all 9 of his 3-point attempts.
The Heat also shot just 2 free throws, becoming the sixth team in NBA history and the first in the playoffs to shoot fewer than 3 free throws in an NBA game.
---
Miami Heat
Miami is 23-22 ATS (51.1%) after a loss this season, which ranks 16th.
Miami has failed to score more than 103 points in 5 straight games after eclipsing that mark in 12-of-14 games to start this postseason.
Miami is 10-4 ATS as an underdog of 7-plus points this season.
Miami is 12-18-1 ATS against the Western Conference this season.
Miami coach Erik Spoelstra is 3-2 in Game 2 of the NBA Finals, including a 2-0 record in true road games.
Denver Nuggets
When the home team (Denver) wins Game 1 of the NBA Finals, it is 33-25 (.569) in Game 2.
Denver is now 10-1 against Miami since the 2018-19 season.
In the playoffs, 12-of-16 games have gone over 214.5 points for Denver.
Nikola Jokic has scored under 28 points in 10 straight games against the Heat, but 7-of-10 games saw Denver win by 9-plus points.
---
---
The Size Disadvantage
There is no denying the Heat have one of the smaller lineups, with Bam Adebayo (6'9") the tallest player in the main rotation. Denver has a size advantage that the Game 1 rebounding edge – 45-43 in favor of Denver, but 11-6 on the offensive glass for Miami – does not illustrate well.
We may have seen it with the way the Nuggets bullied Miami in the paint. Denver had the No. 1 FG% in the paint in the regular season while the Heat were No. 28 on defense. The Heat just could not slow the game down and get to the line. Denver also does a great job of making it hard to shoot 3s successfully, and the Heat were only 13-for-39 (33.3%) from distance.
Miami cannot get much taller outside of playing Kevin Love or Cody Zeller more minutes, but that does not seem like a good thing for keeping up with Denver's hot offense that has been the best all postseason.
Better Effort from Miami
Part of the fun of the NBA Finals is seeing which adjustments teams make. The Heat have a great coach who has been in this position before, but the Heat are simply going to have to make more shots on offense if they are to keep up with Denver, which also could stand to shoot better from 3 in Game 2 after a weak Game 1 in that regard.
Not sure any defense in the NBA can slow down Jokic right now, but the Heat have great room for offensive improvement as Butler should raise his game, Martin must do better than 3 points, and Strus better make a shot this time.
The Heat also have to find ways to get to the free-throw line. Part of what made Game 1 seem so effortless may have been the lack of free throws for Miami, which gives the team time to catch its breath in the altitude and set its defense better. With a playoff record-low 2 free throws, it is no wonder this game flew by with Miami always down 9-plus points for the final 2.5 quarters.
With a 9-0 record at home this postseason, Denver may just be too good for Miami to avoid going down 2-0, but the game should at least be higher scoring this time to hit the over at -110 betting odds.
OddsTrader Predicted Score: Denver Nuggets 114 – Miami Heat 108
NBA Pick: Over 214.5 (-110) at Caesars Sportsbook
---