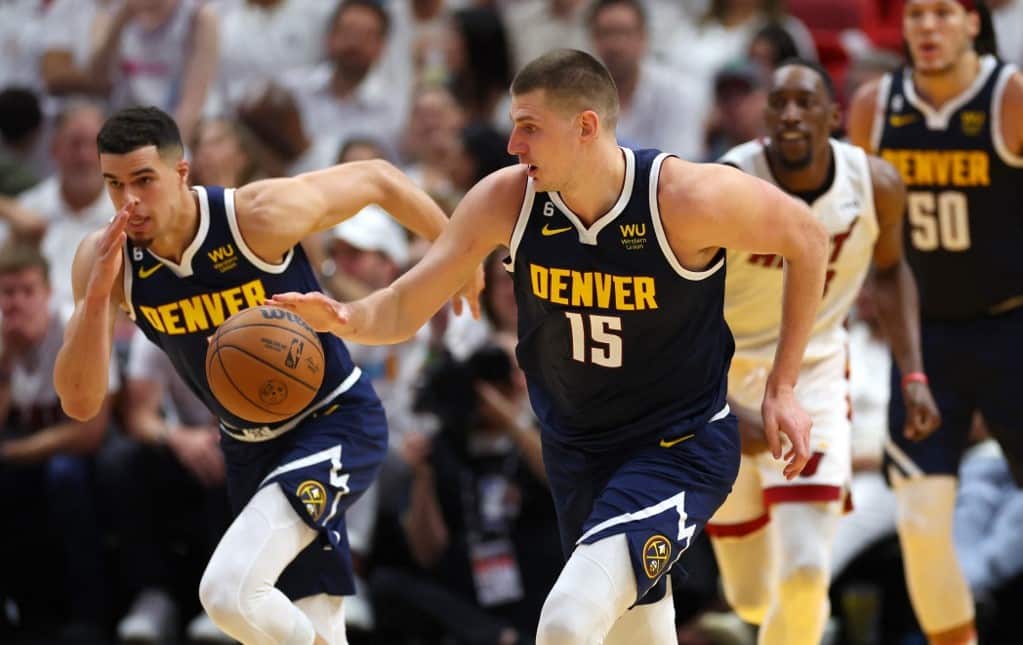 Monday's Top AI Pick
---
The Denver Nuggets are one win away from greatness in Game 5 of the NBA Finals against the Miami Heat. With a 3-1 lead, Denver can hoist the championship in front of the home crowd with one more win as a heavy favorite after Game 4's 108-95 victory.
The Heat have been great as an underdog all postseason long, but they seem to have met their match in this series. Teams down 3-1 in the NBA Finals are 1-35 at coming back to win the series. Miami is a 9-point road underdog with a total of 208 points.
We have our top pick for Game 5 after checking out the computer predictions from OddsTrader.
---
Monday, June 12, 2023 – 08:30 PM EDT at Ball Arena
---
---
Jokic, Nuggets Thriving
In the team's first NBA Finals, the Nuggets are doing an excellent job. Denver has shot at least 49% from the field in every game, it has led by at least 15 points in every game, and every win has been by double digits.
Nikola Jokic is the heavy favorite for Finals MVP, but even on a quiet night like in Game 4 (23 points and 4 assists), he has a team around him playing well enough to outshine Miami. Aaron Gordon was the star with 27 points in Game 4, and Jamal Murray became the first player ever to have double-digit assists in each of his first four games in the NBA Finals.
You have to think Jokic is a favorite to record another triple-double as the Nuggets look to end this one the right way at home Monday night.
Heat Running Out of Options
This is only the second time this postseason the Heat have faced elimination, but this figures to be a tougher challenge than an underwhelming Boston team in the last round. The Heat simply have not been able to score the basket well in the last 8 games, and Jimmy Butler does not appear to be 100%.
The Heat were also hoping to get Tyler Herro back in this series, but that seems to be a lost cause at this point.
The injury to Victor Oladipo also has not helped, as the Heat's undrafted players have not performed well in this series, including Gabe Vincent, Caleb Martin, and Max Strus. It was another rough night for Vincent and Strus, who combined to shoot 1-for-10 in Game 4. Bam Adebayo continues to be aggressive but inefficient in the series.
The Heat are unpredictable enough to force a Game 6, but Denver is a very difficult place to play with a team that is just flat-out better than Miami.
---
Miami Heat
Miami is 45-58-3 ATS (43.7%) this season, the 5th-worst record in the NBA.
Miami is 16-15 ATS (51.6%) as a road underdog.
Miami is 9-15 ATS (37.5%) with 2-3 days of rest between games.
Miami coach Erik Spoelstra is 0-3 in Game 5 of the NBA Finals in true road games with each loss by 9-plus points.
Denver Nuggets
Denver has not scored fewer than 110 points in 5 straight games since November 2021.
Teams leading the NBA Finals 3-1 are 18-18 SU in Game 5.
Denver is now 12-2 against Miami since the 2018-19 season.
Denver is 31-19-1 ATS (62.0%) at home, the 2nd-best record in the NBA this year.
---
---
One More Win for Denver
The Nuggets should feel great about their situation. They have been the best team all postseason, and they have avoided injuries. Jokic rolled his ankle early in Game 4, but he went to the locker room and got it taped up and will be fine. Jokic and Murray also should score more in Game 5 after combining for just 38 points, but we know those stars can get the job done for Denver.
That will make up for when Aaron Gordon and Bruce Brown are not combining for 48 points again like in Game 4, but maybe Game 5 can be the time for Kentavious Caldwell-Pope and Michael Porter Jr. to make bigger contributions after lackluster series. They could also help the Nuggets come close to another good game from 3-point territory after finally shooting well from deep in Game 4.
No matter which Denver players step up, you know you can count on Jokic to play well and finish this thing off to claim his first championship and Finals MVP award.
Is Miami Cooked?
The Heat will take the court as a playoff underdog for the 19th time this season Monday in Denver, and they were a godsend to bettors earlier this postseason when they started 8-1 ATS.
But outside of their Game 6 loss on the Derrick White tip-in at the buzzer in the last round, Miami's last six losses have been by 9+ points. When this team loses, it usually is by a good margin because the offense is just not there to step up.
Miami has a tough matchup here, is giving up a lot in height, and the Denver stars and role players are simply playing better. Maybe Jimmy Butler has one vintage game left in him. Maybe Gabe Vincent or Caleb Martin can pull a 24-point effort out of thin air. But barring another miracle comeback win similar to Game 2, this looks like the end of the road for Miami and a championship for Denver.
But our AI pick does favor the close game even if it means a Denver win. However, the better bet to take away from this is the over 208 points at -110 betting odds, as that line keeps shrinking with each game. Denver has to score over 110 at least once in this series, right? Miami has to break 100 points again, right? We like the over to come out of this one.
OddsTrader Predicted Score: Denver Nuggets 113 – Miami Heat 106
NBA Pick: Over 208 (-110) at Caesars Sportsbook
---