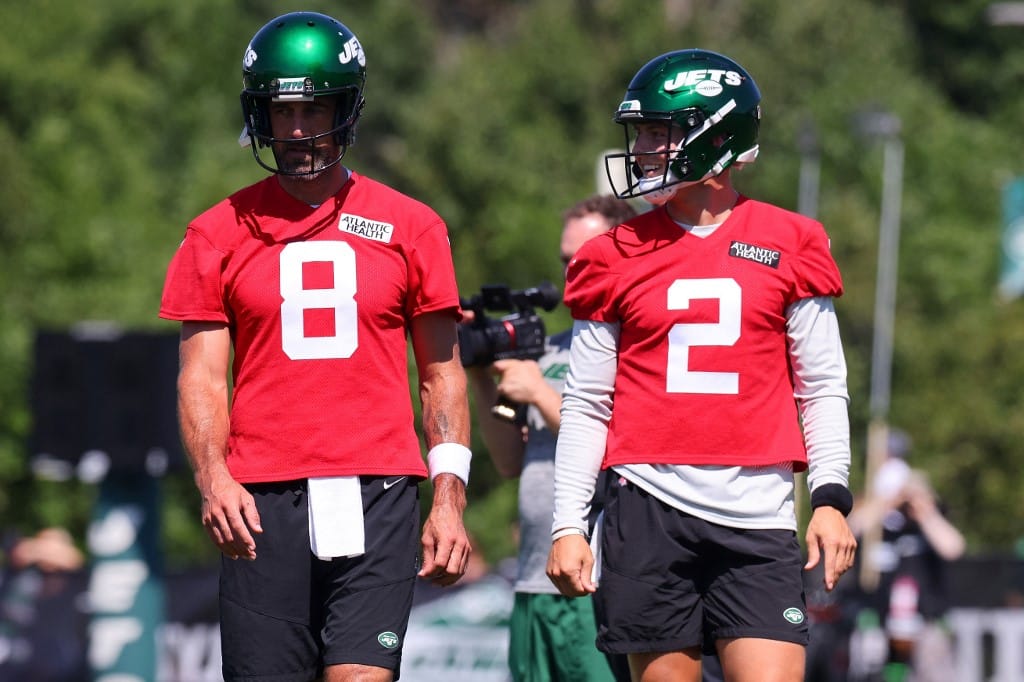 NFL Pick: Jets +2 (-110) at Caesars Sportsbook (check our Caesars Sportsbook Review)
---
The NFL is back!
Don't get too excited, though. It's only preseason. But that means we're only getting closer to the NFL's regular season!
Let's go ahead and break the NFL odds for Thursday's matchup.
---
Thursday, August 03, 2023 – 08:00 PM EDT at Tom Benson Hall of Fame Stadium
---
The New York Jets will take on the Cleveland Browns in the NFL Hall of Fame Game to start all of the preseason in what should be a perfect summer night in Ohio, according to the latest weather reports. 
However, these early Hall of Fame games go under the total as it's an early first game, with most players not always ready to go in time.
It's also unlikely that either team plays many starters, if any. We don't know all the starters, but we have some details to help us decide who will win this game.
Zach Wilson's Starting For The Jets
We won't see Aaron Rodgers on the field in the opening pre-season matchup. But Jets' Head Coach, Robert Saleh, confirmed that Zach Wilson will get the start for the Jets. Wilson was a highly regarded prospect from BYU who went early in the draft a few years ago.
Wilson never played up to his potential, and now he's the backup to Aaron Rodgers. Wilson has a ton of experience in the NFL and should have success against other teams' backups.
He likely won't have Allen Lazard, Mecole Hardman Jr, Randall Cobb, or Corey Davis to throw the ball to. But Jason Brownlee, Xavier Gipson, Alex Erickson, Irvin Charles, Malik Taylor, and T.J. Luther could be options. Meanwhile, Zonovan Knight, Michael Carter, and Israel Abanikanda could be the featured running backs in this game.
Carter likely won't get many carries unless Dalvin Cook still isn't signed by the Jets by Thursday.
Tight Opportunity
This will also be a solid opportunity for tight ends like Jeremy Ruckert and Zack Kuntz to shine. Kenny Yeoboah is also another tight end with potential.
On defense, the Jets are always well-coached. They've found some gems recently and will likely continue with their backups.
Dorian Thompson-Robinson Getting The Call
Former UCLA quarterback Dorian Thompson-Robinson will be at quarterback the most for the Browns on Thursday. Thompson-Robinson finished last year's college season with 3,169 passing yards, 645 rushing yards, and 39 total touchdowns.
These games are great for rookies to get a feel for the NFL level. He's fighting for the backup job against Joshua Dobbs. Dobbs has been in the league and is a veteran. He doesn't need the reps nearly as much as Thompson-Robinson. So even if Dobbs starts the game, Thompson-Robinson should get in the game pretty soon.
Unproven Potential
He'll potentially have a weapon in Cedric Tillman, a former Tennessee Volunteer wide receiver last year. Tillman is a highly regarded prospect and could be a solid tandem with Thompson-Robinson early on. David Bell and Jaelon Darden are other standout wide receivers who could make an impact if they get enough snaps.
We could also see Demetric Felton Jr., another former UCLA product that could see the field.
The defense could start newcomers like Siaki Ika on the defensive line and Cameron Mitchell in the secondary. Both of those two should be impactful early for this Browns defense.
Jets vs. Browns Prediction
Dorian Thompson-Robinson is an outstanding prospect for the Browns. But he doesn't compare to Zach Wilson or Tim Boyle. At least not yet.
Wilson will easily be the best player on the field for the Jets. New York can also consider playing Boyle or Chris Streveler, who dominated preseason last year, in the second half of the game.
The Pick
I'd trust New York's backups over Cleveland's, especially on the offensive end. Defensively, the Jets have ten rookies that could make the legitimate roster. They're deep and talented on the defensive end.
Meanwhile, the Browns are a bit weaker on the defensive end and will rely on a rookie quarterback with no experience. That's the difference. The Jets don't have any rookie quarterbacks on their roster. They'll be able to find success no matter who is quarterback.
Let's take the Jets at +2.
NFL Pick: Jets +2 (-110) at Caesars Sportsbook
---