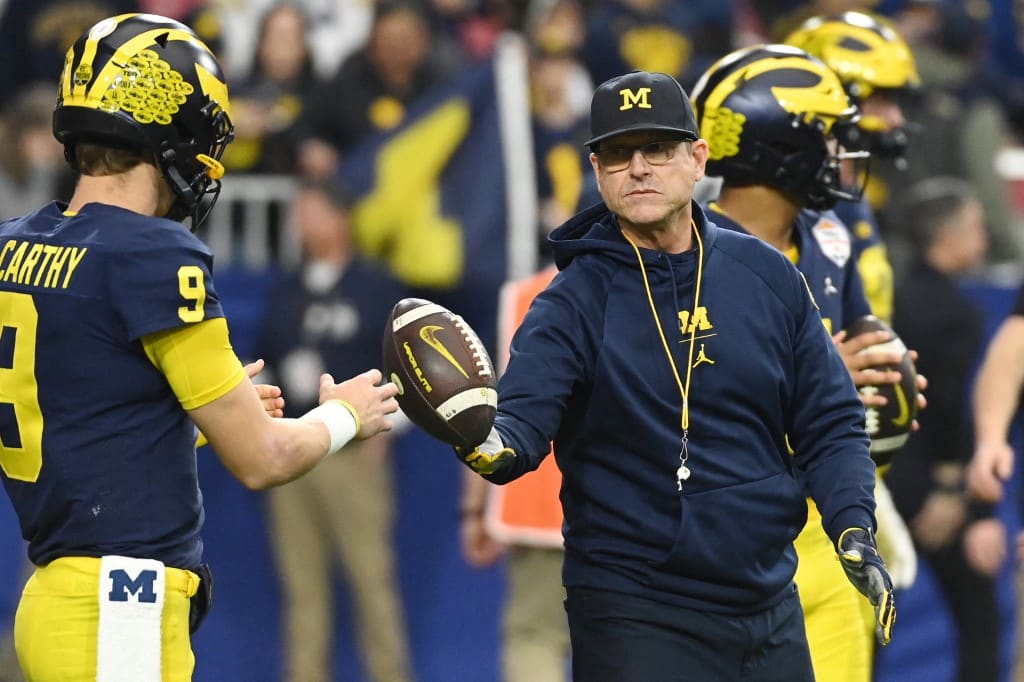 NCAAF Pick: Michigan Over 10.5 Wins (-135) at Caesars Sportsbook
---
Everything's coming up Harbaugh in Ann Arbor. If you ignore the COVID-truncated 2020 campaign, the Michigan Wolverines have been good to great ever since Harbaugh returned eight years ago to coach at his alma mater. But now Michigan is truly one of the top programs in college football, as nature intended.

At least that's what his fellow coaches think. They've got the Wolverines at No. 2 on their preseason rankings for 2023; bettors disagree, putting Michigan fourth overall on the NCAAF futures market to win the National Championship. Looks like we might have some value betting the Blue and Maize this year.

Sure enough, the top online sportsbooks have assigned a win total of 10.5 for Michigan's regular season, and if we're reading the tea leaves correctly, the Wolverines are going to crank it up all the way to 11. But is it worth paying the -135 vigorish to put the Over in your college football ats bets?
---
Brotherhood of the Tan Pants
Old-school handicappers might be split on this one. Michigan is one of the most public teams in the FBS, winning the Big Ten Conference and finishing third overall in the AP rankings each of the past two years after going 2-4 during the 2020 pandemic season. Expectations are sky-high in Ann Arbor.

Maybe not high enough, though. Harbaugh caught a lot of flack in his first few years coaching Michigan, where he starred as a quarterback in the 1980s. It certainly hasn't been as smooth as Harbaugh's four years at Stanford, where he and QB Andrew Luck led the Cardinal to their first-ever 11-win season in 2010 – plus a 40-12 romp over Virginia Tech at the Orange Bowl.
Mixed Bag
It's been a mixed bag for Harbaugh ever since. His four years with the San Francisco 49ers included NFL Coach of the Year honors and a trip to Super Bowl XLVII, where he lost 34-31 to his brother John's Baltimore Ravens. The Niners abandoned Harbaugh after the 2014 season after he butted heads with GM Trent Baalke.

Winning bowl games hasn't been easy back at Michigan, either. The Wolverines hammered Florida 41-7 at the Citrus Bowl to cap his first season with his old team; they've lost each of their six bowls since, including the Orange Bowl (to Georgia) and the Fiesta Bowl (to TCU) the past two years in the College Football Playoff semifinals. No wonder fans in the Mitten State are antsy.
---
You Won The Game
Then again, there's only one thing that really matters in Ann Arbor: Beating the Ohio State Buckeyes. Ohio State had won "The Game" eight straight years and 15 of the previous 16 (including their 2010 victory, which was later vacated) before Harbaugh and the Wolverines finally broke through and took the last two contests.

They're going to make it three in a row. That's our prediction, anyway; Michigan gets to play Ohio State at home in their November 25 regular-season finale, and the Wolverines are early 2.5-point favorites on the college football odds board.

That spread suggests these teams are about equal on neutral ground. Again, we have a difference of opinion between coaches and bettors, with the former putting Ohio State at No. 4 on the preseason poll, and the latter narrowly preferring the Buckeyes (+750) over Michigan (+800) at Caesars Sportsbook.
---
It Doesn't Matter
As fate would have it, there are other teams out there besides OSU. But none of them are as good on paper as the Wolverines; the only other game on the schedule that stands out as a potential loss is November 11 at Penn State, where Michigan is still favored by two points.

You don't need advanced math skills to deduce that the Wolverines are likely to go 1-1 in those two games. That would leave them at 11-1 during the regular season, so yes, we're going to recommend the Over even with that -135 juice attached.
Anything that happens afterward at the bowl games is immaterial. Until then, Harbaugh has assembled yet another tremendous team, finally landing his latest star quarterback in JJ McCarthy to pair with impressive RB Blake Corum – and both playing behind one of the top offensive lines in college.
Bet Accordingly
The Wolverines defense will be strong in the trenches as well, and they'll be more than fine at the third level. Even the linebacking corps should be solid now that Ernest Hausmann has transferred over from Nebraska.

Special teams? Yes, Michigan has that covered too with PK James Turner (20-of-22 last year) coming in from Louisville to replace Jake Moody, now with Harbaugh's old NFL team in San Francisco. Bet accordingly.
NCAAF Pick: Michigan Over 10.5 Wins (-135) at Caesars Sportsbook
---