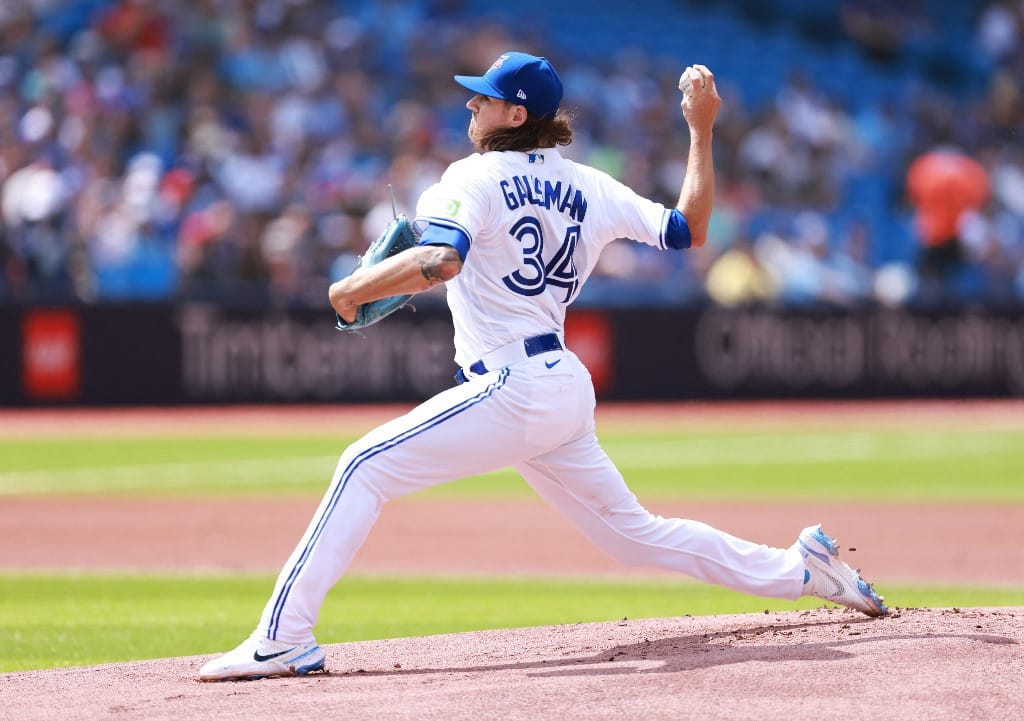 It's amazing how much time and effort some people will put into choosing one side or another for their baseball picks – then completely ignore the juice they're paying. A few cents in vigorish can make all the difference between a long-term profitable pick and one that's only worth a slight lean at best.

That's the case for all the entries in Wednesday's computer MLB picks. With the help of the algorithms at OddsTrader, we've hand-selected three games that are worth your attention; the top online sportsbooks have done the rest with the prices they have on vig as we go to press.
Picks Summary
---
Wednesday, August 09, 2023 – 07:10 PM EDT at Progressive Field
---
It all starts with the -103 juice at BetRivers for this Under pick. At this price, your pick only has to be correct 50.74% of the time to break even in the long run, compared to 52.38% at the standard -110 vig.

This is huge. The OT computers have Toronto (Under 61-45-6 at press time) winning this matchup 3.9 runs to 3.5; as is often the case, we think the computers are putting too much stock in ERA and/or similar stats, specifically the 3.65 ERA posted thus far by rookie Cleveland starter Logan Allen (4.13 xFIP).
Tempering Concerns
Fortunately, Jays ace Kevin Gausman (3.20 ERA, 2.91 xFIP) tempers some of our concerns. But even if we play it safe and tack on an extra half-run to this projected total, that -103 juice takes what would normally be a slight lean, and makes it worth investing one unit of your bankroll in this Under.

It's not easy finding games this tasty on the late-season MLB odds board. But don't dip too far into the college fund; Wednesday's weather report calls for another warm evening in Cleveland (Under 63-45-5), with light breezes blowing towards right field.
The Pick
At the same time, Progressive Field is one of four big-league stadiums with a league-low park factor of 90 for runs according to Baseball Savant. And Cleveland ranks No. 24 in hitting on the FanGraphs WAR charts, while Gausman has held current Guardians to a combined .685 lifetime OPS and just one home run in 59 at-bats.
MLB Pick: Under 8 (-103) at BetRivers
---
Wednesday, August 09, 2023 – 09:40 PM EDT at Chase Field
---
The vig isn't quite as low this time at -105, but that still brings our break-even point down to 51.22%. And it looks like this matchup may indeed be slightly more likely to go Over than our first pick is to go Under; the OT computers project the Dodgers (Over 67-39-5) to beat Arizona (Under 59-48-6) 5.5 runs to 5.3.

Once again, we seem to have an ERA problem here with one of our starters:
Bobby Miller, LAD: 4.26 ERA, 3.93 xFIP
Merrill Kelly, ARZ: 3.21 ERA, 3.83 xFIP
Both these pitchers have performed reasonably well this year, but Kelly's personal 13-6 Under record is a prime target for some of that regression to the mean. For that matter, Bobby Miller (Over 8-3-1) only has 12 big-league starts under his belt. He might be vulnerable this Wednesday at Chase Field (102 park factor for runs, No. 10 overall), even with the roof closed for this series. 
The Pick
Then again, Miller is the No. 2 ranked prospect in the L.A. system according to FanGraphs, and he has pitched quite well. We'll recommend another single-unit wager against this total, but it's not quite as promising in our eyes as that Jays-Guardians pick.
MLB Pick: Over 9 (-110) at Caesars Sportsbook
---
Wednesday, August 09, 2023 – 06:40 PM EDT at Citizens Bank Park
---
If we had to pick which of these three games is most likely to cash in, it might be this one – but it's only worth a slight lean at -114 juice, which bumps up our break-even point to 53.27%. And that's a bargain price compared to all the sportsbooks posting -120 vig for Wednesday's game.
We'd love to tell you there's more potential profit margin to be had, but the OT computers only have Philadelphia (Under 56-48-9) coming out on top 5.4 runs to 3.8. And the Phillies might have trouble scoring that many runs against Mackenzie Gore (4.34 ERA, 3.93 xFIP) in a ballpark with a factor of 92 for runs (No. 26 overall) this year.
The Pick

Fortunately for us, Washington (Under 56-53-4) might also enjoy a bit more success off newly-minted Phillie Michael Lorenzen (3.48 ERA, 4.27 xFIP) than his ERA or his All-Star status would indicate, especially on a hot night at the park with 10-mph winds blowing towards right. Bet accordingly – the computers have spoken.
MLB Pick: Over 9 (-114) at SBK
---