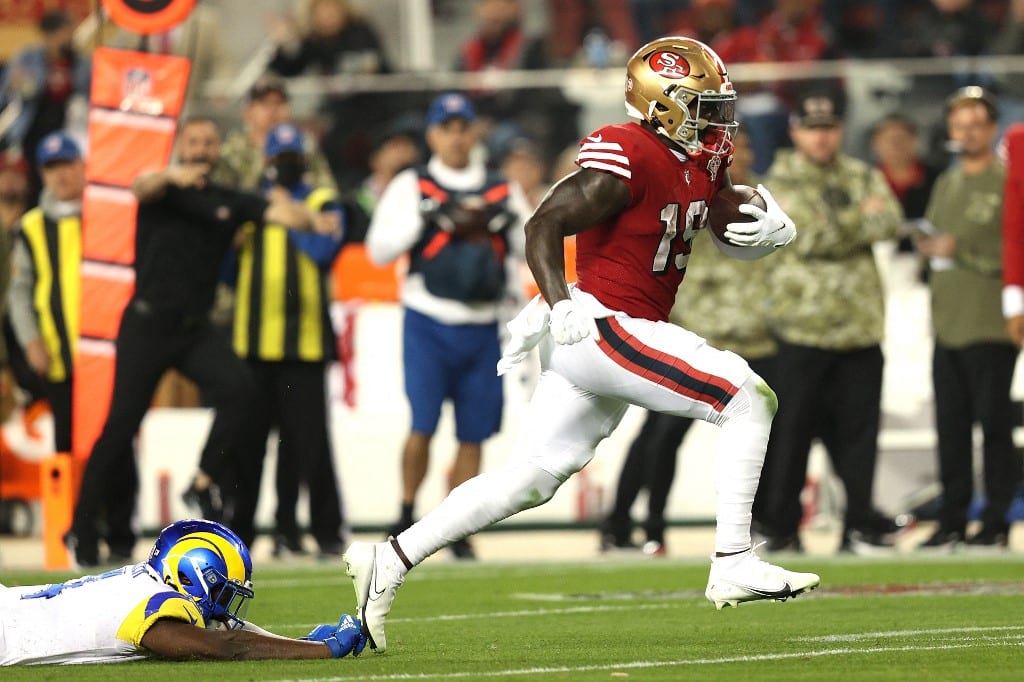 The smoke has cleared after a rough-and-tumble Week 13 and below we will see how it all shakes out. It's time to reveal the OddsTrader's Power Rankings and its top 10 NFL teams, which considers the week that was, in addition to each team's entire season performances up to this point.
Remember you can go over our nifty tool explanation with our Week 1 post and remember to check back every Tuesday for analysis of the adjustment in the positions.
Now, let's review our Top 10 teams and see if you agree.
Top 5
1. Tampa Bay Bucs (9-3 SU, 6-6 ATS) Next: vs. Bills – There's no need to evict the defending Super Bowl champs from the penthouse after they took care of business last week against Atlanta.
Although the victory wasn't necessarily spectacular against the lowly Falcons, Tom Brady certainly was in tossing 368 yards and four touchdown strikes. The old man keeps kickin' butt and takin' names while the Bucs march towards another NFC title.
2. New England Patriots (9-4 SU, 9-4 ATS) Next: BYE – They say you can't win a fight if you run away but that's exactly what the Patriots did as they ran around, over, and through the Buffalo defense in their 14-10 Monday night victory over their divisional rivals.
New England piled up 222 rushing yards while Mac Jones had just three passing attempts in the tempest that was Highmark Stadium. It was vintage ground-and-pound, a masterful game plan by Bill Belichick and OC Josh McDaniels adapting to the elements and conquering their foes in one of the most hostile environments in the league.
3. Buffalo Bills (7-5 SU, 7-5 ATS) Next: at Bucs – The Bills got outfoxed by the greatest coach of all time and there's no shame in that. Buffalo has the talent to be much better than their record indicates but that's why they play the games on the field and not on paper.
The Bills won't have it any easier when they face the reigning Super Bowl champs this week in what could be their last gasp at a potential AFC East crown.
4. Indianapolis Colts (7-6 SU, 8-5 ATS) Next: BYE – The Colts walked through the Texans last week, as we predicted they would, and now they get two weeks to lick their chops and prepare for the Patriots.
Indianapolis is the dark horse in the AFC race and one that cannot be overlooked. They are a gritty group that can compete with anyone, and like the Bills, are better than their record reflects.
5. Green Bay Packers (9-3 SU, 10-2 ATS) Next: vs. Bears – The Packers get back to work after their bye week when they welcome the Bears to Lambeau Field. The NFC North is all but a done deal at this point and now Green Bay has the No. 1 seed in their sights.
Whether or not they can outlast the Bucs and Cardinals is anyone's guess but Aaron Rodgers is playing like a man possessed despite a tattered offensive line that could only get healthier over the last few weeks. When fully healthy, are they the team to beat in the NFC?
It's a Long Way to the Top (If You Wanna Rock 'n' Roll)
6. Kansas City Chiefs (8-4 SU, 5-7 ATS) Next: vs. Raiders – The Chiefs got a workmanlike 22-9 win over the Broncos last week and for once the offense took a backseat to the Chiefs' defensive unit.
Head coach, Andy Reid, called his defense's performance "beautiful" and it certainly was a nice change of pace for a Chiefs' team that has made their bones on offense with little regard to the other side of the ball. If the Chiefs' D makes this a habit, it would be one worth keeping and could lead them to another date in February.
7. Arizona Cardinals (10-2 SU, 9-3 ATS) Next: vs. Rams – The Cardinals swooped into Soldier Field and flew out with a 33-22 victory that saw the return of the dynamic duo of Kyler Murray and DeAndre Hopkins. But the aerial assault we thought we would see was eclipsed by a ground attack led by James Conner.
Nevertheless, Murray was still able to toss a pair of touchdown passes one of which found the welcoming hands of the newly returned Hopkins. The Cards will be tested this week when the Rams come to the desert.
8. San Francisco 49ers (6-6 SU, 5-7 ATS) Next: at Bengals – The 49ers bowed, 30-23, to the Seahawks last week but they still remain in the OddsTrader Top 10 based on winning four of their previous five before last week's loss.
Next week will see a true test of their mettle when they visit the Queen City to take on the Bengals, in what has to be considered a must-win for the Niners.
9. Dallas Cowboys (8-4 SU, 9-3 ATS) Next: at Washington – After losing three of their last four games, the Cowboys found the cure that ailed them down on the bayou with a 27-17 win over the Saints.
The ground game was impressive, chewing up 146 rushing yards while the ballhawks on defense feasted with four picks. Dallas will see the return of their coaching staff, most of whom were out due to positive COVID-19 tests.
10. Los Angeles Rams (8-4 SU, 5-7 ATS) Next: at Cardinals – After losing three straight, the Rams were tumbling in the standings but last week they got well with a 37-3 evisceration of the Jaguars.
Matthew Stafford looked like his old self with 295 yards through the air and three touchdown passes while Sony Michel resembled the first-round pick he was a few years ago when he rambled for 121 yards and a trip inside the end zone. The Rams will face a stern test this week when they take on their divisional foes from Arizona.
For the complete list of the OddsTrader Power Rankings click here. And remember to check back for more betting strategy at the OddsTrader blog. Happy betting!