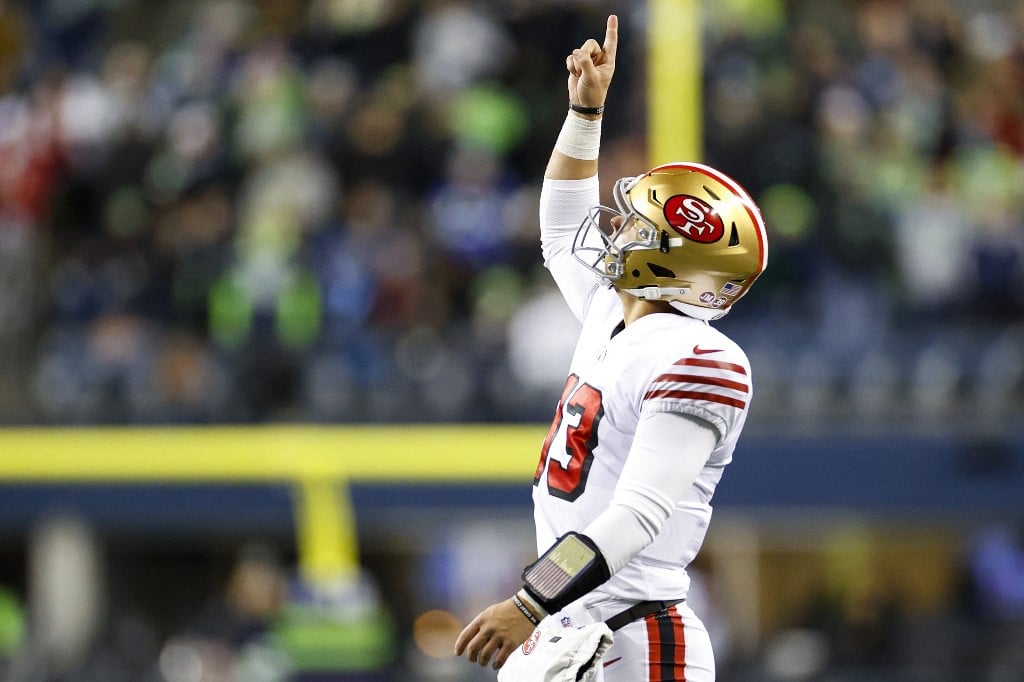 The NFL Week 16 schedule could either provide clarity or confusion in the NFC for our power rankings at OddsTrader.
Saturday has been a day circled for months when we would see the Cowboys with Dak Prescott take on the Eagles with Jalen Hurts. Now that is in doubt with Hurts dealing with a shoulder sprain.
Either way, we have a new No. 1 team in our power rankings, and it isn't the Eagles or Bills.
For more information about how our tool works, be sure to check our 2021 Week 1 post.
---
1. San Francisco 49ers (10-4 SU, 9-5 ATS)
If quarterback Brock Purdy can do the unthinkable and play in the playoffs like he has in the regular season, then this might be the team to win it all this year. In the past, the 49ers just needed regular-season mode Jimmy Garoppolo to show up in the playoffs, and they may already have a couple rings in the 2019 and 2021 seasons. Not blowing 10-point leads in the fourth quarter of two championship games would also help.
But Garoppolo held the offense back in those big games. Purdy is filling his role very well with another solid performance in Seattle last Thursday to help the team clinch the NFC West.
George Kittle's YAC ability makes the quarterback's life so much easier, but Purdy avoided the big mistakes and helped put points on the board again.
You don't need many points to win with this San Francisco defense, which has allowed 20 points just twice in 14 games. The 49ers have won seven games in a row after a 3-4 start, looking like shades of last year all over again. But this team looks better, and things can only get better once Deebo Samuel returns and if Purdy can expand on his play as he gains experience.
The 49ers should have a good game on defense against Washington, so we'll see if Purdy can keep rolling with six touchdown passes and one interception in the last three weeks.
---
2. Buffalo Bills (11-3 SU, 6-7-1 ATS)
Buffalo's defense allowed a season-high 29 points against Miami, showing some cracks against the run and not enough pass rush without Von Miller. But Josh Allen and the offense put together one of their best performances of the season to avenge the Week 3 loss that was filled with mistakes in Miami.
Allen tossed four touchdown passes, was pinpoint late in the game when the snow started for the game-winning drive, and he rushed for 77 yards too. The Bills are headed back to the playoffs for the fourth year in a row, but if they want the playoffs to run through Buffalo, they cannot overlook the Bears in Chicago this week.
Not with that huge game looming in Cincinnati in Week 17. The Bears can frustrate the Bills with their running game, and you never know when the ball is going to bounce funny in late December weather in Chicago. We'll see if the Bills can finish strong as has been expected of them all year.
---
3. Kansas City Chiefs (11-3 SU, 4-9-1 ATS)
Despite being minus-6 in turnover differential, the Chiefs keep winning, but they are only the third team since 1990 to have a turnover differential of worse than minus-5 while still winning at least 11 of their first 14 games. This will catch up with them against better teams, and in the last two weeks, we have seen the defense need to force a late turnover against Brett Rypien (Broncos) and Davis Mills (Texans).
But we do see why Patrick Mahomes is likely to win his second MVP award this year. He just had the highest completion percentage (87.8%) in NFL history in a game with 40 attempts, and the Chiefs still needed overtime to put away the 1-win Texans.
Seattle comes into Kansas City with a 1-4 record in the last five games, so this is another showdown where the Chiefs will be heavily favored, but they do like to live dangerously on the edge while still competing for the No. 1 seed. The Chiefs are 4-9-1 ATS, which is the second-worst spread record in the league for the team tied for the second-best straight-up record in the NFL.
Weird season, but Mahomes is the difference maker
---
4. Philadelphia Eagles (13-1 SU, 8-6 ATS)
The NFL world waits to learn more about this Jalen Hurts injury situation. He played all 73 snaps in Chicago, threw for 315 yards and ran 17 times for 61 yards and three touchdowns, so it was not clear during the game that there was a health issue that could sideline him for a couple weeks.
Missing the Dallas game would not be ideal, since it was really the team's best chance to win a big game as a playoff tune-up. If you look at the Eagles' schedule this year, there were very few weeks where they were going up against a team coming in hot and playing well.
That's why their best win remains Dallas in Week 6, even if Cooper Rush was at quarterback for the Cowboys. But it would be a great win to knock off the Cowboys with Gardner Minshew starting in Hurts' place. That is still to be determined, but the good news is it doesn't sound like Hurts will miss an extended period of time.
But it has ruined his MVP chances, and we'll see if it messes with the flow this team had at 13-1 should Hurts miss any games.
---
5. Dallas Cowboys (10-4 SU, 8-6 ATS)
So much for the NFC Game of the Year. With Dallas blowing its second lead of 14-plus points after halftime this year down in Jacksonville, the Cowboys (10-4) are three wins behind the Eagles (13-1) in the NFC East. The only way they can win the division is to win out and for the Eagles to lose out. That's almost certainly not happening.
Dallas fans hoping to avenge the loss to the Eagles with backup Cooper Rush at quarterback have to be disappointed to see that Jalen Hurts may not play Saturday. The MVP candidate has a shoulder sprain that could lead to Gardner Minshew making his first start of the season. If Cowboys fans don't think Philadelphia taking advantage of Rush miscues was fair, then they can't gloat about a potential win over the Eagles with Minshew, as Dallas is favored by the sportsbooks now.
But that 40-34 overtime loss in Jacksonville continued to show cracks in this Dallas defense, and the offense has been sloppy with multiple turnovers in three of the last four games.
It would still be a good thing for the Cowboys to step up and beat these Eagles, then maybe enter the playoffs with some confidence. But ever since the blown lead in Green Bay, it has looked inevitable that this season will come down to a road trip to Tampa Bay on wild card weekend against a team the Cowboys have lost two straight to.
---
It's A Long Way to the Top
---
6. Cincinnati Bengals (10-4 SU, 11-3 ATS)
Joe Burrow's first and likely only meeting with Tom Brady will be a memorable one. After producing the worst offensive first half in the Burrow era and trailing 17-0, the Bengals put on a huge turnaround and scored the game's next 34 points to win easily.
The Buccaneers turned the ball over on four consecutive drives, all Brady giveaways, but things got started when a fake punt was botched by Tampa. Burrow took advantage of short fields and threw four touchdowns to four different receivers.
Those two halves were entirely different, but we have seen adjustments before from this team. Since 2021, the Bengals have the fourth-best average scoring differential after halftime, including playoff games. Their next two opponents, New England (third) and Buffalo (second), rank higher.
But a path to the No. 1 seed still exists for the Bengals, winners of six straight.
---
7. Baltimore Ravens (9-5 SU, 5-8-1 ATS)
You know it's not the Ravens' day when Justin Tucker, the greatest kicker of all time, misses two field goals in Cleveland. One was blocked, but that is also something you never really see from this kicking unit.
It's not so much that the Ravens should have won the game against the Browns, but they definitely left a lot of points on the field. Beyond the field goal misfires, they had a red-zone interception, a lost fumble by DeMarcus Robinson, and multiple turnover on downs.
Backup quarterback Tyler Huntley did not play well, but this offense could have easily scored 15-to-20 points with just slightly better execution. Instead, the Ravens lost 13-3 and surrendered the lead in the AFC North to Cincinnati.
It does not sound overly optimistic that Lamar Jackson returns this week, but the good news is this Baltimore defense should have a good game against rookie quarterback Desmond Ridder, who struggled with his passing in his debut last week in New Orleans. But if the Ravens blow this one too at home no less, you have to start considering this team might be ready for another 2021-type slide out of the postseason altogether.
---
8. Detroit Lions (7-7 SU, 10-4 ATS)
The Lions' impressive playoff push continues after outlasting the Jets on the road and away from the comfy dome where Jared Goff has far better statistics this year. But the Lions got the job done in the fourth quarter, and the team is now 6-1 in the last seven games with only a last-second loss to the Bills, this year's Super Bowl favorite.
We know about Detroit's offense, but the defensive improvement over the last seven games compared to the start of the year has been significant in turning things around.
The Lions would still not be considered a great defense, but they have forced a takeaway in 13 straight games, and they have gone from No. 32 in points allowed in Games 1-7 to No. 8 in points allowed in Games 8-14.
Detroit must come through again on the road against a bad Carolina team this week. The Panthers struggled with Pittsburgh in a way the final score (24-16) does not reflect. Detroit is the better team, but we'll see if it can get above .500 for head coach Dan Campbell.
---
9. New York Jets (7-7 SU, 8-6 ATS)
The Jets had to start Zach Wilson again for the injured Mike White, but that did not necessarily produce the home loss to the Lions on Sunday. The Jets had a late lead, then blew a fourth-down snap at midfield that led to the game-winning touchdown. Kicker Greg Zuerlein was unable to connect from 58 yards away to send the game to overtime.
The Jets sit at No. 9 in the AFC standings, but there is still hope with this defense that the team can win out and get into the tournament. Jacksonville on Thursday night at home is another winnable game, but the bookmakers see it as more of a toss-up like the Detroit game was. Wilson will start again at quarterback for White.
Some good news is that Garrett Wilson continues to dominate at wide receiver, and he is the odds-on favorite to be named the Offensive Rookie of the Year. It's an award running back Breece Hall may have won had he not torn his ACL, but the future is looking bright for the Jets with this draft class. Now, if only they could figure out what to do at quarterback – tale as old as time.
---
10. New England Patriots (7-7 SU, 7-6-1 ATS)
If Jakobi Meyers wasn't the de-facto No. 1 wide receiver in New England, Bill Belichick probably cuts him on Monday after that last lateral decision in Las Vegas. It was one of the most flabbergasting finishes in NFL history, because it's not like the Patriots were trailing or anything. Overtime was in their back pocket, and Meyers just had a brain fart, because there is no way throwing that ball that far back to slow Mac Jones was going to work out.
The Patriots had such a rough loss there in every phase. Jones played a poor game at quarterback, struggling to throw for 100 yards. The defense gave up a late tying touchdown even if it looked like the Vegas receiver may have stepped out of bounds. Finally, Rhamondre Stevenson had a great rushing game, but he was the one who started the ill-advised laterals that led to Meyers' blunder.
New England was so sloppy in execution you'd think Josh McDaniels was coaching the team instead of Belichick. Now the Patriots must regroup at home in a must-win game against the Bengals, who are red hot coming in. That lateral may very well cost the Patriots the playoffs, but we'll see if the defense can steal an eighth win here.
---