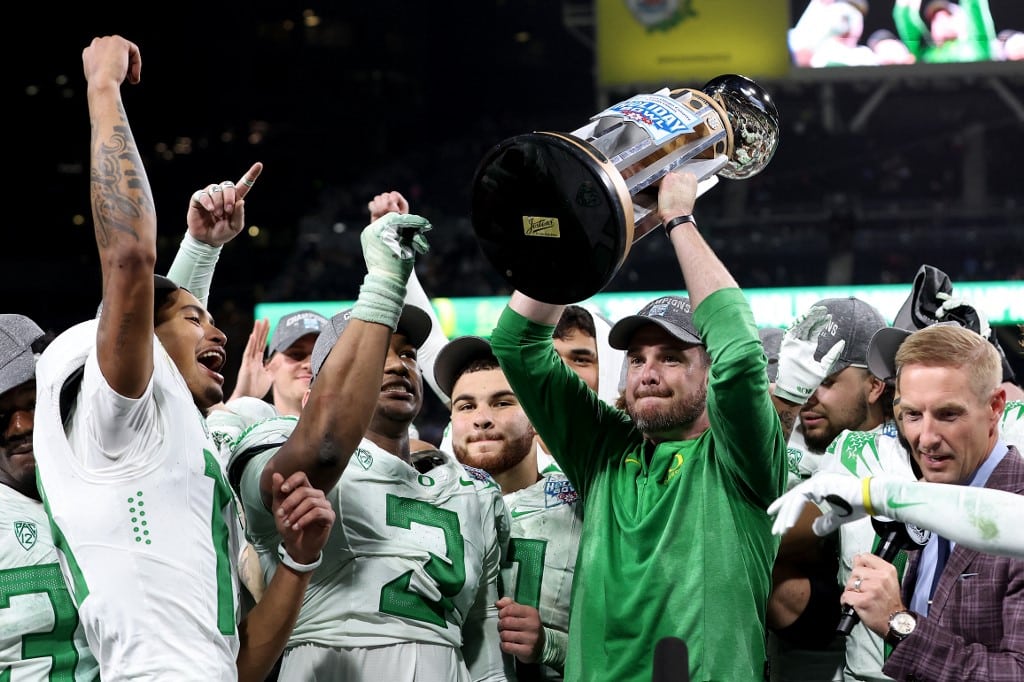 NCAAF Pick: Oregon Over 9.5 Wins (+100) at Caesars Sportsbook 
---
The Oregon Ducks have Bo Nix back at quarterback this season. In the final Pac-12 season, can Oregon do some damage in the conference and reach the College Football Playoffs?
The Oregon Ducks went 10-3 overall in head coach Dan Lanning's first year as head coach. Dan Lanning pushed the Ducks to a 7-2 record in the Pac-12 last season, turning some heads in the process.
Oregon will be headed to the Big Ten next year. But they'll get one final ride at the Pac-12 in 2023.
The Ducks didn't play for a Pac-12 Championship last year. They fell short of that game. But with the return of Bo Nix at quarterback, the Ducks look poised to be a major threat this year.
Oregon has won ten or more games in three of the last four seasons. This team consistently wins in the Pac-12.
---
The Offense
The Oregon Ducks were sixth in the nation offensively. They finished fifth in passing efficiency and tenth in scoring. They also didn't allow many sacks.
But the offensive line will need quite a few reinforcements. The experience is limited on the offensive line this year. Still, Steven Jones and Jackson Powers-Johnson should be great. Junior Angilau, a former top recruit, will likely earn a start at guard. Meanwhile, Josh Conerly and Ajani Cornelius are terrific at the tackle spots.
The line will adapt and be fine.
Running the Rock
Meanwhile, the run game has three returners between Bucky Irving, Noah Whittingham, and Jordan James. They each combined for 2,000 yards and 15 touchdowns. Irving will likely get the most reps of the three, but they're dangerous and should keep one another fresh throughout each game.
Finally, there's Bo Nix at quarterback. He's a veteran that probably could've gone into the NFL. But he stayed for one final push with Oregon, hoping to build up his stock and earn a CFP playoff berth. Nix could essentially win a Heisman this year too.
He completed 72% of his passes and threw for nearly 3,600 yards. He also had 29 passing touchdowns and 14 more rushing touchdowns. Nix earned over 500 yards rushing last season and has so much talent as a mobile quarterback.
Receiving Help
He needs help from his receivers, though. Troy Franklin should be the go-to guy. He added 61 catches for 891 yards and nine touchdowns last season. The chemistry was there for Nix and Franklin.
They also added transfers between Tez Johnson from Troy, Traeshon Holden from Alabama, and Gary Bryant Jr. from USC.
---
The Defense
The defense will make or break Oregon's season. The Ducks struggled to get a pass rush and couldn't always get off on third downs. But Oregon understood those problems and added a lot of talent in the transfer portal to correct all that.
The Ducks lost Christian Gonzalez in the secondary to the Patriots. But Trikweze Bridges and transfers like Kyhree Jackson and Nikko Reed will be other potential corners that can significantly impact.
Secondary Help
The team also added more transfers at safety, including Evan Williams and Tysheem Johnson.
Meanwhile, the defensive line will have Brandon Dorlus and a South Carolina transfer Jordan Burch. They've also got Pop Aumavae, Taki Taimani, and Casey Rogers returning from the defensive line.
And while Noah Sewell is with the Bears now, the linebackers should be okay. They'll still return Jeffery Bassa and Mase Fun. Oregon also added Justin Jacobs, who is coming from Iowa. He wasn't healthy last year but is very talented.
---
Oregon Win Total
The Oregon Ducks are listed at 9.5 wins, with the Under at -120 for the regular season. Let's see if the top online sportsbooks are on point.
Oregon will defeat Portland State in its opening game. They'll also defeat Texas Tech (Week 2) on the road and get past Hawaii at home.
At 3-0, Oregon will take on Colorado at home. That's a win. They'll also face Stanford on the road. That'll be another win.
The Ducks would be 5-0 with a road game against Washington in Week 7. That one will be an exciting matchup, but Washington will be home. So I'll side with the Huskies there.
But at 5-1, Oregon should at least get passed Washington State. They'd be 6-1 with a road matchup against Utah.
I'd have Utah in that game. Therefore, they'd be 6-2 with a home game against California. Give Oregon that one. They'd be 7-2 before a home game against USC.
The Pick
I like Oregon's chances down the stretch. I think they can beat USC at home, earn an easy win against Arizona State (Week 12), and find a way against Oregon State to finish the regular season. That's ten wins and enough to get Over on the win total.
NCAAF Pick: Oregon Over 9.5 Wins (+100) at Caesars Sportsbook 
---