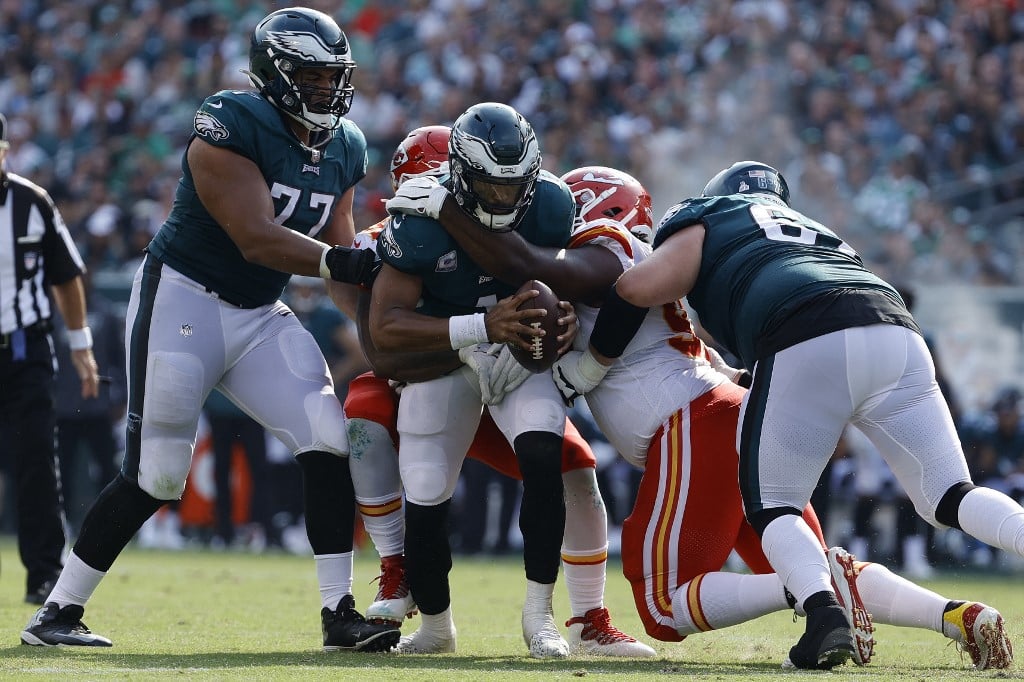 Soon after the Kansas City Chiefs won the AFC Championship Game to advance to their third Super Bowl in four years, some oddsmakers listed them as 1.5-point favorites over the Philadelphia Eagles.
But the Philadelphia side was jumped on, and the spread had already changed by Monday to making the Eagles a 2.5-point favorite. Many of the top sportsbooks are settling it down to a 2-point favorite as we still have nearly two weeks before kickoff to go.
The Super Bowl LVII total is at 49.5 points, a number none of the last eight NFL playoff games have been able to hit. This has been a season filled with low-scoring island games, but what can we gleam from the early lines in this matchup between the two No. 1 seeds?
---
Sunday, February 12, 2023 – 06:30 PM EDT at State Farm Stadium
---
---
The Eagles Deserve to Be Favored
Many times in these matchups of the game's top quarterback and a top defense, the quarterback's team is favored to win. But many times in the postseason, the better overall team wins the game.
We saw it happen with Peyton Manning during his MVP seasons. He dragged the 2009 Colts to a 14-0 start, and he led the 2013 Broncos to the most points in a season in NFL history. Both teams reached the Super Bowl, but they were up against a deeper, more balanced New Orleans team in 2009 and an incredible defense from Seattle in 2013. Manning was favored by 4.5 against New Orleans and 2.5 against Seattle, but his teams lost those games.
Mahomes' Track Record
We have arguably seen it twice already with Patrick Mahomes and these Chiefs. The 49ers had a great year in 2019, but the Chiefs were still a 1.5-point favorite in that game and had to make a 20-10 comeback in the fourth quarter to win 31-20.
A year later in Super Bowl LV, even though the Chiefs had the weaker defense, had mostly been winning games by one score, had the major offensive line injury, and were in Tampa Bay's building for the game, they were still a 3-point favorite over Tom Brady's Buccaneers. What ensued was one of the biggest Super Bowl letdowns of all time as the Chiefs failed to score a touchdown and lost 31-9. Mahomes was pressured 29 times on the night.
Mahomes has been favored in his first 13 playoff games, a remarkable streak, but common sense may be taking the upper hand here with the spread quickly going in Philadelphia's favor.
Championship Sunday was a great example of why Mahomes should run away with regular-season MVP, but it also showed why the Eagles are favored to win this Super Bowl as the team really has no glaring weakness for this particular matchup:
Passing Offense: Thanks to adding wide receiver A.J. Brown, Jalen Hurts finished No. 4 in QBR for an offense that is No. 4 in yards per drive and No. 3 in points per drive.
Rushing Offense: Eagles finished No. 5 in rushing yards, No. 1 in rushing touchdowns, and No. 1 in rushing EPA.
Passing Defense: No. 1 unit had 70 sacks and allowed league-low 4.4 adjusted net yards per pass attempt.
Rushing Defense: Ranked No. 24 in yards per carry allowed (4.6).
Special Teams: Ranked No. 13 in DVOA (Chiefs are No. 19).
How Has Philadelphia Been Doing?
The Eagles do not stop the run that well, but that is not an overwhelming strength for the Chiefs, who just rushed for a season-low 42 yards against the Bengals.
Philadelphia is 16-1 when Hurts starts this season, and it took four turnovers to lose the game against Washington. The Commanders also started 12-of-16 on third down in that upset.
The Eagles are the first team since the 2000 Ravens to hold consecutive playoff opponents to no more than 7 points. They are the first team since the 1989 49ers to win their first two playoff games by at least 24 points, and those 49ers beat John Elway's Broncos 55-10 in the Super Bowl.
The Chiefs should have too much talent to not get blown out this time, but bringing the No. 21 defense in points per drive allowed to a matchup like this is not good. Bringing a lot of injury concerns at wide receiver and corner is not good either for the Chiefs, who also have to wonder what happens if Mahomes aggravates his ankle injury again like he did in the third quarter against the Bengals.
Have the Eagles Had It Too Easy?
It would only be fitting for the 2022 Eagles to catch another break with opponent injuries after playing the Cowboys without Dak Prescott in Week 6 and the 49ers without Brock Purdy and Josh Johnson in the NFC Championship Game.
This team has been a juggernaut with a big caveat of a soft schedule.
But the Eagles should be favored.
---
Why the Chiefs Can Keep It Close
Historically, only eight Super Bowls have had a spread under 3 points, and half of those games were decided by double digits, including Kansas City's 31-20 win over the 49ers in Super Bowl LIV.
So, a small spread does not guarantee a close game, but the Chiefs are not your normal team with Mahomes:
The 2022 Chiefs are the third team in NFL history to have a fourth-quarter lead in 19 games in one season, including playoffs.
The Chiefs have gone 32 straight games holding at least a tie in the fourth quarter or overtime.
The Chiefs have also gone 32 straight games without losing by more than 4 points, which is just two shy of tying the NFL record for that streak, last done by the 1965-67 Packers.
Mahomes is 7-1-1 ATS and 6-3 SU as an underdog in his career, and he led the Chiefs to at least 40 points in two of the underdog losses.
No matter how it looks early, the Chiefs are usually right there in the game late. One of the few times this has not happened was the 31-9 Super Bowl loss to Tampa, but this team still has a lot more big-game experience than these Eagles do.
This has not been a good postseason for close finishes with only one lead change in the fourth quarter so far, but maybe we can get a classic here. Seventeen of the last 19 Super Bowls have been within one score in the fourth quarter with the trailing team having possession of the ball.
The 1991 Redskins are the last team to win three straight playoff games by double digits without trailing once. The Eagles can join them here with one more blowout, but the Chiefs are a much different challenge than the Giants or 49ers (with no quarterback).
---
Is the Over the Best Value Pick Right Now?
A total of 49.5 points would rank this game as the 16th highest in Super Bowl history. Of the previous 15 Super Bowls where the total was over 49.5 points, the over is just 6-9.
But we are talking about two of the best-scoring teams in the league, and the Chiefs are uniquely built to go on scoring runs:
The Chiefs did it to the Eagles last season, blowing open a 28-23 game in the fourth quarter into a 42-30 final.
The Chiefs did the same thing earlier this season to the 49ers' No. 1 defense, blowing open a 28-23 game in the fourth quarter for a 44-23 final.
The Chiefs basically earned this reputation in Super Bowl LIV against San Francisco, turning a 20-10 deficit into a stunning 31-20 win.
We should not see 42-30 again in this one, but 27-24 is more than realistic with this matchup:
Oddly enough, the Indianapolis Colts are the only team to hold Mahomes and Hurts under 20 points this season after they both scored 17 in Indianapolis.
Under Nick Sirianni since 2021, the over is 8-2 in Philadelphia's non-conference games.
In games played on equal rest since 2021, no teams have a higher rate of overs hitting than the Chiefs (14-9, 60.9%) and Eagles (13-10, 56.5%).
Since 2018 (Mahomes era), the over is 8-3 (72.7%) in Kansas City games when the Chiefs are an underdog.
Since 2018, the over is 26-15 (63.4%) when the Chiefs are the road team, the only team above 60% overs.
Only 12-of-59 (20.3%) prime-time games this season have gone over 50 points, but 6 out of 12 that did, featured the Chiefs or Eagles. Let's go for another high score in Arizona for your NFL picks.
NFL Pick: Over 49.5 Points (-110) at BetMGM
---